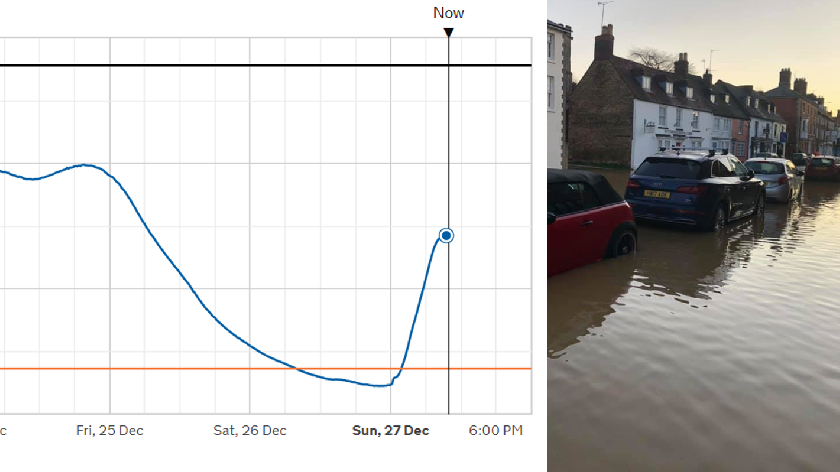 River levels remain high across the city for a fifth day today as four flood warnings remain in place across Milton Keynes.
In Newport Pagnell, levels at the River Great Ouse at Newport Pagnell Cemetery are 2.31m as of 9.30am this morning, above the 1.9m level where flooding can be possible.
River levels are also high on the River Ouzel in Bletchley which has hit 1.21m this morning, with a flood alert active for the river between Leighton Buzzard and Willen.
Environment Agency officials say further rainfall is forecast on Sunday 27th and Monday 28th December 2020 so they expect river levels to remain high.
Three flood warnings remain active for the Newport Pagnell town and surrounding area - with affected streets being Alexandra Drive, Ranelagh Gardens, Gladstone Close, Osterley Close, Glenwoods, Station Road, High Street, Wolverton Road, Westbury Lane, Lakes Lane, Willen Road, Mill Street, Tickford Street and Priory Street, Caldecote Lane, Willen Road, River Side, Toll House, Woad Farm, Sherington Road, Gallards Farm, Dulwich Close, Tabard Gardens, Alexandra Drive, Richmond Way, Bowes Close, Caldecote Street, Silver Street, Mill Street, Lakes Lane, Dovecote, Park Avenue, Broad Street, Tickford Street, Priory Street and Kingston House.
The warnings also cover Ravenstone Mill in nearby Ravenstone.
Meanwhile, a fourth flood warning remains in place in the Stony Stratford area - with residents in Willow Lane, High Street, Queen Eleanor Street, Temperance Terrace, Fegan's Court, and Ostlers Lane told to remain alert.
Watermill Lane in Wolverton and Cosgrove Leisure Park are also affected by the warning.
Yesterday, photos captured the huge amount of surface water remaining in Newport Pagnell following the heavy rainfall before Christmas.