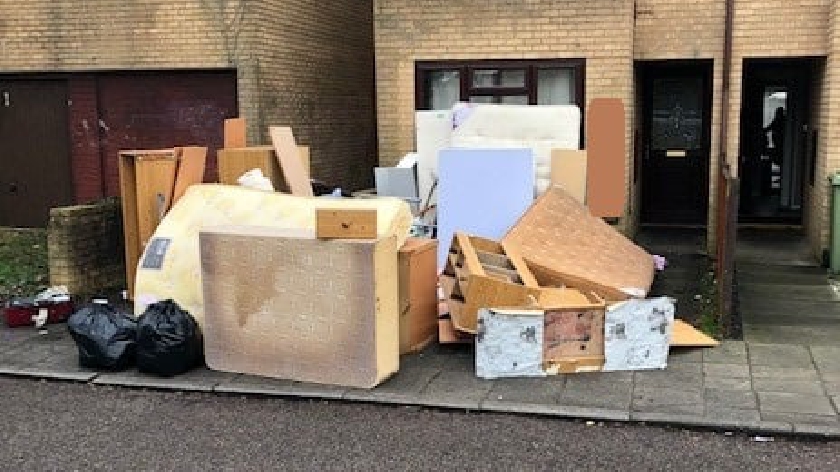 Masses of waste, including mattresses and torn-up furniture, have been illegally dumped outside a property along Perran Avenue in Fishermead.
Campbell Park Parish Council, which is responsible for the area, says that they are "on the case" and are working with the local authority and Thames Valley Police to remove the waste.
Cllr Terry Baines, who chairs the parish council, says that the owner has been contacted and has been made aware of the consequences.
He added: "MKC Enforcement Officers are involved and I believe court action could follow.
"Regardless of the amount of waste we must deal with offenders robustly to deter all others."
This comes as earlier this month it was revealed that fly-tipping in Milton Keynes has increased since the pandemic began.
In the past 9 months, reports have risen by 16% with an extra 613 fly-tipping incidents logged by Milton Keynes Council.
Milton Keynes Council said in their report that the majority of incidents reported as fly-tips in the latest data were the result of "household waste not being presented properly" - just like the latest incident seen in Fishermead.
Cllr Emily Darlington is the council's cabinet member for public realm and housing services.
She says there is "no excuse" for fly-tipping and that booking a slot at the local tips is "easier than ever".
Milton Keynes Council has prosecuted individuals and businesses following incidents of fly-tipping in Milton Keynes.
Last month, an out-of-town trader was ordered to pay almost £2,000 in fines for fly-tipping in Springfield.
The Council said that the man failed to co-operate with the investigation and was summonsed to appear before Milton Keynes Magistrates' Court.