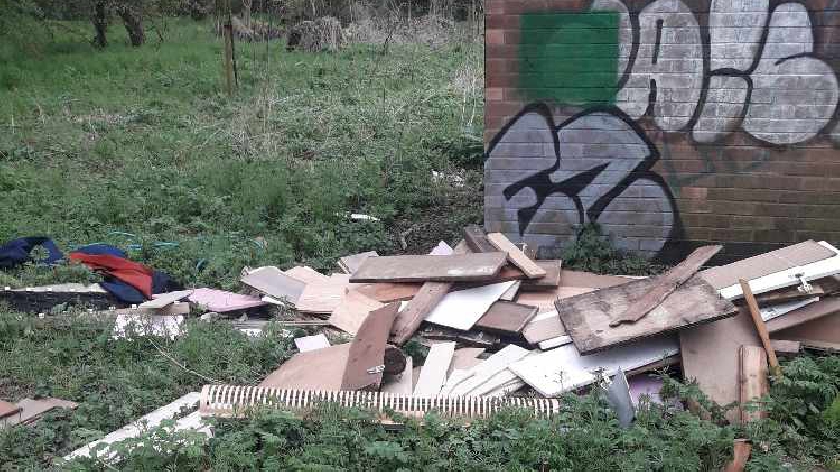 Photo: The Parks Trust
Fly-tipping incidents in Milton Keynes have increased by more than 600 reports compared with the same time in 2019, new data shows.
In the past 9 months, reports have risen by 16% with an extra 613 fly-tipping incidents logged by Milton Keynes Council.
At the same time in 2019, there were 3,689 incidents of fly-tipping reported across the city – with a monthly average of 409.
But the latest data shows that in the nine months between April and December 2020, there were 4,304 fly-tipping incidents – with a monthly average of nearly 500.
This is in line with national trends, whereby fly-tipping is said to have increased by 300% across the UK since the pandemic began.
Milton Keynes Council said in their report that the majority of incidents reported as fly tips in the latest data are the result of "household waste not being presented properly". This includes black bins being put out on the wrong day.
During the first lockdown, rubbish tips were closed and people were undertaking DIY projects and home renovations resulting in more waste.
The report published by Milton Keynes Council reflects this, stating "as more waste is being produced then the instances of this being reported will also increase".
It added that because more people are staying at home there is "increased community surveillance" resulting in more reports made to the local authority.
In April 2020, the Parks Trust said they saw a large increase in illegal fly tipping across the city's parks.
Now, the household waste recycling centres in Milton Keynes have reopened, but they are operating on a booking system meaning that residents cannot simply turn up.
This has sparked concerns from councillors who believe it could further increase fly tipping.
Cllr Dan Gilbert, the Conservative's Environment and Waste spokesperson, said that it is not a "victimless crime". He continued: "Those who are doing this need to stop, but the Council also needs to act to get a handle on this problem before it gets even worse.
"Decisions such as permanently limiting access to the tips to online bookings only, even when COVID restrictions have been relaxed, will not help."
Cllr Emily Darlington (Lab, Bletchley East) is the council's cabinet member for public realm and housing services.
She says there is "no excuse" for fly-tipping and that booking a slot at the local tips is "easier than ever".
Cllr Darlington told MKFM: "The majority of residents in MK are responsible but our parks and communities are being spoilt by the few who choose to dump their waste.
"Milton Keynes Council is prosecuting more fly tippers than ever before. There are slots available at the tips everyday and booking is easier than ever. If you book someone else to take away your rubbish, please make sure they are licenced or you will be liable if they dump it. Next year, the Labour-led Council is committing £200k to mobile CCTV and action against flytipping and graffiti. If you dump, we will prosecute."
In other news, last month an out of town trader was ordered to pay almost £2,000 in fines for fly tipping in Milton Keynes.
The Council said that the man failed to co-operate with the investigation and was summonsed to appear before Milton Keynes Magistrates' Court.