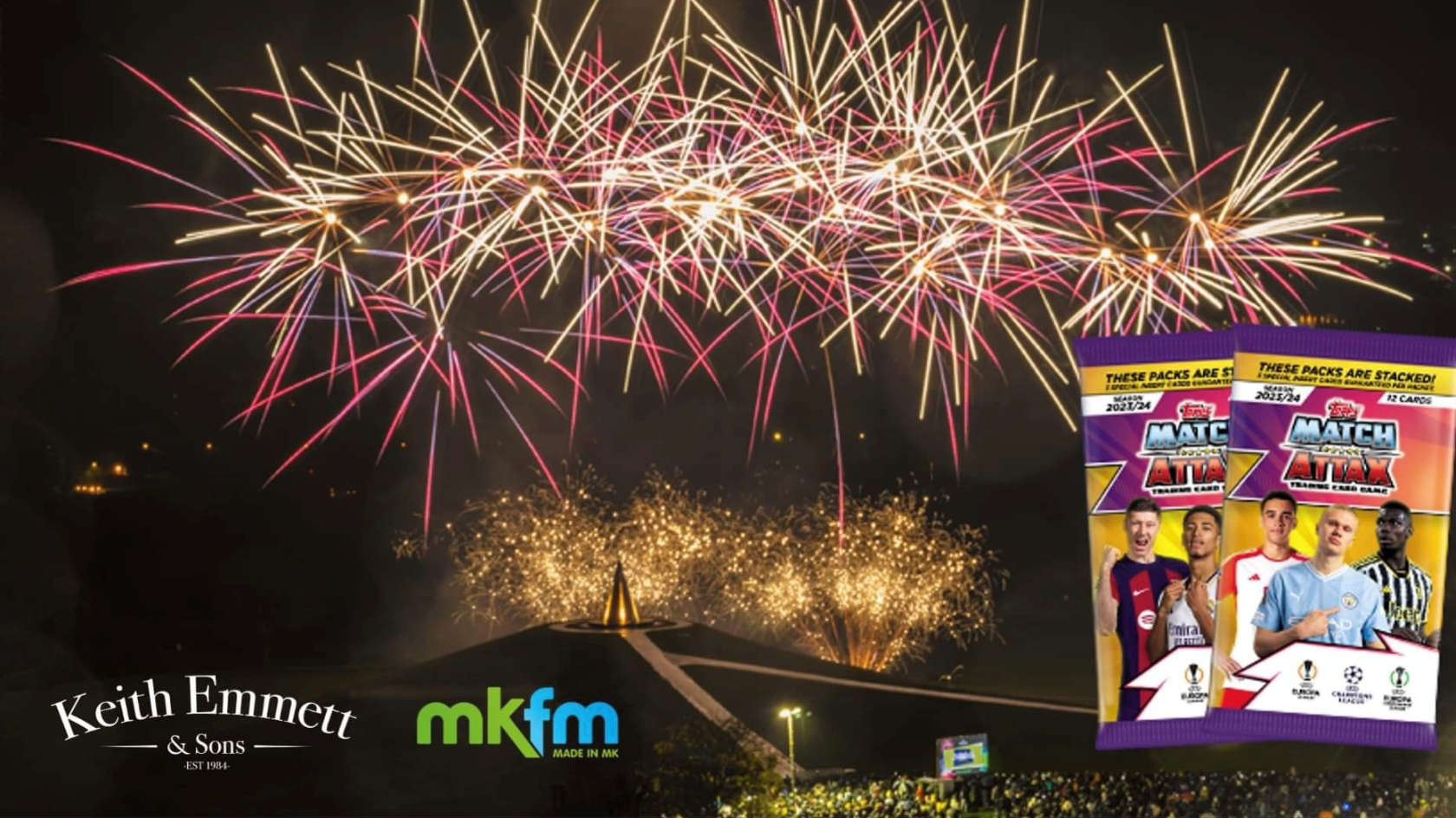 Topps, the creators of Match Attax trading cards, have stepped in to save the much-loved Keith Emmett and Sons 43rd annual Firework Spectacular.
MKFM is pleased to exclusively confirm that Keith Emmett and Sons' iconic Firework Spectacular at Campbell Park will now be going ahead after all.
The much-anticipated event has been an annual favourite for families across Milton Keynes for decades and draws crowds of over 100,000 people from across the city each year.
The event was officially cancelled this year, due to a lack of sponsorship following several appeals from the organisers.
Now, MKFM can reveal the event has been saved for 2023 by Topps, the makers of Match Attax trading cards, who will become the headline sponsor for the Firework Spectacular.
Keith Emmett III told MKFM: "After standing everyone down a few weeks ago, we thought this could of been the end of a family and Milton Keynes tradition.
"Thanks to our partnership with MKFM, we have been able to confirm enough sponsorship to make the Fireworks happen for 2023. I would like to thank Topps Match Attax and our other sponsors for their support. This event means so much to so many people and we are so grateful.''
Topps & Match Attax is proud to sponsor the Milton Keynes fireworks.
Topps (Formally known as Merlin) has its UK head office based in Milton Keynes and has been part of the community since 1989, with its flagship product Match Attax being invented in the city 17 years ago!
Since then, Match Attax has become a must have in school playgrounds across the world. Topps also produces officially licensed collectibles for UEFA, F1, Star Wars, The Sidemen & more. If you are attending make sure you look out for our reps who will be handing out FREE packs.
Ché Booy, Senior Social Media Manager of The Topps Company told MKFM: "From both a professional and personal view I am delighted that we are supporting such an iconic community event. Along with collecting football cards and stickers, attending the annual Campbell Park Fireworks is amongst some of my favourite childhood memories, it's amazing to be able to combine them both and help keep this fantastic tradition alive for another generation."
The event will take place on Saturday 4th of November at Campbell Park.
As well as the fireworks display, Keith Emmett & Sons have confirmed that the popular fair at Campbell Park will be returning this November, alongside Milton Keynes' annual Fireworks Spectacular from Wednesday 1st November until Sunday 5th November.
More information is set to be announced soon regarding reduced price nights at the fair and road closures for the 43rd annual Firework Spectacular.
There is still chance to sponsor this year's event with packages available for local businesses from £1000. Please contact jo.ronan@mkfm.com for more information.