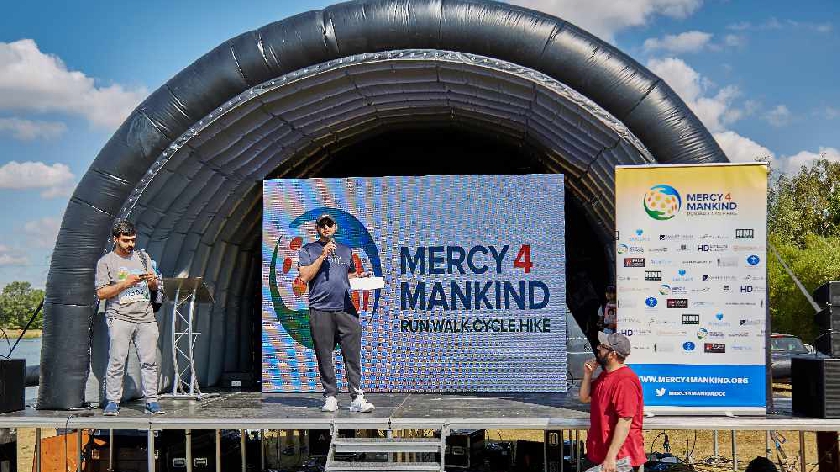 Ahmadi Muslims from Milton Keynes traveled to Yorkshire and participated in Mercy 4 Mankind charity challenge.
The largest Muslim youth organisation in Britain, the Ahmadiyya Muslim Youth Association (AMYA) held its 'Mercy for Mankind' Charity Challenge on Sunday 8th July in Rother Valley Park, Sheffield.
Over 700 members of the organisation as young as 5 gathered from across the UK to practice the Islamic teachings of serving humanity by raising funds for British charities in the Half Marathon.
Community outreach secretary of Ahmadiyya Muslim Association Milton Keynes from Oxley Park raised £1415 by himself.
The Ahmadiyya Muslim Youth Association (AMYA) has raised more than £700,000 for UK charities, including, Bloodwise, The Royal British Legion, NSPCC, Barnardos, CLIC Sargent, UNICEF, British Red Cross, Cumbria Community Foundation and others.

Farooq Aftab, event organiser and Deputy Head of AMYA says, "The weather was behind us and we had a great turnout with over 700 British Muslims raising hundreds of thousands of pounds for British charities. We have been inspired by the true teachings of Islam and we hope that by raising funds for the needy without any distinction of faith, colour or creed, this event will serve a dual purpose of not only helping charitable causes but also reminding Muslims and non-Muslims alike that Islam and its founder stood firmly for peace and unity within humanity."