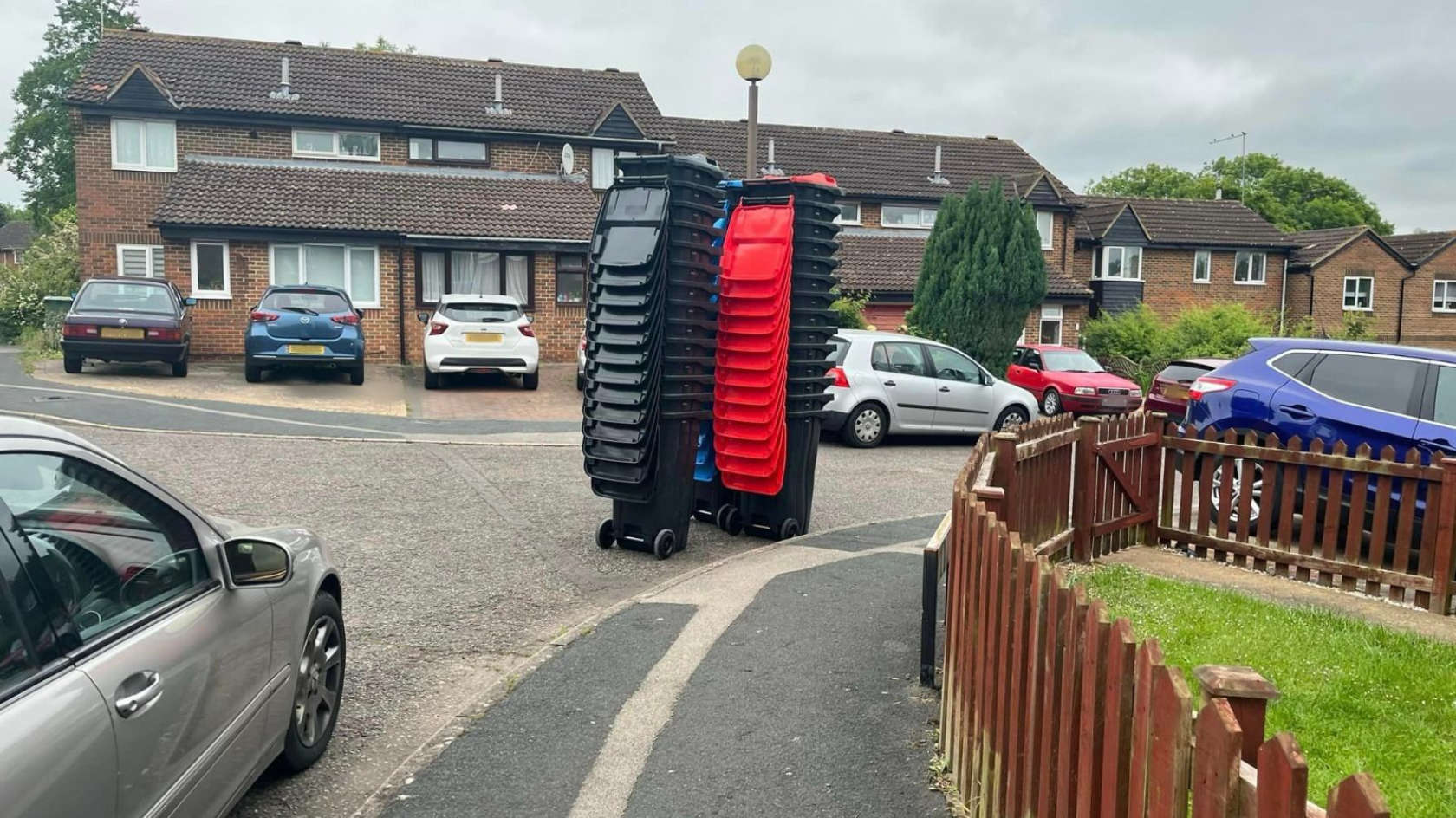 Image credit: Thomas Watson
Households across the city have started to receive their new wheelie bins, but they can't be used yet.
Today (5 June), Milton Keynes City Council has started the delivery of over 300,000 wheelie bins to households across Milton Keynes.
The city council expects that it will take around 12 weeks to complete the roll-out, with households that have been assessed as unsuitable for the bins receiving sacks in August.
Heelands is one of the first estates in the city to receive the bins, with homes in The Dales, Grizedale and Mosdale pictures below.
The brand new bins are being delivered taped shut, the city council says, printed with a reminder to not start using the bins until the week of 28th August.
Residents across the city have been responding to the delivery on social media, with many excited for the new deliver.
'At last proper bins, about time Mk got with the times,' one resident wrote.
Another added: 'Much better than ripped open bags that everyone complains about every week.'
One person commented: 'We have about 144 houses down my street that would be 432 bins stacked.'
Not all residents are keen however, with one saying: 'Now their dumping new bins that most people don't have room for and it won't be bin day it will be bin week.'
The bins will also come with a leaflet filled with information on which week to put out which recycling bin.
Councillor Lauren Townsend said: "We worked closely with disability charities and local accessibility groups in the lead up to the service change so I can confirm that all of our bin lids have braille on them, and for those who don't read braille there are handy notches in different spots on each bin to allow those who are visually impaired to identify which bin is which."
The council is also offering an assisted collection service for those with mobility issues, details can be found by contacting customerservices@milton-keynes.gov.uk or by telephone on: 01908 252570.
The move comes as the city council announces ambitions for Milton Keynes to have 'Britain's greenest weekly waste and recycling collections'.
The City Council hopes the change to wheelie bins will boost local recycling rates, as well as keep the city's streets clean.
Milton Keynes City Council has a target to increase recycling rates to more than 60%, currently 52%.
As well as new bins, a new state of the art 65-vehicle waste collection fleet will be introduced, producing lower carbon emissions which cut fuel consumption and emissions by around 10%.