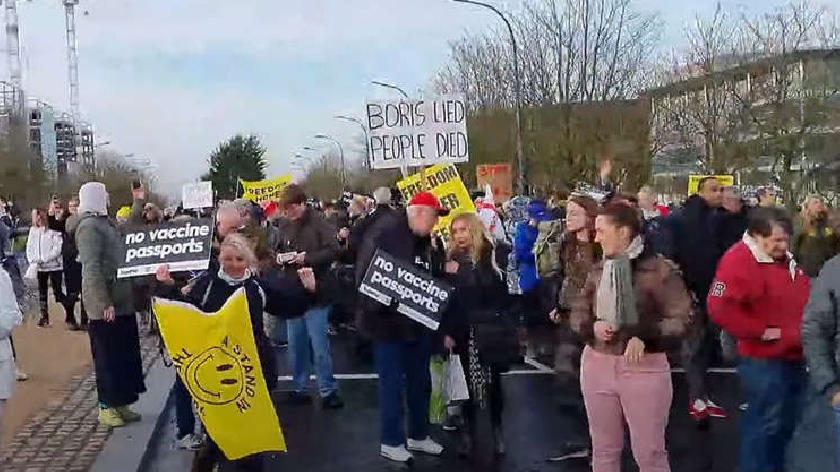 Protesters have been causing chaos across Milton Keynes today.
Footage shows anti-vaxxers storming Milton Keynes Theatre today during the interval of Jack and The Beanstalk.
The protests are believed to be against Covid-19 restrictions, with dozens of people were seen in the video, including some who were holding anti-vaccine placards and shouting anti-vaccine slogans.
Theatre-goers report that protesters got into the theatre and proceeded to shout at staff with signs and foul language in front of families and young children.
Members of the audience had the second half of their show delayed by 20 minutes but say staff handled the situation very well.
Anti-vaxxers have also stormed a testing site in Milton Keynes and were spotted stealing vital equipment.
Protesters were heard shouting chants such as "Boris lied".
One man was seen throwing cones from the test site around.
Videos show stressed security workers walking around whilst demonstrators video and shout at them.
Many users have taken to Twitter to share images and videos taking place across MK.
A spokesperson for Thames Valley Police has told MKFM: "Thames Valley Police is aware of an anti-vaccination protest that took place in central Milton Keynes this afternoon.
"Where criminal offences have been disclosed, we will take swift action and bring offenders to justice.
"If anyone has any information or wishes to report they can do by calling 101 or online quoting reference 604 29/12/2021."
It comes on the day that Boris Johnson was seen at The Open University in Milton Keynes discussing boosters on national TV.
Whilst speaking to Sky News broadcasters earlier today, at The Open University, the prime minister said there are 2.4 million eligible double-jabbed people yet to take up the offer of a booster.
He said that "the overwhelming majority" of those in a serious condition in hospital with COVID fall into this category.
The protests comes as tests are becoming hard to get hold of.
Today, the health secretary warned Coronavirus tests could be temporarily unavailable to order due to "exceptionally high demand".
Lateral flow and PCR tests were both unavailable for home delivery across the UK via the government website on Wednesday morning.
PCR walk-in and drive-through sites were also severely restricted. None were available in England or Northern Ireland and "very few" in Scotland.
MORE TO COME...