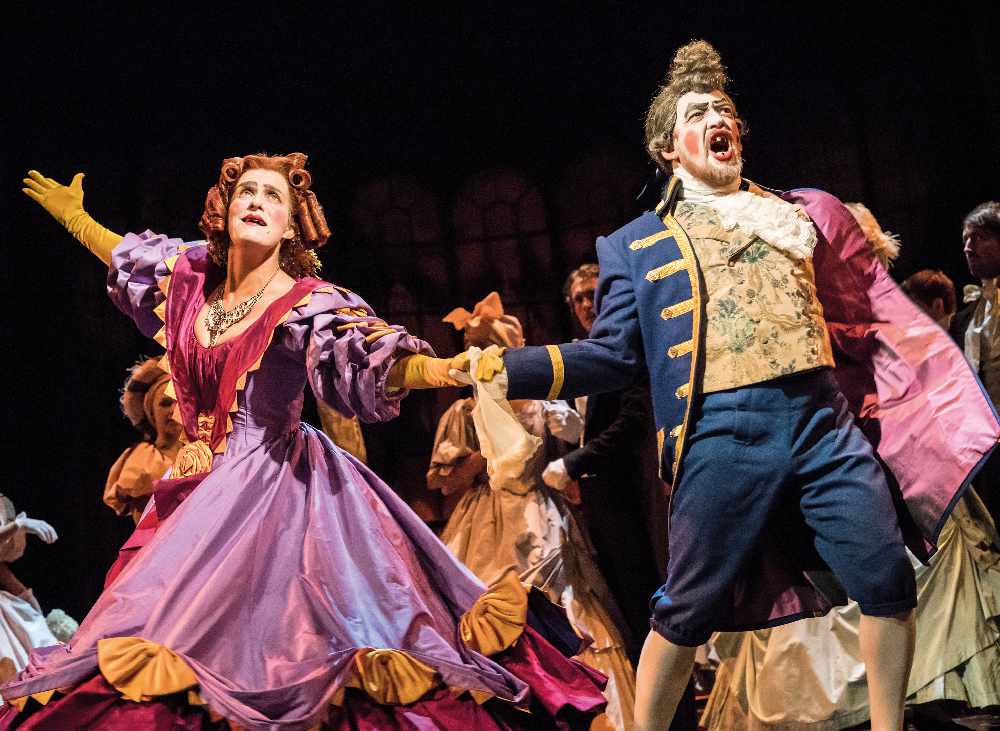 See you at the Barricade... The World's favourite musical LES MISERABLES comes to Milton Keynes Theatre
The wait is almost over… One of the world's most successful and popular musicals is embarking on a tour, and playing to packed houses for four weeks at Milton Keynes Theatre.

Cameron Mackintosh's revitalised Broadway production of Les Misérables hits the stage from 14th May – 8th June, and audience members are in for an entertainment experience that will stay in the memory long after the barricades have come down.

As part of its first UK tour in a decade the show, based on Victor Hugo's 19th century epic novel, has been technically re-imagined in a new version that has excited audiences and critics alike. The famous revolving stage has gone but, with stunning new design, projection and lighting effects, the show has never looked or sounded fresher.

The year is 1832. Jean Valjean, a French peasant who stole a loaf of bread and ended up spending 19 years in gaol for his trouble, is living to regret it. Then he goes and jumps parole which doesn't go down well with Javert, a particularly jobsworth cop who, with his unshakeable belief in the letter of the law, obsessively hounds Valjean until… well, if you want the whole story, read Victor Hugo's novel. No? You prefer your French classics delivered in the form of a musical and theatrical triumph? Now you're talking. Because, thanks to the creative team that includes composer Claude-Michel Shönberg and writer Alain Boublil, and songs including One Day More, I Dreamed a Dream and Do You Hear the People Sing? that's exactly what 'Les Mis' is.
Listen to Steven Gordon-Wilson talking exclusively to the cast of the show in the Easter Special Destination MK Show
Direct from the West End, Killian Donnelly will be reprising the role of Jean Valjean when the smash hit musical comes to town. He first joined the company of Les Misérables in 2008, going onto play the role of Enjolras from 2009 to 2011. In 2010, he played the role of Courfeyrac in the 25th Anniversary Concert of Les Misérables at The O2 Arena and also played the role of Combeferre in the multi-award-winning film of the show, released in 2012.

Since Cameron Mackintosh first conceived this new production of Les Misérables to celebrate the show's 25th anniversary in 2009, it has taken the world by storm. Modern audiences have embraced this production as Les Mis for the 21st century as it plays to packed houses all over the world in many languages. It also inspired the hugely successful movie version starring Hugh Jackman, Anne Hathaway and Eddie Redmayne. This brilliant new staging has scenery inspired by the paintings of Victor Hugo, and has been seen in North America, South America, Korea, Japan, Canada, Australia, Spain, France, Manila, Singapore, Dubai and Broadway.

Emma Sullivan, Theatre Director at Milton Keynes Theatre said, "We are incredibly excited to be hosting a production of a show as iconic as Les Misérables; especially in our 20th birthday year! It is a real honour and something we won't forget in a hurry. Bring on the Barricades!"