The MKFM Local Music Show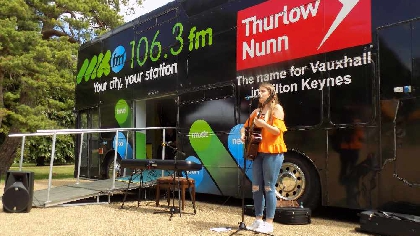 Championing local music on MKFM since July 2014, Vicki has her finger on the pulse of upcoming and unsigned musical talent in and around Milton Keynes.

Join Vicki from 9pm to 10pm, Monday to Thursday on MKFM, where she plays you tracks from the best local bands and artists. Furthermore, she also regularly interviews these local acts and also chats with more-renowned artists visiting the area.

Vicki also brings you your local gig guide for the weekend every Thursday night, so you can keep up-to-date with the breadth of fantastic live music taking place nearby every weekend.
Examples of local acts that Vicki has on her playlist and has supported over the years include Toffees, All Tied Up, Tony Hill, Lydia Singer, Space Goat, Daniel Knight, Palmerston, Jonny and the Mental Breakdowns, Carly Loasby, New Bays, Hazard, Amber Falconer, The Deportees, Ocasan and RavenEye to name but a few.
Besides the local music in this hour, you can also expect to hear a supporting playlist of more well-known singer-songwriters, independent artists and bands, such as Manic Street Preachers, The Libertines, James Bay, Lady Gaga, Foo Fighters, Muse, Lily Allen, Green Day, Bob Marley and The Wailers, Merry Hell, The Pierces, The XX, Elbow, Scissor Sisters and much more…
You will often see Vicki at local music venues and promotions, plus she also attends national festivals too! She has been representing MKFM at Ampthill Festival and Download Festival for the past three years, where she is found backstage interviewing household names such as Scouting For Girls, The Lounge Kittens, CAST, The Cuban Brothers, Chas and Dave, The Mariachis (AKA: The Doritos Band!), Dreadzone, Therapy?, Sonic Boom Six, Fozzy plus more…
Want to get in touch with Vicki?
If you're in a local band, or you're a local solo artists and fancy being showcased on MKFM. Email your track to Vicki at unsigned@mkfm.com, please ensure that you follow the points below and please be patient, as Vicki does listen to every submission and often has a large backlog of submissions to get through.
Local band / artist submission criteria:
Band / artist must be from Milton Keynes or surrounding areas of MKFM's broadcast FM or DAB reach.
Bands/ artists outside of this area may be considered, if playing a gig in the broadcast catchment.
Tracks must be sent in MP3 or WAV format only.
Tracks must be sent as an attachment (not a link).
Submissions should be radio-friendly, recorded in stereo, of a good quality, with no swearing or lyrics that could cause offence. Radio edits are accepted on a case-by-case basis and please note that MKFM also reserves the right to edit tracks for broadcast.
Songs must not be longer that 4m 30s.
To promote your gigs, be sure to add it for free at www.mkfm.com/events, so that your gig can be considered for her weekly on air gig guide.