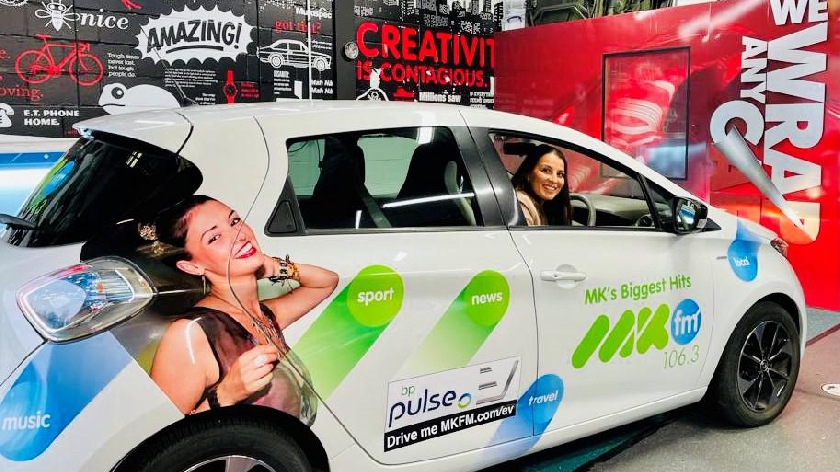 Lia from the MK Breakfast Show explains her first impressions of driving a 100% electric car (and an automatic for that matter) in her latest blog post...
Thanks to the EV Experience Centre, the MKFM team are gaining first-hand experience of driving and charging an electric vehicle in Milton Keynes and we'll take you along for the ride!
Renault ZOE ZE.40
The MKFM car is a Renault ZOE ZE.40 which is 100% electric and was released in 2016 and is now only available to purchase in the used car sales market, since its successor, the ZE.50 was released in 2020. With a 186 WLTP range, real-world range in miles 150, Renault has proven its expertise and experience in electric vehicle innovation, offering you a greater driving range and full flexibility.
Every day that I drive the Renault ZOE I get the same feeling of excitement (as you can see by my expression in the photo above). Driving an electric vehicle truly feels like you're driving in the future - in fact, I think I may have compared my experience initially to driving a spaceship!
Firstly, it is an automatic which I'd never driven before and now I feel so spoilt I never want to go back to a manual. The ease of the automatic makes journeys across MK much more relaxed - especially at all of the roundabouts!
Secondly, the amount of sophisticated settings to customise your EV Experience is a thing of joy - from the sound of the indicators to the brightness of your dashboard. You can even set up pre-conditioning to heat your car from the comfort of your own home on those frost mornings - no more scraping the ice off the windscreen!
Finally, the most obvious difference with driving an electric car has got to be the sound - or lack of it! If you turn down the incredible Bose sound system in the ZOE you will hear silence, from pulling off your drive to going 70 mph down the motorway. The novelty still hasn't worn off for me. After years of revving engines and finding a biting point in my previous petrol cars, to roll away in pure silence is magical. My journeys across Milton Keynes are peaceful and much more relaxing than ever before.
Find out more about Renault ZOE ZE.40 by requesting a brochure here.
Or book a test drive for the Renault ZOE, VW ID.3, VW E-UP, VW E-GOLF, BMW I3 or MINI ELECTRIC and receive an additional 20% off your experience by using the booking form below or quote promo code MKFM20 when enquiring with the Electric Vehicle Experience Centre directly.