Win £1000 cash on The MK Secret Sound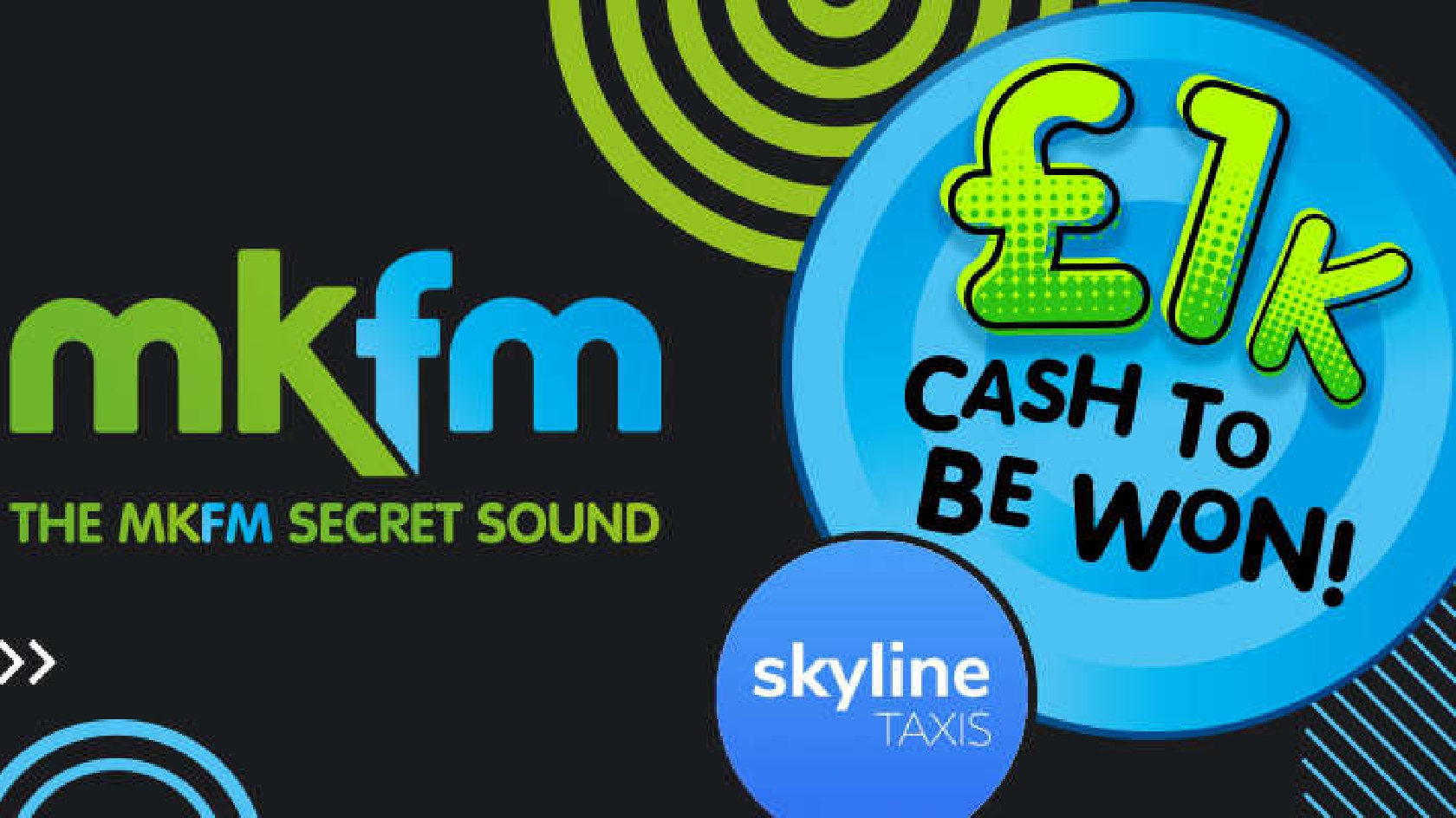 Someone in Milton Keynes is guaranteed to win £1000 cash on the MK Secret Sound, thanks to Skyline Taxis!
The Secret Sound has been on radio longer than time itself, but it still gets people talking and this time, it could pay for a summer holiday or pay your energy bills.
Thanks to Skyline Taxis, your quick, affordable, and reliable taxi service in Milton Keynes available 24x7, 365 days a year, you could win £1,000 by simply guessing what the MK Secret Sound is.
Fancy £1000 to pay off some bills, save for a rainy day, or treat yourself or a loved one?
How to play
The MK Secret Sound will return to the MK Breakfast Show Monday to Friday at 8.15am from Monday 18th September 2023.
For your chance to win £1000, WhatsApp us on 07511111063, starting your message with MKFM SOUND and your name (do NOT text your answer)
MKFM + SOUND + 'Your Name' to 07511111063 on WhatsApp.
Or you can enter by recording a voicenote or messaging the studio via the MKFM app. Our app is totally free and available to download now from the Apple App Store and Google Play Store.
We could be calling you on-air for your chance to win the cash when the MK Secret Sound returns soon!
Listen to the MK Secret Sound here
Some incorrect guesses so far (this list is not exhaustive)
Emptying an ice tray
Spring on a wooden gate
Chopping on chopping board
Djembe drum
Plank of wood falling on another plank
Rubbish being emptied into a bin lorry
Balls in tumble dryer
Potatoes being dropped into sink
Vending machine (dropping treat)
Tin cans being pulled behind car (like 'just married')
Hand cranked record player
Bongo drums
Squeezing a coke can
Pulling up the blinds
Coffee pot machine ejecting into waste bin
Foot lever on hydraulic bar stool
Ball going down somewhere...
Roulette wheel, ball landing into a slot
Wooden chopping board being put away
Bingo balls
Ball rolling down pool table into pocket
Chinese hand drum / monkey drum
Coconut Shy
Cups coming down in a coffee machine
Kids toys - shapes falling into their places
Bottle flip
Ticket being dispensed out of machine
Bluetooth being paired
Wooden xylophone
Old style water pump, like that used in a well
Kids toys, blocks being put into shapes
Bottle going on a side
Retro board game with dice in middle, dome being pressed
A business card printing machine
A car door opening
Magnetic door latch - like a bathroom cabinet
Flushing the loo - the inside mechanisms of pulling handle
Pump truck in a warehouse, picking up pallets
Rollercoaster chugging up to the top
The ball going down the goal on a foosball table
White ball on pool table going down and back out again
Connect four, drop the token in
Letterbox closing
Ball being dropped into a table football
Stacking cups in the cups game
Rolling dice on a board game
Hand drum, monkey drum
Plastic coin in parking lot for barrier to open
Wooded bread bin, opening and closing
Toilet seat rattling against the cistern
Bowling ball hitting tenpins
Springy door stop
Metal dial of a gum ball machine
Ball being thrown into a cup / beer pong
Can falling from a vending machine
Pop up pirate game for kids
Tea spoon being thrown into the washing up bowl
Wooden utensil being dropped into a kitchen draw
Shaking of Pringles of can with Pringles in it
Slide being changed on a slide projector
Petrol pump nozel going back into the holder
Ker-plunk game when the marble drops down
Gathering up cricket stumps
Putting a loo brush back in the loo holder
A Loom, the wooden bit shooting across to weave threads or rugs
Connect Four
Empty toilet roll spinning on holder
Cap of the washing liquid bottle
Laundry ball stuck in the washing machine
Keys stuck in the washing machine
Coin stuck in a washing machine
Plastic paddle within the drum broken off
Trainers stuck in the washing machine
Coin stuck in a washing machine
Mobile phone stuck in washing machine
Wallet stuck in a washing machine
Belt stuck in a washing machine
Underwire from a bra stuck in the washing machine
Bank card stuck in a washing machine
Pen stuck in the washing machine
Lip balm stuck in the washing machine
Button stuck in the washing machine
Necklace chain stuck in the washing machine
Liquid soap ball / dosing ball stuck in the washing machine
Lighter stuck in a washing machine
Zip stuck in the washing machine
Hair clip stuck in the washing machine
Electronic gate fob
Shin pads stuck in a washing machine
Headphones/ear buds stuck in a washing machine
Plastic sports bottle
Golf ball stuck in a washing machine
Trainer shoe laces stuck in a washing machine
Detergent ball stuck in the washing machine
Pet toy (rubber balls or bones) stuck in the washing machine
Duplo block / like lego, stuck in the washing machine
Comb in the washing machine
Kids dummy in washing machine
Clue
Something stuck in a washing machine
Terms and Conditions
MKFM's standard terms and conditions apply to this and all competitions on MKFM - MKFM Terms and Conditions
In addition, the entry mechanic described above forms part of the rules and the following specific rules also apply to the MK Secret Sound competition:
Entries are open from Monday 15th May 2023.
The first round will be played on the MK Breakfast Show on Monday 22nd May 2023.
Entries will be selected by generating a random number corresponding to the order in which entries have been received.
Only one entry per mobile or landline number will be accepted each day.
There will be one competition rounds per day during at 8.15am Monday to Friday
In the event of circumstances beyond our control (e.g. loss of transmission, urgent breaking news, studio emergencies, etc) we reserve the right to run the competition at the earliest opportunity after these times - in the event that this is necessary, it will be announced on air.
Competition rounds may be recorded shortly before transmission.
If you fail to answer the telephone when we call you, you will be deemed to have forfeited your opportunity to play and be re-entered in the draw to play in the event that the prize is not won.
Entries made within 30 minutes of the competition execution time will not be included in the draw, however, in the event that the prize is not won, they will be included in the next competition round.
By entering the competition, you are agreeing to be identified as a winner and you may be asked to take part in some publicity activity (e.g. photo calls with local press).
This competition is intended for our local audience on FM. As such, to be eligible to claim the prize, entrants must live in our FM broadcast area (which covers the Borough of Milton Keynes including Newport Pagnell, Stony Stratford, Wolverton, Woburn Sands and Bletchley, and the nearby towns of Woburn, Olney, Cranfield and Ampthill). Alternatively, entrants must work within this area for at least five day a week. Evidence of employment at the time of winning will be required and is subject to MKFM's judgement.
If you are unsure whether you are in an eligible area, please email info@mkfm.com for clarification.
As with all MKFM competitions, current MKFM staff and volunteers and their immediate families are not allowed to enter.
The incorrect guess list does not contain every incorrect guess we have had so far, it is just a selection of these.