PlayStation 5 won on Darren and Lia's 12 Days of Christmas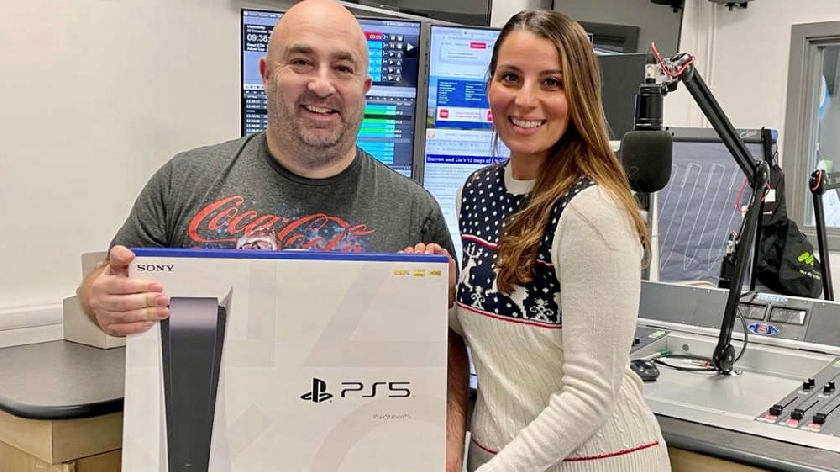 Beata won a PlayStation 5 on Darren and Lia's 12 Days of Christmas on the MK Breakfast Show today (22/12) thanks to CityFibre.
On the 12th day of Christmas Darren and Lia gave to me: a PlayStation 5, large screen TV, and vouchers for a shopping spree! Throughout December, MKFM listeners have won amazing presents in time for Christmas!
Thanks to CityFibre, the UK's largest alternative provider of wholesale fibre network infrastructure and the builder of Gigabit Cities, Darren and Lia have given away the incredible prizes below:
Prizes
PlayStation 5

Hisense Roku 43 Inch R43A7200GTUK Smart 4K LED Freeview Large screen TV

12 instant win £100 shopping vouchers
Prizes won by our listeners
Dennis won £100 Waitrose shopping voucher on 07/12.

Aaron gambled and won a bag of chocolate coins on 08/12.

Zoe won £100 Tesco shopping voucher on 09/12.

Roy won a Hisense Roku 43 Inch R43A7200GTUK Smart 4K LED Freeview Large screen TV on 10/12.

Rob won £100 Marks & Spencer shopping voucher on 13/12.

Jen won Christmas crackers on 14/12.

Vicky won a bottle of shampoo on 15/12.

Hazel won £100 Tesco shopping voucher on 16/12.

Emma won an apple and a pear on 17/12.

Sharon won a family ticket to watch the MK Dons at Stadium MK on 20/12.

Katrina won a Hisense Roku 43 Inch R43A7200GTUK Smart 4K LED Freeview Large screen TV on 21/12.

Beata won the PlayStation 5 on 22/12.
Terms and Conditions
MKFM's standard terms and conditions apply to this and all competitions on MKFM.
In addition, the entry mechanic described above forms part of the rules and the following specific rules also apply to this competition:
Entries will be selected by generating a random number corresponding to the order in which entries have been received.
All texts must be received before 8pm weekdays in the following format: 'MKFM + YOUR NAME + THE DAILY PASSWORD TO PLAY'.
In the event of circumstances beyond our control (e.g. loss of transmission, urgent breaking news, studio emergencies, etc) we reserve the right to run the competition at the earliest opportunity after these times - in the event that this is necessary, it will be announced on air.
Competition rounds may be recorded shortly before transmission.
If you fail to answer the telephone when we call you, you will be deemed to have forfeited your opportunity to play and be re-entered in the draw to play in the event that the prize is not won.
Entries are open from Monday 6th December 2021.
The judge's decision is final and no further correspondence will be entered into.
By entering the competition, you are agreeing to be identified as a winner and you may be asked to take part in some publicity activity (e.g. photo calls with local press).
This competition is intended for our local audience on FM. As such, to be eligible to claim the prize, entrants must live in our FM broadcast area (which covers the Borough of Milton Keynes including Newport Pagnell, Stony Stratford, Wolverton, Woburn Sands and Bletchley, and the nearby towns of Woburn, Olney, Cranfield and Ampthill). Alternatively, entrants must work within this area for at least five day a week. Evidence of employment at the time of winning will be required and is subject to MKFM's judgement. If you are unsure whether you are in an eligible area, please contact the Managing Director for clarification.