The MKFM Food Bank Collection with Tesco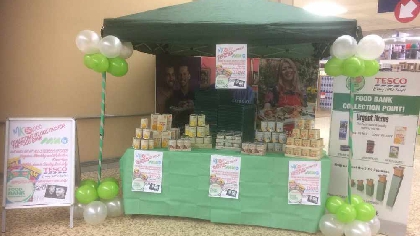 It's the final week of the MKFM Community Challenge to collect 50,000 tins and we need your help!
From now until Sunday 2nd July, you can drop off your tins of food at Tesco in Kingston, Wolverton or Bletchley. You can also buy food during your weekly shop and donate it straight away.
The MKFM team will be visiting all three stores across the week so keep an eye out for our street team. The week will also be supported by Unit Nine and local music legends Jamie Stimpson and Mister Vee.
Then on Friday, the MKFM Bus and Street Team will be touring all three stores to collect all the tins.
We'll start at Kingston at 10am before heading to Bletchley at 11am and ending at Wolverton at 12pm.
So help us reach our 50,000 tin target by donating just one or two tins at your local Tesco this week - every little helps!
If you are a local business who would like to make a donation of £300 to purchase 1,000 tins for our collection and receive a publicity opportunity, please email lia.sales@mkfm.com and we will be in touch.