Takeaway Tuesdays on MKFM Drive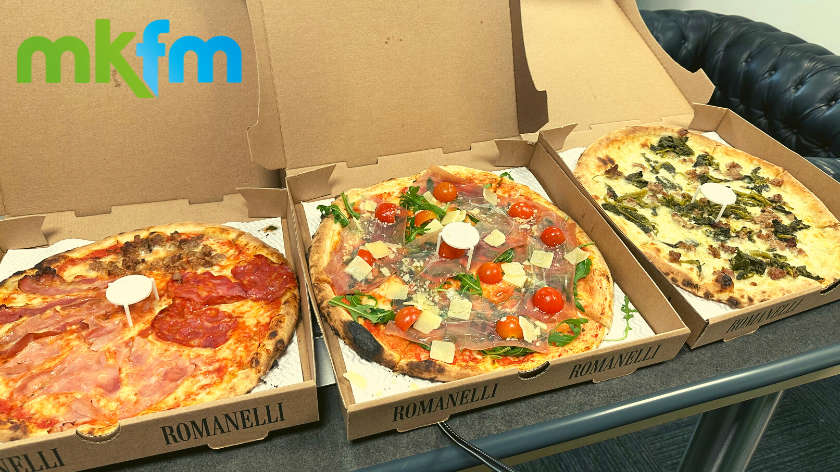 Check out the latest tasty treats Darren and Lia have been sampling on MKFM Drive's Takeaway Tuesdays...it's a hard job but somebody's got to do it!
Join Darren and Lia after 5pm every Tuesday on MKFM Drive for their new feature, Takeaway Tuesdays. They'll be sampling a wide array of local eats and giving their honest review on MKFM.
Are you a local takeaway interested in coverage on a Takeaway Tuesday? Email sales@mkfm.com for further details.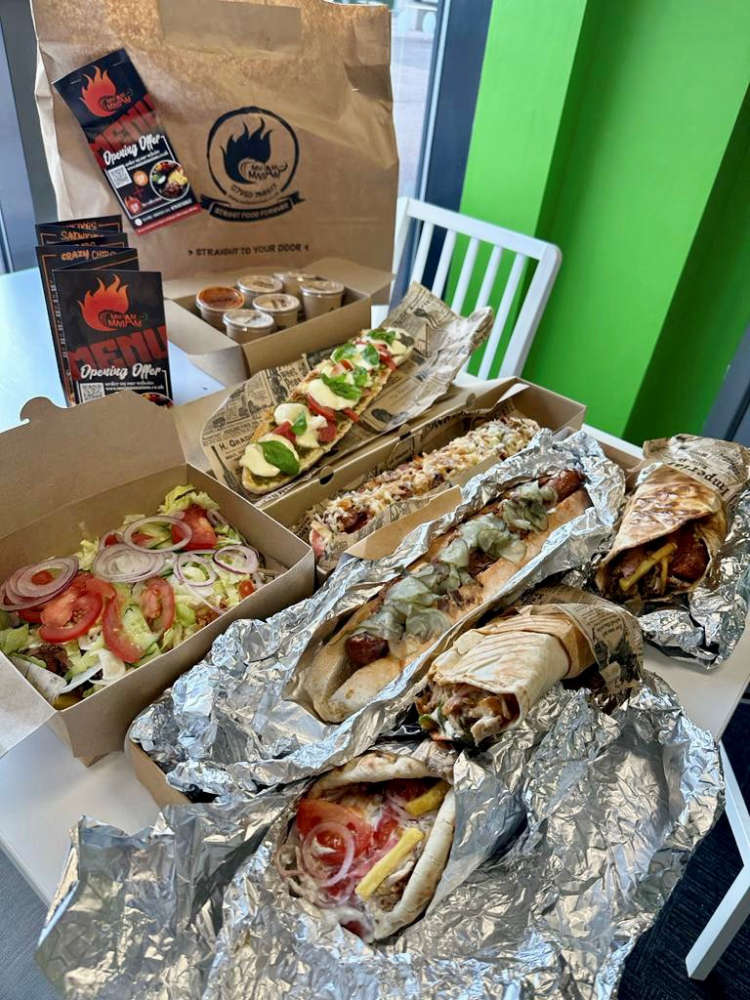 Mniam Mniam, situated at Roni's Car Wash on Watling Street, serve delicious homemade kebabs, wraps, roasted baguettes, hot dogs, sandwiches, salads, and burgers. They also offer a large selection of original MNIAM MNIAM sauces, there's something for everyone!
Darren and Lia were treated to a Mniam Mniam feast that made them continuously say 'Mniam Mniam' (yum yum)! They sampled the Souvlaki Greek Style Kebab (Lia's favourite), filled with shawarma and chips wrapped in a Naan bread served with tomato, red onion, mixed herbs and finished with Mniam Mniam's signature homemade Tzatziki sauce. The Berlin Dog was a real show stopper, at 20 inches long this sausage in a baguette with ample grilled onions and pickles was a feast for the eyes as well as our tummies (this was Darren's fave). The Drivetime team also enjoyed a Caprese roasted baguette, with green pesto base, fresh tomatoes, basil and mozzarella, and the Bad Boy baguette, with chicken shawarma, grilled sliced sausage, bacon, salami and mozzarella. As if that wasn't enough food for our dynamic duo they also had the opportunity to sample the Mniam Mniam Wrap, shawarma served with griled mushrooms, onion, chips and breaded deep fried cheese and American Style Wrap, Shawarma served with chips, grilled peppers and breaded deep fried cheese. To wash it all down they sampled all of the delicious and diverse sauces and their Kapsalon Dutch Style Kebab with fresh mixed salad.
All of the food had distinct delicious flavours and is the perfect fast food takeaway if you're getting your car cleaned at Roni's or out for a walk at Furzton Lake. Check out Mniam Mniam's online shop here.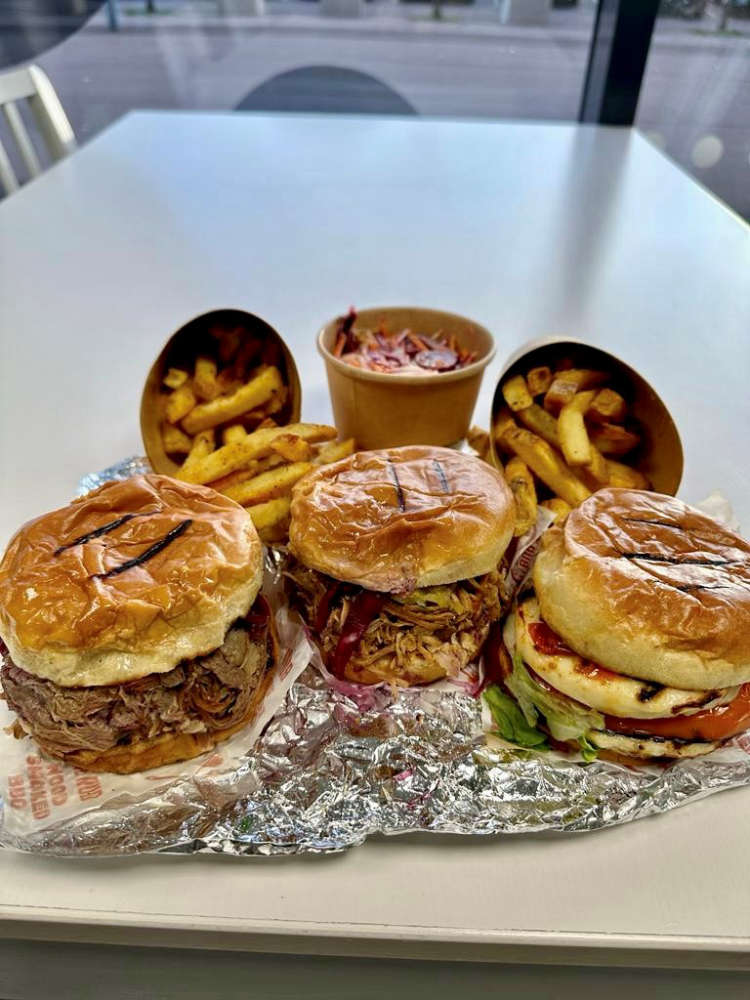 The Rub, based in MK2 Business Centre in Bletchley, are a family run business offering Wood Smoked BBQ street food. All of their rubs, marinades and sauces are made from scratch by the team so you know exactly what goes into their food. It is these ingredients combined with their wood smoking process that gives their food a unique flavour that will keep you coming back for more.
All of their meats and produce are locally sourced where possible, supporting local businesses and bringing the tastiest and freshest ingredients to you. The Rub team are often at street food markets, festivals and can also cater for private events.
Darren and Lia were rubbed up the right way with two Hog Father burgers - classic 10 hours smoked over hickory wood British pork shoulder, hand pulled and served in a brioche bun with pineapple salsa, and a Squeaky Clean - halloumi and grilled red peppers with smoked tomato relish. Alongside a tangy slaw and perfectly seasoned fries.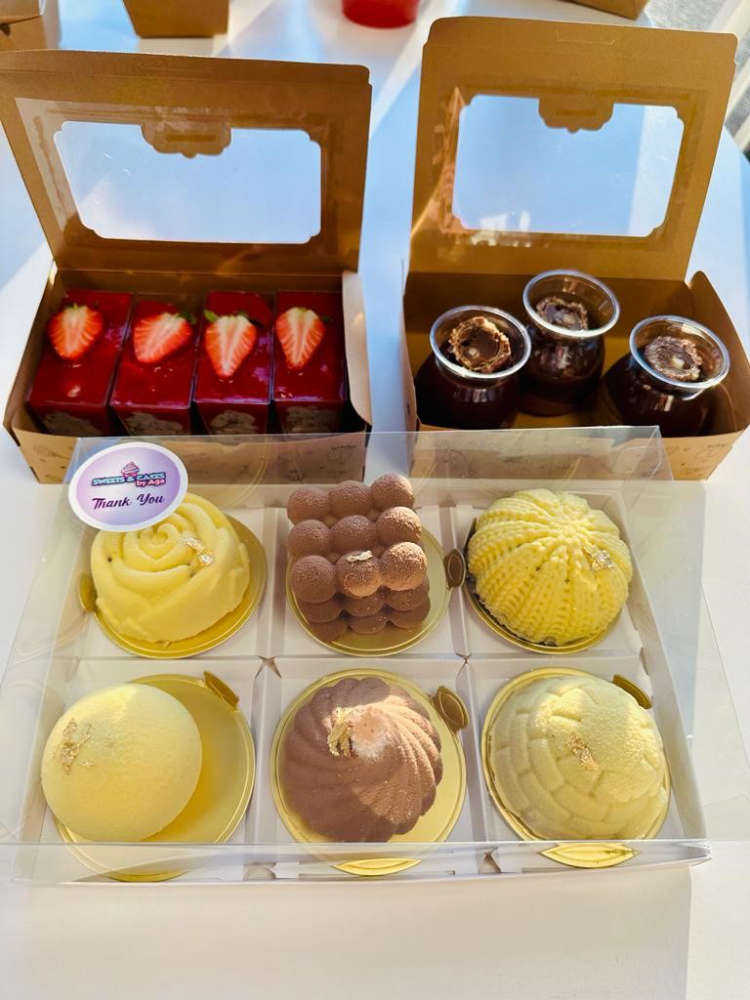 Sweets and Cakes by Aga provide birthday cakes, occasion cakes, mini desserts, and sweet treats for corporate clients. The beautiful and elegant design of the cakes are perfect for all occasions and were devoured by the whole team! They were treated to a Ferrero Rocher chocolate mousse, Oreo mousse with raspberry coulis, white chocolate with mango and passion fruit chocolate cake, apple pie caramel mousse with ginger bread, pistachio and raspberry sponge, milk chocolate raspberry sponge, mango and raspberry sponge.
When cutting into each of the mousse cakes, the layers were beautifully distinct and elegantly presented. The flavours were delicious and distinct between each and every cake - truly scrumptious!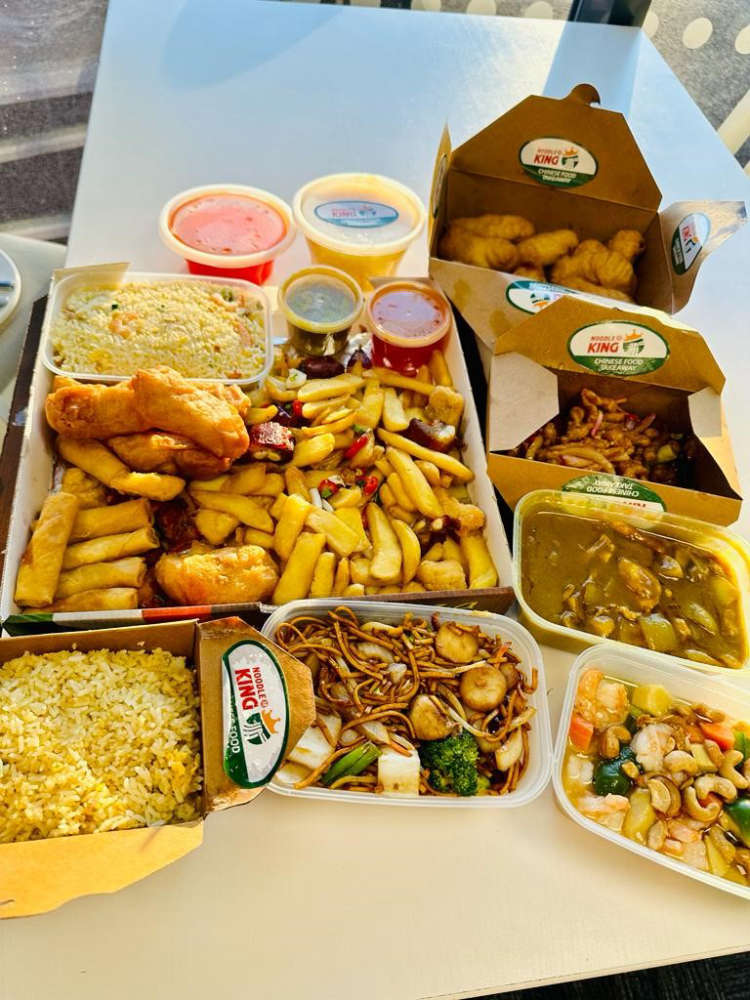 Noodle King Milton Keynes Takeaway, based on Whaddon Way in Bletchley, provide popular Chinese food to takeaway or collect. It is so easy and fast to view the full menu and order online here.
Darren and Lia filled their boots with their favourite Chinese dishes including chicken curry, egg fried rice, king prawn with cashews, fried noodles with vegetables. Noodle King also treated Darren and Lia to their Munchy Box - which is 50% off this Mother's Day. The Muchy Box consisted of chicken balls, special fried rice, sweet and sour sauce and curry sauce, mini veg spring rolls and spare ribs.
Find out more about Noodle King's special offer this Mother's Day on their website here.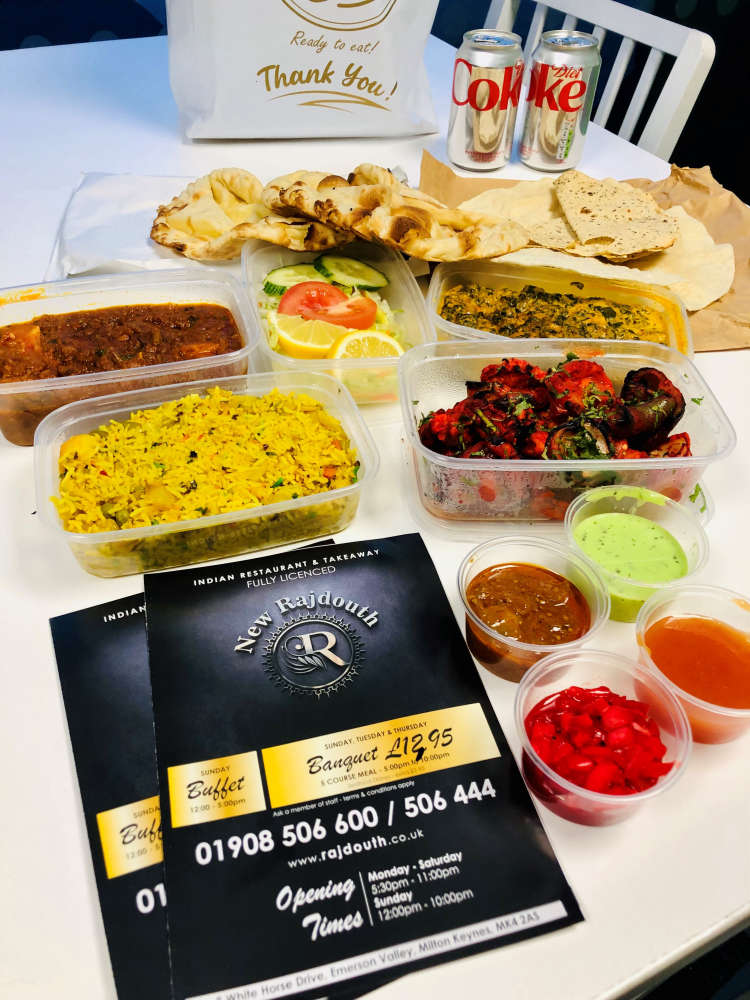 Raj Douth is a popular Indian and Pakistani restaurant situated in Emerson Valley. Raj Douth serves all of your favourite Indian dishes including seafood, lamb, chicken and vegetarian as well as their House Specials.
Darren and Lia made light work of a King Prawn Shaslik, Chicken Balti, Vegetable Rice, Peshwari and Plain Naan, Saag Paneer, Masala and Plain Popadoms. All of the spices were perfectly layered and the Saag Paneer was one of the best in MK!
View their Takeaway Menu to start an online order, save on your first takeaway order by joining their Free Gold Club and earn loyalty points for savings on future orders. If you would prefer to dine in their restaurant in Emerson Valley please book a table online.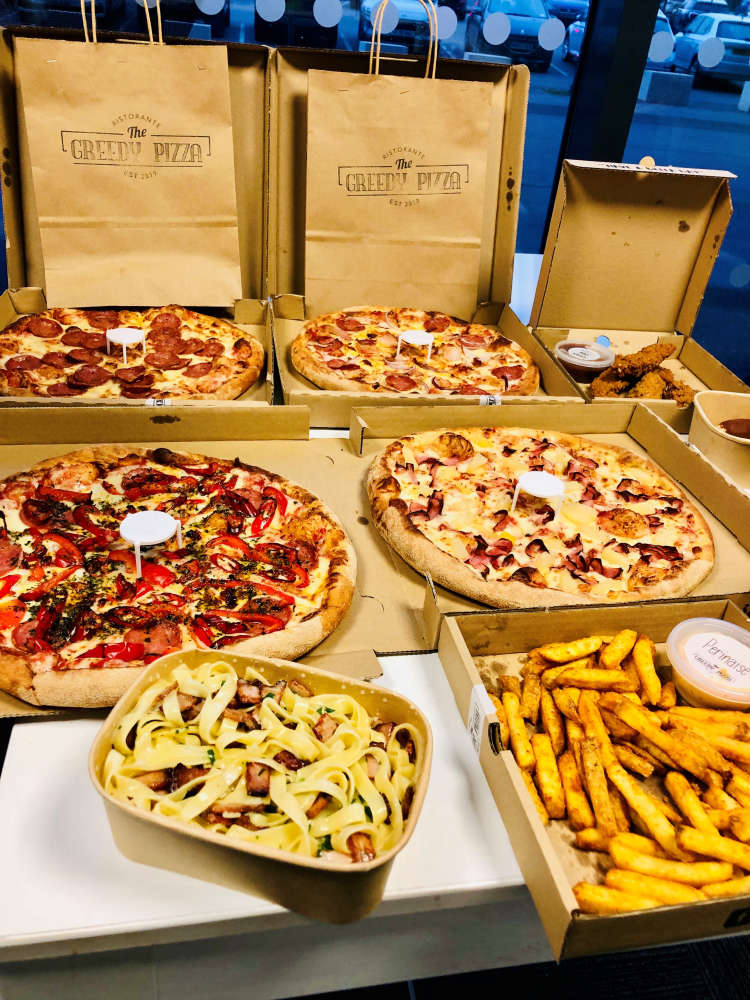 The Greedy Italian's little sister, The Greedy Pizza serves Greedy Classics and Create Your Own pizzas and sides from their Bletchley restaurant. You can order online, over the phone 01908 379272, and on their app.
Darren and Lia enjoyed The Hula Hula, ham and pineapple with mozzarella cheese, Feeling Hot Hot Hot with nduja, fresh red chilli, pepperoni and roasted red peppers, Proper Pepperoni with double mozzarella cheese, tomato sauce & double pepperoni, and a special pepperoni, ham and red onion with mozzarella and tomato sauce. All of the pizzas had a fresh and authentic flavour, and were delivered piping hot (so the mozzarella was still stringing). As if that wasn't enough food Darren and Lia also sampled Greedy's Peri Peri Fries & Perinaise Dip, Chicken Breast Dippers (5 Pieces) and Pasta Carbonara - which Lia said was the nicest she'd eaten from a restaurant in MK! They also managed to squeeze in a Tiramisu, and Biscoff Cheesecake!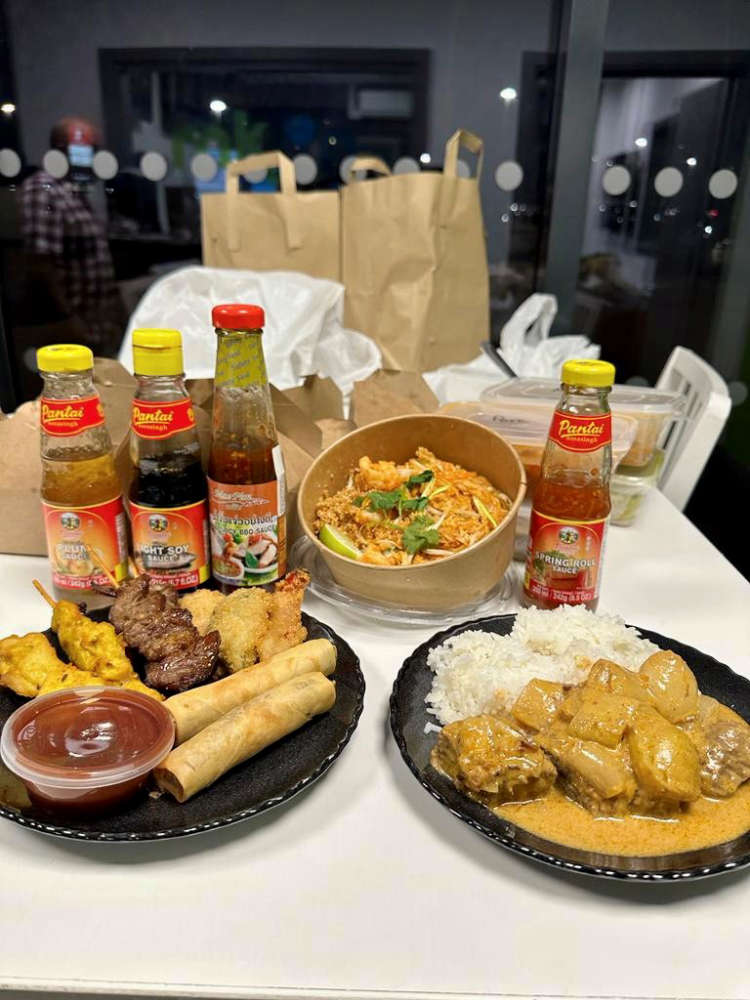 Tuk Tuk Thai brings authentic Thai dishes and flavour to 59 Aylesbury Street in Fenny Stratford. Every dish has a distinctive fragrant flavour and is perfectly balanced with sweet, sour and spice. Darren and Lia sampled a mixed starter of crispy duck spring rolls, pork skewers, chicken satay, and tempura vegetables. Each starter came with it's own accompanying sauce and remained crispy despite the travel to our studios. For mains our Drivetime team enjoyed a traditional coconut and lime Thai soup, Thai green chicken curry, Beef Massamun curry, prawn pad Thai, sweet and sour pork, and plenty of sticky rice.
Fancy your favourite Thai food as a takeaway next Tuesday? Tuk Tuk Thai are offering 15% off when you order mentioning Takeaway Tuesdays.
Scott and the team from Soft99Whip Ice Cream Van hire are a local based company in Milton Keynes well known to the general public. They can cater for many events within Buckinghamshire, Bedfordshire and surrounding areas with Mr Whippy soft ice cream, slushes, thick shakes and a wide variety of ice lollies.
Darren and Lia enjoyed a double Mr Whippy soft ice cream cone with strawberry and chocolate sauce topped with sprinkles!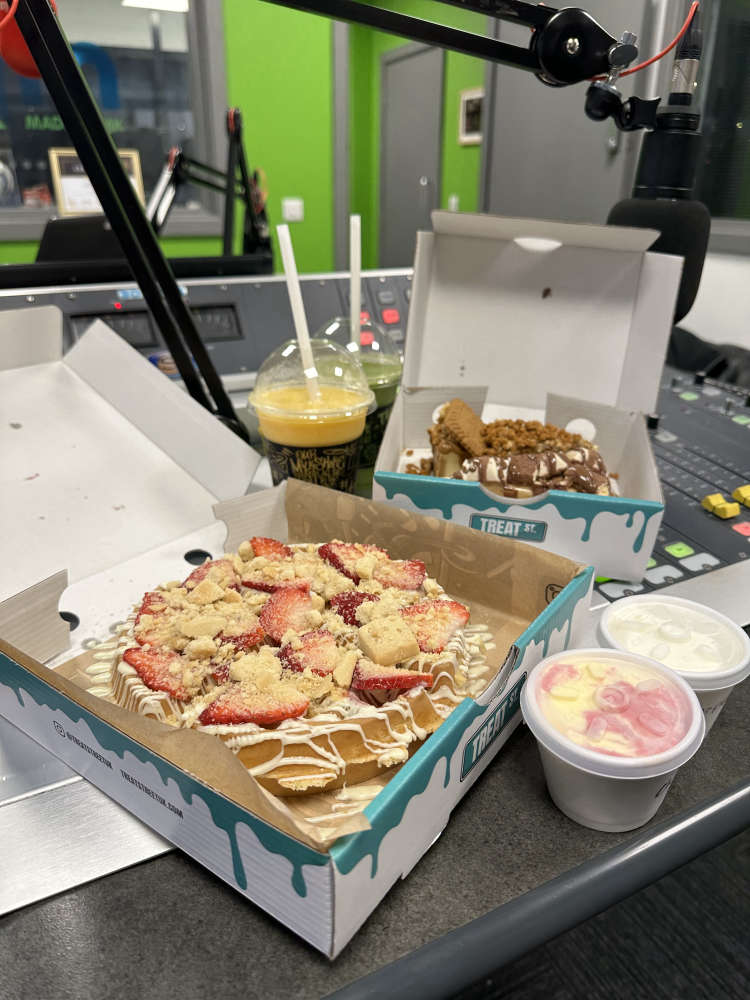 Treat Street dessert bar offers a whole host of sweet treats including waffles, pancakes, cookie dough, ice cream rolls, sorbet, cakes and smoothies based at MK1 Shopping & Leisure Park.
Darren and Lia were treated to a Strawberry Fields waffle with sliced strawberries, shortbread and white chocolate sauce, Biscoff luxury loaded New York cheesecake with biscoff spread, biscuit and salted caramel sauce, and Get Down on it luxury loaded New York cheesecake with white hazelnut spread, Kinder Bueno white, fudge and milk chocolate sauce - YUM! All of the treats were washed down with a Pash 'n' Shoot smoothie, filled with passion fruit, pineapple and mango, and a Broccoli and the Beast, with broccoli, spinach, celery, pineapple, mango and banana...those fruit and veggies balance out the other treats don't they?!
Romanelli Italian Food, based in Oldbrook and Bletchley, serve a variety of food including pizzas, pastas, and gelato.
Darren and Lia would highly recommend the 4 Maiali pizza with tomato sauce, mozzarella, Italian sausage, pancetta, spicy calabrian sausage, and cooked ham. Romanelli's Primavera pizza with tomato, mozzarella, parma ham, cherry tomatoes, rocket and parmiagiano was also delizioso. The pizzas tasted authentic, with ample toppings and arrived piping hot!
Find out how to listen to MKFM here.