MKFM to launch new food bank campaign in Milton Keynes with Grab Now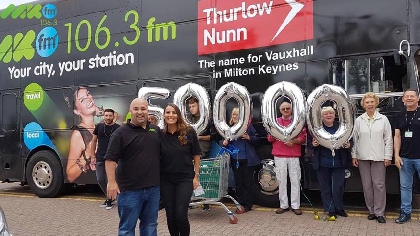 MKFM are launching a new food bank campaign in Milton Keynes with our friends at Grab Now.
We need your help to ensure nobody goes hungry during these uncertain times.
In 2017, with your help, we smashed our target of 50,000 tins with just over 64,000 tins collected for the MK Food Bank.
This time we are looking to raise the bar with the help of Grab Now with a target of 70,000 tins.
The food bank has gone from providing 1,000 tins per month to now over 1,000 per week due to the pandemic.
Unfortunately, the food bank needs to prepare for the situation to become worse as we move through the autumn and winter months.
Our new campaign will officially launch in September but you can help now by using the Grab Now app.
Grab Now is a locally owned version of Deliveroo, Uber Eats and Just Eat.
In addition to delivering your favourite food, Grab Now also delivers flowers, birthday cakes, groceries and so much more.
From Tuesday 14th of July, Grab Now are donating four tins of food for every delivery they make.
So by switching to Grab Now, your order will directly help feed Milton Keynes with four tins going directly to the Food Bank.
Just order as usual through Grab Now and they will do the rest.
Stay tuned to MKFM for regular updates and other ways you can get involved when the campaign officially starts in September.
You can download Grab Now on the Apple App Store or Google Play Store - or visit the website to find out more.
Sponsored Stories You May Like