Frank Bruno coming this winter to MKFM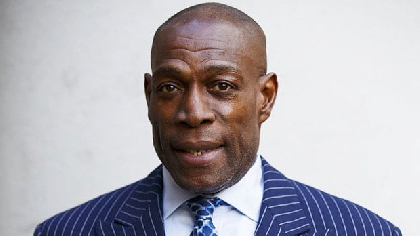 It's hard to believe, but Frank Bruno will be on your radio every Saturday night with one knockout 90s hit after another on MKFM.
Frank, who had a 95% knock-out rate in the 90s from the fights he won, will be aiming for a 100% hit rate to get the biggest night of the week started.
He'll be coming this Winter and playing all your favourite tunes from the biggest decade of music, as well as getting you ready for your Saturday night in or out across the city.
MKFM will be supporting Frank's charity, The Frank Bruno Foundation, which was set up to fight back against mental health stigma. The Frank Bruno Foundation is a direct result of Frank wanting to give something back to the community.
About Frank
Franklin Roy "Frank" Bruno, MBE (born 16 November 1961) is a British former professional boxer who competed from 1982 to 1996. Bruno had a highly publicised and extremely eventful career. The pinnacle of his boxing career was winning the WBC heavyweight title, in what was his fourth world championship challenge. He also held the European heavyweight title earlier in his career. Bruno was one of the most well-loved and recognisable boxers in British history, and faced multiple top-rated heavyweights during his career including two bouts with Mike Tyson and a domestic clash against Lennox Lewis.
He won the WBC title in 1995 after defeating Oliver McCall at a packed Wembley Stadium. Bruno was known for his excellent punching power: he won 40 of his 45 bouts and 38 by knockout, giving him a 95% knockout rate from the fights he won. Like Henry Cooper before him, Bruno has remained a popular celebrity with the British public following his retirement from boxing.
About The Frank Bruno Foundation
The Frank Bruno Foundation will provide structured non-contact boxing sessions aimed to relieve the social, emotional and mental distress that adversely affects the mental health of children, young people and adults.
'We are aiming to bring together the benefits of non-contact boxing with a solution focused well-being program. The aim is to bring healthy-body and healthy-mind approaches together to provide a holistic and enjoyable approach to supporting people with mental health problems. The aim is to help people to develop a healthier body and a healthier mind, building on their existing physical and emotional strengths and achievements. Our aspiration is that people will use the skills they learn on the programme to develop a happier, more fulfilling and successful future."
The Frank Bruno Foundation is a direct result of Frank wanting to give something back to the community. Frank has faced challenges both in and out of the ring and has always done so with determination, dignity, humour and humility.
But it is Frank's bravery and honesty in talking about his battles with mental health issues, which continue to earn him the respect of those whose affection he won as a boxer. It is fitting then that supporting sufferers of mental ill-health is where Frank feels his attention best focussed.