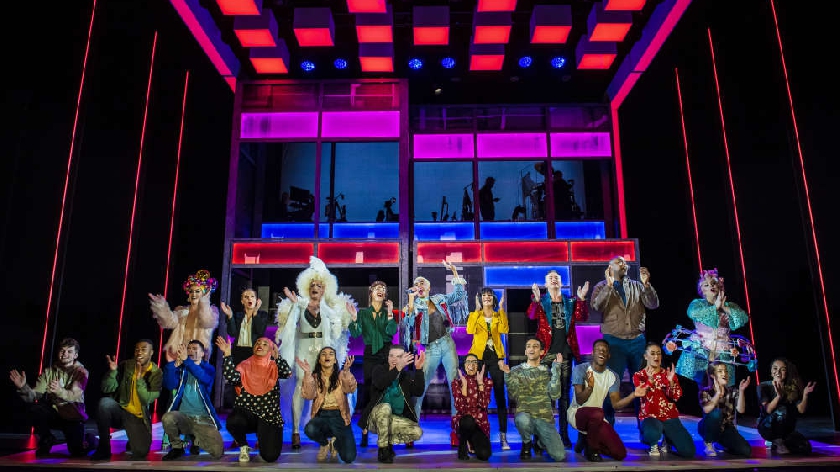 Jodie Erica from MKFM goes to MK Theatre to watch Everybody's Talking About Jamie and here is her review...
I was so excited to watch Everybody's Talking about Jamie as I have heard so many good things about it, I took my mum with me as we are both big fans of drag queens and have always loved binge watching RuPaul's Drag Race. I was immediately drawn to the story of Everybody's Talking About Jamie as it's about a young sixteen year old boy who is gay and finds himself going through those young times in life when you are a bit lost and trying to figure out who you really are amongst dealing with the issues of todays world. They had released a film 'Everybody's Talking About Jamie' prior to the musical as this story is actually inspired by a true story, I haven't actually seen the film... but after watching the live musical I will definitely be watching the movie!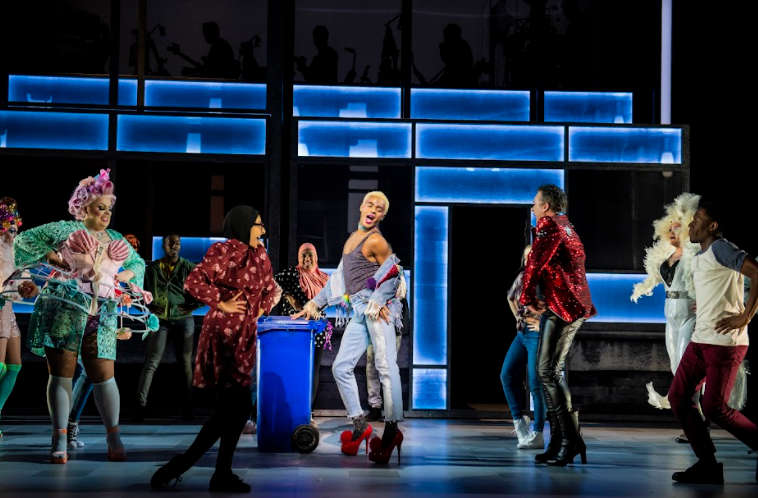 Jamie New is played by Layton Williams, he is sassy and absolutely hilarious, a true queen. I loved his essence and his attitude. He was picked on at school particularly by Dean Paxton who is played by George Sampson, for being gay. I feel like this didn't bother Jamie as much because everyone already knew, he did however have a secret that people didn't know... his ambition was to become a drag queen star.
He was very worried about what people would think, you would be when you have to deal with small minded people, judgements and bullies in todays society. His mum Margaret, played by Amy Ellen Richardson, bought Jamie his first pair of heels for his sixteenth birthday and once he wore them, you could see that it just felt so right, it was wholesome. Jamie would also feel happy to have gotten a birthday card from his Father, played by Cameron Johnson, who he hadn't seen much since the split of his parents... little did he know that it was his mum writing the cards for him and giving him money to compensate for his absent father. His father felt ashamed of Jamie and made that very clear when Margaret was to confront him "I wanted a boy, and he's what I got" moments like this in the musical really had me tearing up, it was very relatable as I'm sure there were so many others watching who have felt the same or similar things and gone through similar situations with their parents(s).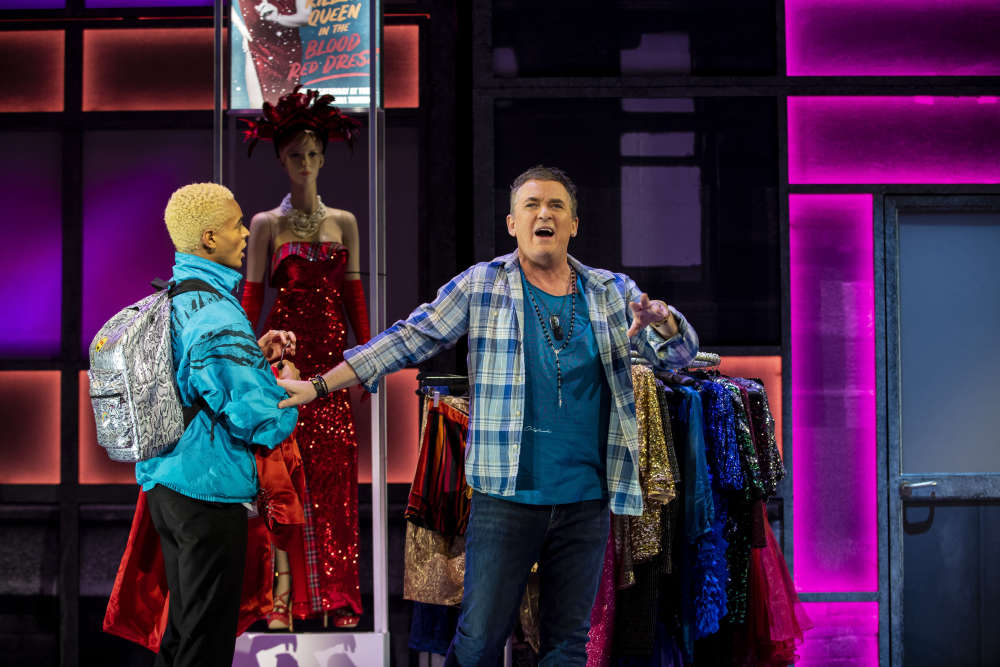 Jamie found a new confidence awaken within him since he had been given his new pair of heels, he showed his best friend Pritti Pasha, played by Sharan Phull, and both came up with the idea that Jamie should attend their prom in a dress. Jamie goes prom dress shopping and finds himself striking up a friendship with Hugo, a sassy, flamboyant and hilarious character played by Shane Richie, who Jamie learns is only a drag queen legend... Loco Chanelle! Hugo assists Jamie and loans him the perfect prom dress, alongside some drag queen tips and an opportunity for Jamie to do his first drag queen show.
It seems as though Jamie feels his upmost confident when he is a drag queen, who he would later name 'Me Me Me' with the help from Loco Chanelle. Everyone knew he was a drag queen from seeing him live at the show and everyone loved it, apart form the dean the bully of course, who's plan to invite everyone and embarrass him totally failed. With Jamie's newly found inner sass he stood up to Dean and stood up to his teacher who also was very disapproving and judgemental, it was great to watch.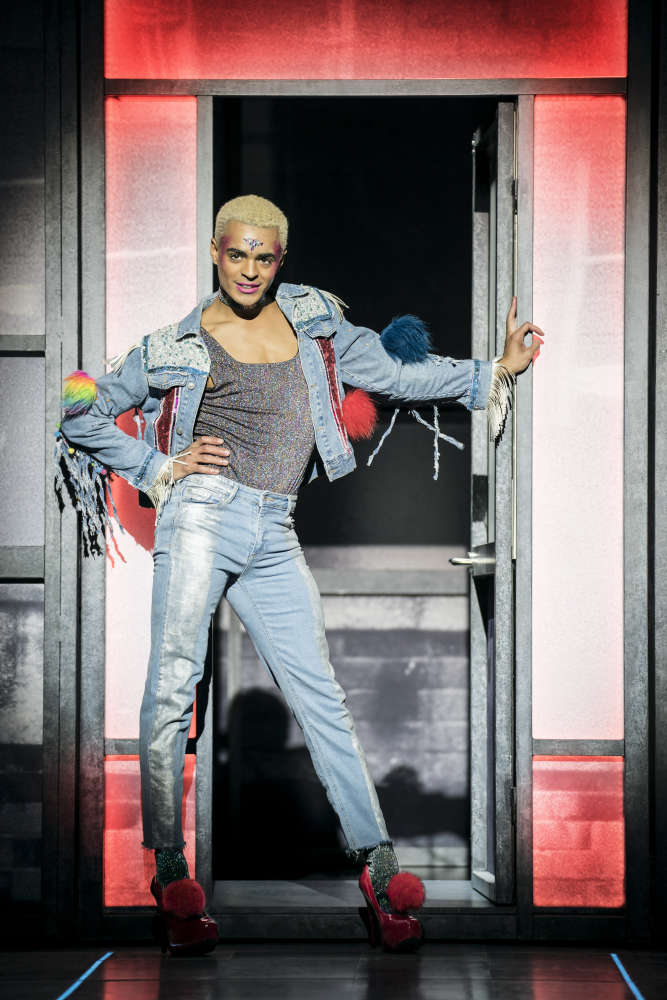 Things started to twist as Jamie finally learnt that his Father never sent him cards or money, never sent him flowers for his show, nor did he pay for Me Me Me's beautiful drag dress. He confronted his mum and his father and learnt of his fathers 'disgust', he knew from a very young experience with is father that he didn't approve as he found him wearing his mums dress before... it bought it all up but for the better. Jamie learned that he had so many people around him that love him for who he was, drag queen or not, he is beautiful and loved.
The musical had me laughing, crying, and both at the same time! the end was so uplifting and heart-warming, as you see Jamie unite with his bully Dean and his teacher, as Jamie turned up to prom as himself in a gorgeous white dress and white heels, no drag... just Jamie "just a boy in a dress" he said, it was so empowering.
Through and through there is lots of fun songs and brilliant singing scenes alongside the emotional singing scenes from Margaret and Pritti that really got the tears flowing, there was loads of impressive dance moves including moves from the one and only George Sampson himself (loved his signature move at the very end) and I personally love it when Jamie would kick his leg up in the air with pure sass and energy!
Everybody's Talking About Jamie was so powerful, raw and real. They expressed just how things really are in our society today, including ongoing issues with racism and homophobia, people in the education system restricting true ambitions and dreams and issues with parents and the reality of how much a parent(s) behaviour can affect children growing up. The musical also leaves you with new valuable lessons learnt, that you are so damn beautiful, we all are and you have every right to be who you truly are and go for the dreams and ambitions you want even if you are being told otherwise.
Congratulations to everyone who took part in this production, it was absolutely fantastic and it's a musical I will truly never forget.