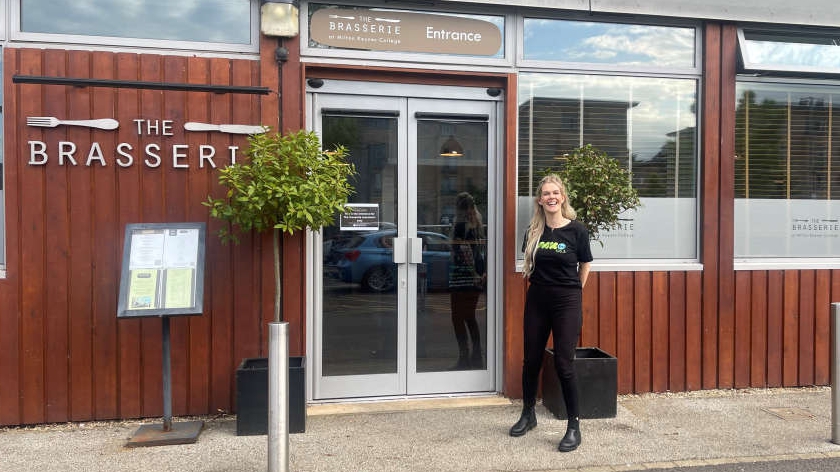 Irish Jo at The Brasserie, MK College
Irish Jo from MKFM was invited to The Brasserie at Milton Keynes College in May for an evening being served by students at MK College.
A hidden gem, would be the best way to describe The Brasserie.
I was invited down on a Tuesday evening to experience the most exquisite food and I was not disappointed. The evening was so relaxing and I just couldn't believe the chefs were students and not experienced, award winning chefs.
Starters was a wild focaccia with balsamic and oil butter, the taste of pistachio being such different delight to the tongue. Being a massive Sushi fan, fennel cured salmon for round two was just a treat.
Most places that I review are delicious, but what accompanied every dish with The Brasserie was how it was presented with the most beautiful garnishes including flower petals. Shallot tarte was next course and the pastry was so perfectly made, added all the better to slight stilton flavours.
Our main was lamb chump with crushed pea and the taste was just divine. The lamb melted in your mouth and was one of the bet cooked pieces of lam I have eaten to date. Desert was a Painkilla cocktail soup which was served in a shot glass and had the most refreshing delightful taste to was down all the flavours.
I could not recommend an outing to The Brasserie MK enough, what a great food experience for the fraction of the price and also a great way to support college goers in their dreams.
The Brasserie was awarded AA college restaurant of the year, and the best restaurant in Milton Keynes 2018/19 by the MK Food and Leisure awards. The Brasserie provides an exciting and unique dining experience to all its guests where the students are at the heart of what they do.
The young professionals have the freedom to express their personalities and creativity whilst training at the restaurant.
The Brasserie promotes the use of local seasonal ingredients, traditional techniques but with a twist of modern creative flair. The menu is changed every term and includes specials of the day that students have been creating in their individual practice sessions.
Enjoy fresh coffee and bakes at the Brasserie during the day or experience our Thursday night taste evening which is brought to you from the Level 3 students. All students are assessed as part of the course, so any support is hugely appreciated.
The Brasserie MK fill up way in advance, so if you are interested in dining, please book at table at the following link and let us know how you got on! The Brasserie Restaurant in Milton Keynes (thebrasseriemk.co.uk)
Pictures Accredited to Chloe Gardner, Student at MK College.