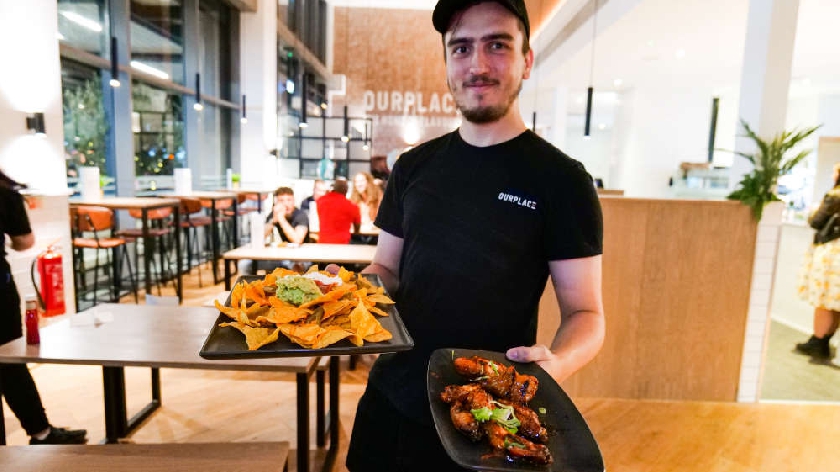 Jodie Erica from the MKFM team was invited down to Our Place at The Hub for their grand opening, here is her full review...
Our Place, also known as 'The Home of Flavours' is a brand new restaurant that has officially opened its doors to the public.
If you are a foodie then you will absolutely love this place! It's located at The Hub in Central Milton Keynes, which I feel is a brilliant place to be for a restaurant and for anyone looking to eat, drink and chill (in no particular order!).
Our place specialises in big beautiful burgers, wonderful wings, and of course, they have various popular pizzas! There is much more to the menu and plenty to choose from, they provide a meal for every occasion.
The restaurant itself is very chilled and homely with warm colours and sleek modern touches, they have a Casa Amour wall for you to capture those memories with, or you can get that 'Instagrammable' content, and may I just add, the bathroom is gorgeous.
The grand opening vibe was lovely, all of the staff were so welcoming with big smiles, I felt instantly relaxed. I was very excited to try their food and there was a lot to choose from, I ordered the halloumi burger and sweet potato fries. My partner ordered the chicken wrap with mac and cheese on the side, we got a round of drinks in and got comfortable.
The food arrived very quickly and I was instantly jealous of the look of my partner's mac and cheese! I am a huge fan of halloumi so I couldn't wait to get stuck in, the burger was nice and hot throughout and I have to say, the halloumi was spot on, just how I like it. The burger was not shy of halloumi which was even better! It was squeaky, springy and cheesy, grilled with a nice light crisp on the outsides, perfection.
Mixed with a bite full of fresh salad, lettuce, and tomatoes, and a soft toasted bun, it's safe to say that i thoroughly enjoy this burger, there was nothing left of it!
I also loved the sweet potato fries, the portion was huge! I couldn't finish them which was upsetting because they tasted so good. They had the nicest crispy outsides with a hot and soft texture when biting into them. They had a lovely hint of salt and had a sweetness to them, pre-warning, very addictive!
My meal overall was filling and fulfilling! I would eat it all over again. My partner said his meal too was full of flavour and very tasty. The mac and cheese were cheesy and creamy, making the perfect side, and his chicken wrap was full of marinated chicken strips and fresh salad.
The staff was fantastic throughout, checking in to make sure we were happy and had everything we needed giving off such warm and welcoming presences. We had a couple of drinks and relaxed for a bit more after our meals, enjoying the environment and each other's company.
We sat outside which is decorated nicely and had lots of comfy seating, and, also heaters which were on full blast keeping us warm and cosy.
Our Place worked out as a wonderful date night for us, it's nice to have somewhere to unwind and not deal with many party-goers. It's the perfect place for couples to try on their date nights, family meals, and birthday celebrations, it's also a great place for you and your friends to de-stress, chill and chat with some cocktails, or have a pre-drink before a night out at The Hub.
A massive thank you to Our Place for inviting us down for the grand opening!
There's much more to come with Our Place, so keep to date and see more on their website here.
WIN WITH MKFM

WIN WITH MKFM - Win and choose either 10 luxury 24ct gold wings to try OR a £75 voucher to spend at Our Place! To celebrate that Our Place is now officially open, they are giving you the chance to win and choose either a hot date with 10 luxury gold marinated wings OR a £75 voucher to spend! What would you choose? For your chance to win simply: 1) LIKE Our Place MK on Facebook. 2) SHARE this post. 3) TAG who you would treat with this prize! Entries close at 23.59 on 23/09/2022. Subject to MKFM standard terms and conditions.

Posted by MKFM 106.3 FM on Tuesday, September 20, 2022