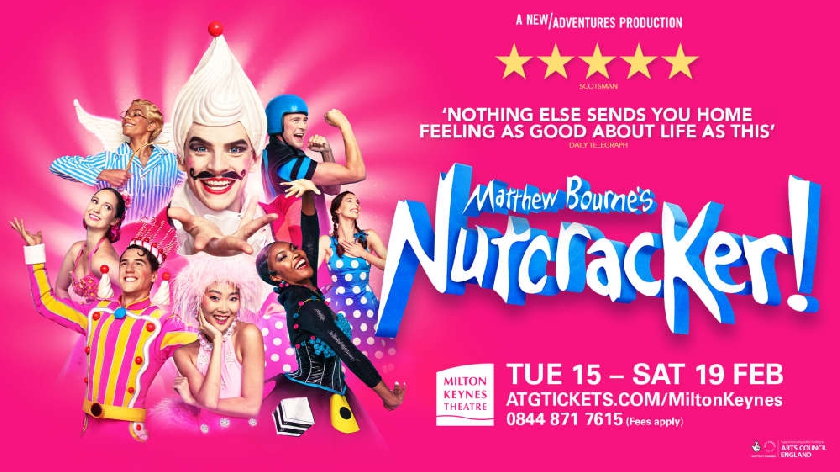 Trevor Marshall's wife and daughter visited Milton Keynes Theatre on Tuesday night (15/02) to see Matthew Bourne's Nutcracker and here is their review...
My ballet loving daughter joined me at Matthew Bourne's exuberant 'Nutcracker' on Tuesday night at Milton Keynes Theatre. It had been a while since either of us had been to the theatre and it was a good to be back being entertained in such a great venue. We quickly made our way through covid checks and pre-booked our interval ice-cream.
The production is celebrating its 30th anniversary this year and I'd heard returning audiences would see new choreography and design. For us, it was our first time at both Matthew Bourne's 'Nutcracker' and a Matthew Bourne production and we were in for the sweetest of treats.
The First Act of the ballet sees Bourne trade the traditional family Christmas party for a far less indulgent Christmas Eve in a monochrome scene set in a Dickensian orphanage. The orphanage is overseen by the deliciously mean Dr and Mrs Dross with their spoilt children Sugar and Fritz. It is here we meet our heroine Clara and the other orphans, all played brilliantly by adult dancers. We loved the choreography, acting and costumes which really conveyed the different characters of the orphans, the set design which made it appear askew and the black, white and grey theme which was to contrast with what was to come! It's here that Clara's beloved gift of a nutcracker doll comes alive, transforming into her handsome first love. He whisks her away from the orphanage, travelling over a frozen pond with a beautiful, sparkling skating scene.
In Act Two we journey on with Clara to the contrasting, glorious colour of Sweetieland, ruled by the Dross family in their new technicolour forms, where she attempts to win back her man who's fallen for the charms of now Princess Sugar. Here Clara's fellow orphans have been transformed into an amazing array of highly lickable sweet delights, all with their own delicious personalities, conveyed through joyous ballet and incredible costumes - some sexy, others macho and some slightly seedy! All of them incredible fun. The impact of the huge, glossy red lips, which frame the entrance to Sweetieland and the beautifully lit, layered wedding cake, on which the cast dance, with its 10 tall candles, is really something to see.
A wonderful evening of escapism culminating in a happy ending and set of course to the original and beautiful Tchaikovsky score. We loved it!
Listings
Performances: Tue 15 Feb – Sat 19 Feb at 2:30pm and 7:30pm
Tickets: From £13*
General bookings: 0844 871 7615*
Access bookings: 0333 009 5399
Group bookings: 0207 206 1174
Online Booking: ATGTICKETS.COM/MiltonKeynes*
*Fees may apply. Calls cost up to 7p per minute, plus your phone company's access charge

Facebook, Twitter & Instagram: @MKTheatre