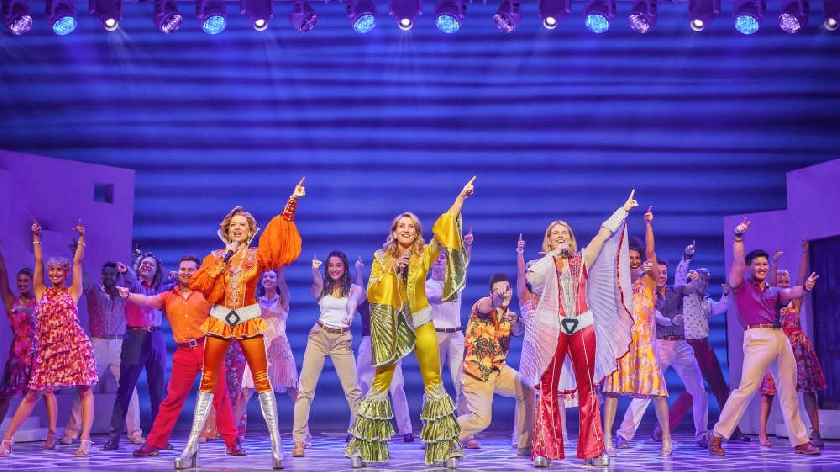 Charlotte from the MKFM team was super excited to return to MK Theatre last night to see Mamma Mia! and here is her review...
I was super excited when I found out that Mamma Mia! was heading back to MK Theatre, I just knew it was going to be something I could not miss.
From the moment you step out of the car and walk towards the theatre, it is definitely not hard to guess what show people are going to see. Not only was there a buzzing vibe, but the audience were not afraid to get out their best 70s outfits and tall heeled leather boots!
If you're not familiar with the story of Mamma Mia, it's about a young girl and her mother who own and live in a hotel on a beautiful tiny Greek island. The daughter Sophie is planning her wedding and in a bid to find out who her dad is, she invites three potential men behind her mother Donna's back. The musical, is no doubt a trip to Greece you'll never forget.
You don't have to be a big ABBA fan to know all the songs either, the show was full of hit, after hit, after hit! With songs such as Dancing Queen, GIMME! GIMME! GIMME! and Money, money, money, it was always going to be hard to keep the audience seated but wow, it truly was non stop. As soon as the beginning of each number started to play, you'd hear a gasp from the excited audience as we realised what song was up next.
The main shoutouts have to go to Sarah Poyzer, who played Donna Sheridan and Jena Pandya, Sophie Sheridan. Both of these leads had incredible voices - and dance moves. The whole cast is full of amazing voices and personality, every scene my eyes were on a different person and I couldn't look away.
Throughout the show, if we weren't singing along, we would be in complete tears of laughter. From the stage set to the outfits, the lighting to the orchestra, each individual part of the show is so well put together, you really feel as if you have walked into a wedding on a small Greek island.
And just when you think the show is about to end and the night of singing and dancing is over, the audience gets a mini-ABBA style concert that had every single person on their feet.
The show will make you laugh, cry and dance all at once - it's not one to miss!
If you haven't got tickets yet, book now as you will not be disappointed.
LISTINGS
Performances: Tue 02 Aug - Sat 06 Aug 2022
Tickets: From £13*
General bookings: 0844 871 7615*
Access bookings: 0333 009 5399
Group bookings: 0207 206 1174
Online Booking: ATGTICKETS.COM/MiltonKeynes*
*Fees may apply. Calls cost up to 7p per minute, plus your phone company's access charge
Facebook, Twitter & Instagram: @MKTheatre