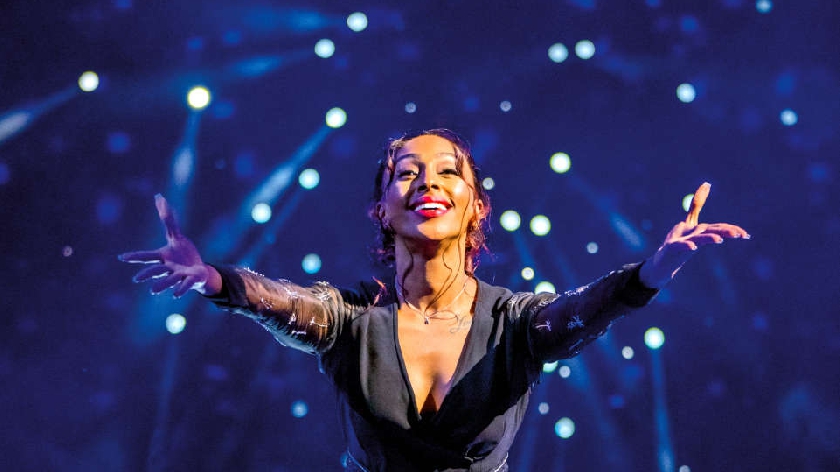 Trevor from the MKFM team went to MK Theatre last night to watch the performance of Joseph and the Amazing Technicolor Dreamcoat and here is his full review...
On Thursday evening Rose and I were lucky enough to see 'Joseph and the Amazing Technicolor Dreamcoat' at MK Theatre!
It's a colourful, high-energy and very funny musical retelling of the Bible story about Joseph the dreamer with the coat of many colours, following his adventures after being sold into slavery by his jealous brothers - come on it's happened in every family....
Written initially by Tim Rice and Andrew Lloyd Webber to be performed in a school, Joseph has since proved hugely popular in the theatre, and kick-started their amazing partnership. This is a show people come to again and again and appeals to all ages.
Having performed in Joseph at my middle school, far too many years ago to admit to, and having watched my niece perform it with her local theatre group I was really looking forward to watching this one at the fabulous MK Theatre. (I promised the man sitting next to me that I would only sing 'in my head').
This production did not disappoint! Alexandra Burke, originally of X-Factor fame and now star of many musicals, played the narrator, as she has done in previous tours. She's singing most of the time and is in and out of all the scenes assuming a number of different characters and we thought she was brilliant. Jac Yarrow is playing Joseph, a role he has also played before. He absolutely blew the roof with 'Close every door to me' - a personal favourite of mine and from their reaction, many others in the audience. There's a mix of musical influences in the songs and other particular stand-outs for us were the brothers' cowboy-like 'There's One More Angel in Heaven' and Pharoah's Elvis inspired 'Song of the King'.
In this production we were also treated to some very talented child performers - playing a mix of child and adult roles. Their vocals were so clear and their confidence amazing, truly inspiring for other aspiring performers, like Rose, who turned to me and said she'd like to be in it!
Add to that: fantastic dancing, colourful costumes and staging, comedy, an opportunity to dance (yay!!), and.... mechanical camels and you know you're in for a treat of an evening.
If you haven't got tickets yet, you can still book now and you will not be disappointed!
See further performance dates here.
Tickets: From £13*
General bookings: 0844 871 7615*
Access bookings: 0333 009 5399
Group bookings: 0207 206 1174
Online Booking: ATGTICKETS.COM/MiltonKeynes*
*Fees may apply. Calls cost up to 7p per minute, plus your phone company's access charge
Facebook, Twitter & Instagram: @MKTheatre