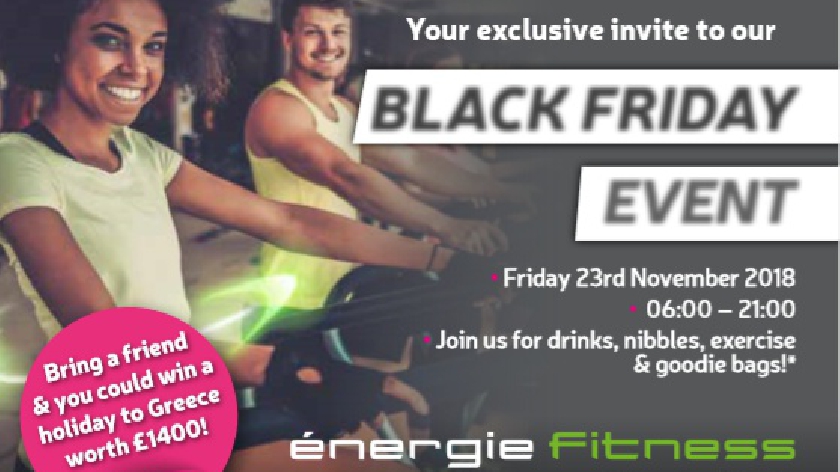 énergie Fitness in Kiln Farm are holding a Black Friday event including free sessions.
énergie Fitness says, "If you're going to spend money and snap up a bargain on Black Friday this week- what better thing to buy than something for yourself, and something that will give you long lasting benefits and pleasure.
Of course I'm talking about a gym membership! But not any old gym membership, why not get one with a Club that is locally owned, runs up to 50 classes each week including both indoor and outdoor sessions, kids sessions, Pilates, Yoga and Zumba, unique Thé YARD classes MyZone Cycle classes as well as family fun days and regular events in support of local charities and the community.
énergie Fitness in Kiln Farm is having an amazing discount day. You'll be able to get a fantastic deal on the club's unbelievable value "Wow" membership, buy MyZone fitness tech at half price and get your hands on boxing kit and even Personal Training at fantastic prices.
To celebrate énergie Fitness will be running special sessions through out the day including the first "mum dad and me" class for babies and their parents, an after school kids class for 10 to 15 year olds and the very popular "low impact conditioning" class for those who want to ease themselves into classes.
Why not book yourself in for a FREE trial session? If classes are not your thing, the state of the art interactive Precor Preva cardio suite with Netflix, Spotify and access to almost endless TV channels might float your boat. Or maybe make use of our extensive cables and free weights area with an Olympic lifting platform and dum bells that go up to 50KG!
énergie Fitness, it's where you belong."