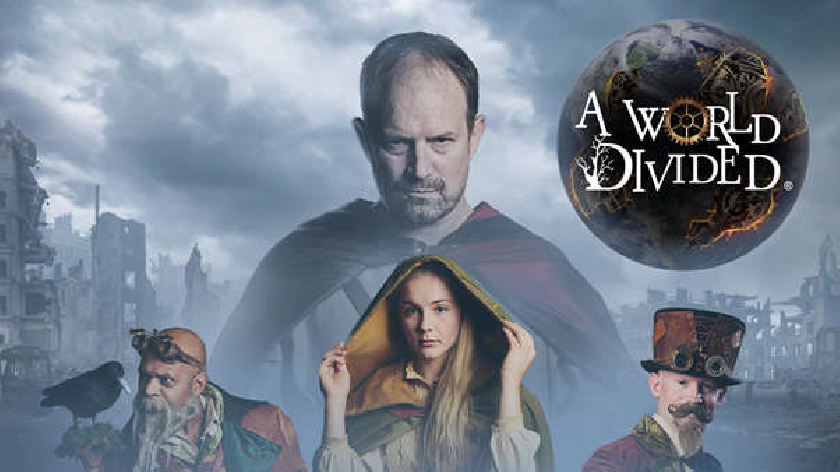 In a post-apocalyptic world divided by separate tribes, one young hero must embark on a perilous journey to stop war from once again destroying what is left of humanity
Skyboat Productions and Milton Keynes Theatre today announce that tickets are now on sale for the world premiere of epic new musical A World Divided playing for one night only 17 April 2023 at Milton Keynes Theatre.
It was a mistake. They went too far. The Great Flash tore holes in the skies the size of islands, A purge of humanity and all it had created. The sands took back the Earth leaving a desolate, death ridden place. The survivors took refuge in the underground, and the unfortunates left behind were reduced to primitive, savage animals…
1000 years on, the shadow of conflict stretches once again across the barren lands. Some believed that they had been given a second chance, to lead humble lives, living off the land never again to play the hand of God. Others however maintained that their survival was secured by the technology of the past, and that they should re-build the world as it once was.
Can 18-year-old Sarabande find a way through the ravaged landscape, past the mindless cannibals in the wilds and the terrifying figure that haunts her nightmares? Who will listen to her plea for peace and stop a war that threatens to destroy all that is left of a broken world?
Creator of the Book and Music Christopher Edwards began writing A World Divided 10 years ago and during lockdown spent months finalising the script and score before teaming up with producer Stephen Bowcott, to create Skyboat Productions with the aim to get the show on stage.
He tells us "I'm thrilled to be bringing A World Divided to the stage to launch in my hometown of Milton Keynes. This world has been such a huge part of my life for so many years and I can't wait to take audiences on this thrilling adventure for the first time"
"Our ambition is to take the show across the UK and ultimately to the West End, so we hope this debut performance is just the start of an exciting journey for A World Divided"
A World Divided is Produced by Skyboat Productions and will be directed by Larry Stubbings with Musical Direction from Christopher Edwards. Costume design is by Lisa Kinrade (Jack and Rose).
Cast includes Peter Corrigan (Jesus Christ Superstar UK and Ireland Tour) and professional musicians Lillibet, Paul Briggs and Mat Soulsby with further casting to be announced.
Christopher continues "My background is in music, and I wanted to combine this world with the production of the show by bringing some fresh, talented upcoming musicians to the stage. It's an exciting time!"
Director Larry Stubbings says: "I am absolutely thrilled to be helping to bring A World Divided to the stage. Previously I have directed stage-plays for the theatre and I'm delighted to be working with Christopher to lift his musical from the page. Having worked on several pieces of new-writing I am very much aware of what a unique opportunity this is. It is a real privilege to come alongside this cast of enormously exciting, fresh talent and together bring this terrific script to life"
Get ready for an epic edge-of-your-seat journey with songs that will touch your soul and book your tickets today at ATGTICKETS.COM/MiltonKeynes.
For a peek behind the scenes follow A World Divided on Instagram and Facebook @AWDMusical or visit skyboatproductions.co.uk