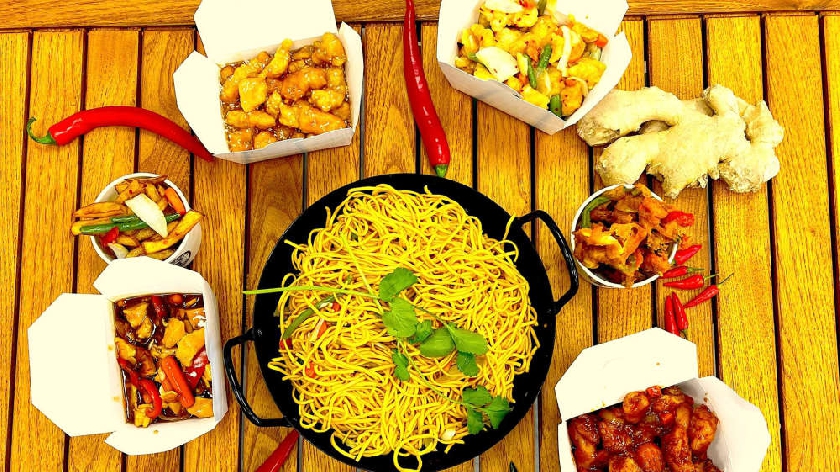 Jodie from the MKFM team was invited down to NoodleX to try a combo of their most popular and favoured dishes.
NoodleX serves a delicious array of Asian cuisine which you can eat in, takeaway or have delivered from Deliveroo, Just Eat or Uber Eats. I know many people that have love a good Chinese takeaway on a Friday or Saturday night, imagine being able to have a quick Chinese takeaway for lunch on a shopping break or even better... your work lunch break!
You can smell the food from NoodleX around the corner, just let your nose lead the way.
When you reach NoodleX you will see that it looks very vibrant and welcoming, with their splashes of green and orange colours mixed with a simplistic but modern furniture and decor and design. They also have outdoor seating which is fantastic to use when Milton Keynes is basking in lovely hot summer sunshine, a perfect place to sit back and relax for lunch.
The staff are so welcoming themselves, very friendly and lovely to chat too. Anna, one of the owners, is there a lot of the time working with her team and contributing towards the positive high spirit that resides there,.
I am super grateful that I had the chance to try 3 of NoodleX's favoured dishes alongside some sides, I walked away with a complete turn around of opinion on Asian foods that I haven't always been the most keen on.
I had a NoodleX large meal where you can choose to have either rice, noodles or vegetables plus 3 dishes of your choice. Anna served me a large meal with Chicken Fried Noodles, Salt 'n' Pepper Chicken, Caramel Sesame Chicken and Korean BBQ Chicken alongside crab claws and spring rolls for sides.
Before I indulged in to what smelt insanely yummy, Anna gave me a noodle chopstick lesson as I couldn't quite grasp how to hold them correctly.
It was great fun and we a good laugh watching my epic fails at first but I finally feel like I maste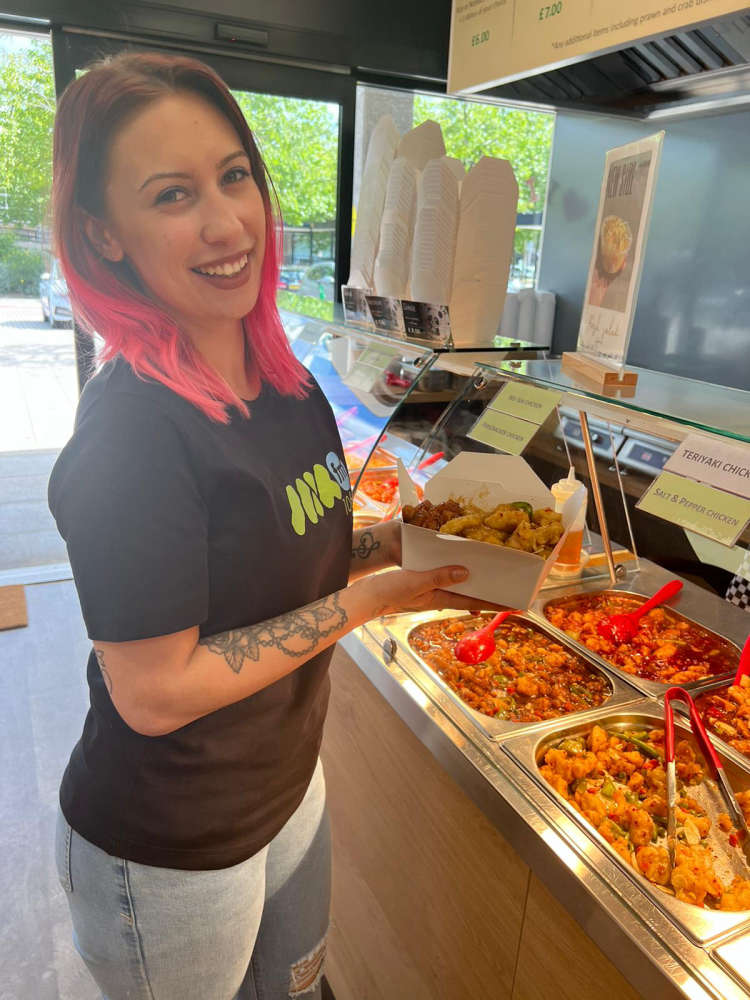 red it and I will continue to take that with me, thank-you Anna as now I won't always be the odd one out eating types of Chinese food with a knife and fork whilst everyone gets their chopsticks going.
All food served at NoodleX is Halal and freshly made everyday and I could certainly smell and taste that hot freshness coming from the food.
The Korean BBQ Chicken tore away beautifully and was not chewy at all, it was sweet and sticky and I fell in love with the BBQ flavour. If you have never tried Korean BBQ Chicken before and are a massive fan of BBQ Chicken then this is right up your street, come and taste for yourself exactly what makes this dish Korean.
The Caramel Sesame Chicken was a favourite of mine, instantly. I love the flavour caramel with anything and everything, this was another level. The chicken again was so nice and easy to bite and tear and the caramel sauce mixed all in around had this addictive gooey and sweet taste. You would know that this was caramel chicken if you had your eyes closed, the taste was true to it's name and very delicious.
The Salt 'n' Pepper Chicken was next to try and I was told by Anna that it is known to have a slight kick. I was very proud of myself as I was absolutely fine eating it, knowing that I'm not so great with hot and spicy foods, this is always an accomplishment for me. There definitely was a slight kick but it's nothing major, to the hot and spicy food fanatics in Milton Keynes this wouldn't touch the sides, but for me, a hot and spicy foodie in training... it's a great step. I love the taste of the salt 'n' pepper hence the name and the soft tender chicken, it's also very tasty mixed with some Caramel Sesame Chicken.
The entire bottom of the noodle box is filled with Chicken Fried Noodles that also had lots of veggies and chicken chunks mixed within, the noodles compliment all dishes really well. I put my chopstick training to use and would twist and pull out the noodles from beneath, twirling them and sometimes dropping them but they taste amazing mixed with everything else, especially the Caramel Sesame Chicken. Looking at it all together, the large meal is very filling and would most certainly satisfy your hungry needs.
I tried some crab claws as I have never had any before even though I am a big fan of fish food. They do look slightly intimidating as you can still see the crab claw sticking out, I had the image of it randomly coming alive and pinching you... but obviously that wouldn't be the case. I have to say, I wasn't the biggest fan and couldn't quite describe the taste of the crab meat other than that usual fishiness and although I like crab sticks I think this really showed me the difference between processed crab meat and real crab meat (the crab claws). TIP- don't bite it too hard as a lot of the crab claw is there and very much prominent, their exterior is extremely tough.
I loved the Vegetable Spring Rolls, who doesn't love them? They are the perfect finger food. They were so nice and crunchy but not overly crunchy, the perfect in-between and because NoodleX serve all of their food fresh on the daily, the spring rolls were lovely and hot. You can never go wrong with these and I will most certainly be back in NoodleX again to get some more and to try their Samosas.
There are so many dishes to choose from as you will see in the images below, it's tough when it all looks smells great and in my personal experience with some of the dishes, tastes wonderful too. I highly recommend NoodleX, especially if you are a lover of Asian food and also looking for high quality affordable food and amazing service.
You will find NoodleX at Unit10, 695 Silbury Blvd., Milton Keynes, United Kingdom.
Opening hours are:
11:00AM till 19.30PM Monday - Saturday
11:00AM till 17:00 Sunday
Available to order from 10.45AM till 19.15PM Monday -Saturday and 16:45PM Sunday