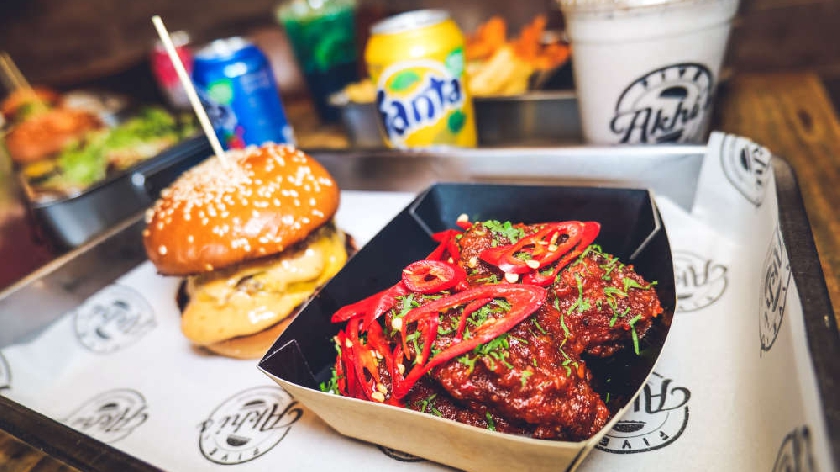 The family-run business, owned by four brothers, in Peartree Bridge invited Jodie from MK's Finest to try their popular burgers, wings & shakes and here's her review...
You will find Five Akhi's in Peartree Bridge on 186 Waterside, situated right next to the lovely canal. Five Akhi's is a family-run restaurant that has only been open in Milton Keynes for just over a year - they are new, they are fresh and they certainly have a very bright future ahead of them. Five Akhi's is a hidden gem, one that the people of Milton Keynes needs to know more about!
Food
Five Akhi's menu invites your tastebuds to a great variety of delicious foods such as; burgers, wings, fries and sides. There are so many choices within each of these categories and not forgetting to mention the fact that you can pay for lots of extras for your burgers and even have them doubled up!
I had the pleasure of tasting three different types of burgers, The Classic, The Blazing Bird and the Juicy Lucy. Every beef burger is cooked to medium-rare which is done perfectly and they are jam-packed full of goodness. The Classic and the Juicy Lucy both consisted of a 6oz patty, caramelised onions, double cheese, house mayo and relish yet the classic has gherkins and the Juicy Lucy instead has gouda cheese-loaded inside the patty! The Blazing Bird consisted of buttermilk fried chicken, melted nacho cheese, lettuce, house slaw and house mayo. Each burger had my mouth watering from all of the amazing fusion of flavours. My favourite burger is the Juicy Lucy, the name is spot on as it was very juicy indeed. The first bite was heavenly, the hotness of the patty had the cheese melting even more as I ate it and I was then pleasantly surprised and satisfied with more melting cheese inside of the patty itself. For the cheese lovers out there like myself, this one is definitely for you.
Five Akhi's offers a yummy range of wings and we tried their popular Sweet & Smokey BBQ, Honey Garlic and the Bangla Naga wings. What I love about Five Akhi's, is the selection of wings that they offer can be made with or without the bones - for a lazy eater like myself this is a great option to be given. I can tuck in and embrace the wings without having to tear them apart, I think that it's brilliant to be given that choice as it suits all of our wing lovers needs. The Bangla Naga wings are perfect for everyone that loves their food with a bit of spice and heat. These babies unquestionably deliver both, they get your mouth quivering and watering and I was certainly happy to have a Five Akhi's mocktail next to me to help wash down some of the fiery flavour. The Honey Garlic wings were so lovely and sweet, I have never tried honey and Garlic on wings before and I have to say that it complimented the chicken with a sweet and sour taste, the chicken itself was crispy on the outside and moist on the inside, absolute perfection. My favourite, the Sweet & Smokey BBQ wings made boneless, I kept going back to. I just simply couldn't get over how beautifully sweet they tasted and I admit that I have never tasted wings like these before. They were so easy to eat as they had no bones which made my experience even more enjoyable, they had such a sweet and sticky taste and eel and they were lovely and soft. The chicken itself would tear away nice and easily with each bite and honestly, I'm already planning on going back for more.
Five Akhi's fries are so yummy and addictive and are a great addition to have alongside the other dishes. I love fries because you can always go back to them whether it's during the main meal or for afters and they of course work so well as a starter. I had the cheesy fries and the Peri Peri fries. The cheesy fries tasted lovely, everything you would want in cheesy fries, but the Peri-Peri fries caught my tastebuds' attention, we all love a bit of Peri Peri and these fries certainly left a spicy taste and feel on my tongue.
Drinks
Five Akhi's hospitality and their food is top tier, I do not doubt that anyone who orders food from here will be back for more. Whether you're eating in or taking away, Five Akhi's offers you the full experience and I highly recommend whichever way you choose, definitely order one of the shakes. There are many to choose from like the Kinder Twist or Oreo Crunch but I fell in love with the 'Daim explosion'. This heavenly shake contains Daim bar, Rolo, Biscoff and has Flake crumbled all over - hands down one of the best shakes I have had and certainly lives up to the name, it was an explosion of a rich and delicious taste, a yummy dessert in a cup.
If that doesn't tickle your fancy, Five Akhi's has a very tasty selection of mocktails for you to indulge. The mocktails that were sitting pretty and colourful in front of me were The Sassy Strawberry, Buddha blue and The Pink Rosey, all mojitos that look and taste amazing. Each mojito bursts with its individual fruity flavours and a sweetness that is so addictive. I am obsessed and after experiencing these beautiful concoctions, I'm thinking I would rather drink these mocktails than real mojitos! You can also order cans and bottles of fizz including different flavours of Fanta, original Coca-Cola or Coke Zero and much more to have alongside your meals. You can rely on Five Akhi's to have the best selection of drinks and shakes to complement your meals.
Atmosphere
As soon as you step into Five Akhi's, you are instantly engulfed by the beautiful wooden and modern interior with touches of vintage decor splashed around. It's a cosy and comfortable place that makes you feel at home and the staff themselves are a big part of that as they are so welcoming as soon as you enter. 'AKHIS' itself means brothers, so they have incorporated that homey family and contemporary feel when it comes to their restaurant. Inside the restaurant you are also greeted with entertainment, music fills the room and keeps you bopping whilst waiting for your food. Five Akhi's is placed in an aesthetically pleasing location with plenty of free parking! After gaining a food baby you can lap up the views of the canal and the different types of boats docked up after receiving such a satisfying fulfilling meal and an enjoyable experience.
'Fresh, local and proud of it' is proudly hung upon one of Five Akhi's walls. "We do everything ourselves, everything is freshly made every day, everything is Halal and we take pride in serving only the best quality of food", the manager proudly expressed to me. From experiencing the vibe and eating their food, I can confirm that it was top quality throughout!
You can come and experience it all yourself at Five Akhi's from Tuesdays to Sundays from 12pm until 9:30pm and as mentioned, you can always have it delivered straight to your door if you can't make it in there, plenty of time and plenty of opportunities, go-go-go!