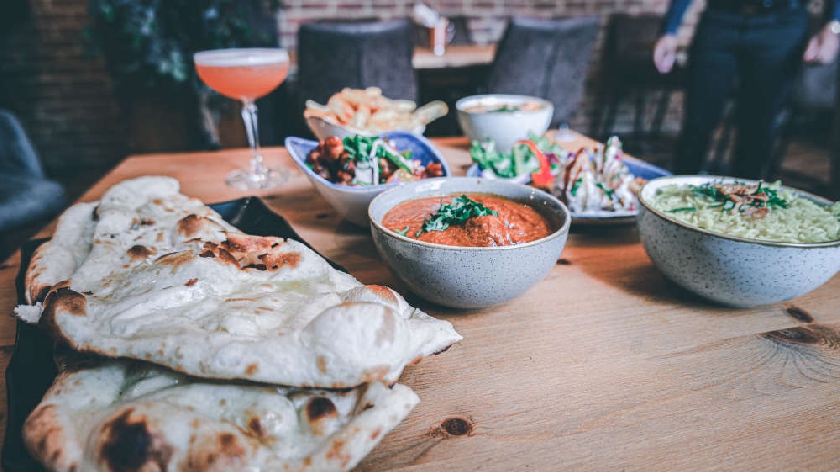 Did you know that Newport Pagnell has its very own Indian restro-pub? Let's find out more about what Craft and Skewers has to offer...
Craft and Skewers, located along the High Street, is a relatively new addition to the local food scene. It opened in December 2020 but was faced with multiple lockdowns, so the team is incredibly excited to be able to open its doors fully this summer.
Sam from MK's Finest was invited down to take a look and try some of their most popular dishes on the menu...
Food
Craft and Skewers has an extensive food menu, serving traditional curries, Indian street food, and grilled meats, to name a few.
For starters, I tried two of the street food dishes - samosa chaat and chilli chicken. The first thing that struck me was how well presented the dishes were. The samosa chaat was so colourful and had pomegranate seeds scattered across the plate. It tasted very fresh, flavoursome and authentic.
The chilli chicken was served in a large bowl (perfect for two to three people) with colourful cooked vegetables. This had to be my favourite dish as it was cooked to perfection; the chicken had a slight crisp and the chilli sauce gave it a kick.
Moving onto the main course, we opted for the butter chicken and dhaba chicken. These curries, although they look similar in appearance, tasted incredibly different. The butter chicken was smooth, mild and paired perfectly with the pilau rice.
The dhaba chicken was slightly spicier but still had that smooth consistency. It went well with the traditional plain naan bread. I made sure to juggle between the plain naan and the dhaba chicken so it didn't get too spicy for me. I also had some chips to soak up the remaining sauce. This worked a treat!
One thing that struck me was the amount of chicken you actually get with the curries. I've had plenty of meals where you count one, maybe two, chunks of chicken - and the rest is the sauce. We've all been there, haven't we? Craft and Skewers is generous with the meat that you get in the sauce so you know that you're paying for a good-quality curry.
Drinks
Craft and Skewers is "half pub, half restaurant", which means that you will find a massive drinks menu when you arrive! They have craft beers that are constantly being rotated so you can try something new each time you visit. They also have wines of the world and all of the spirits that you could want.
But for me, the most impressive thing is the cocktail menu. Cocktails have become so incredibly popular and Craft and Skewers has embraced this. They have a cocktail menu that permanently features the classics, such as pornstar martinis, but rotates their specials. There are over 100 cocktails that are on rotation. The liquid marijuana is quickly becoming a fan favourite.
What's more, you can get two cocktails for £10 between 12pm and 8pm Sunday to Thursday. It's the perfect excuse for a catch up with friends!
Venue
Craft and Skewers is located in a Grade II-listed building that has lots of character. There are strict rules surrounding the development of listed buildings meaning that the building still has many original features.
The team have done incredibly well in respecting the historic structure while modernising it into a trendy restro-pub. It has a rustic feel and the bar is a stunning centrepiece.
There is even a hidden courtyard around the back of the restaurant which is perfect for the summer. You'll be able to sip on cocktails and eat some street food in the sunshine.
Craft and Skewers is open every day from 12pm to 1am serving lunch, dinner and drinks. You can also order food for takeaway and delivery via Just Eat, Uber Eats, and Deliveroo.
Website: www.craftandskewers.co.uk
Address: 122 High St, Newport Pagnell MK16 8EH