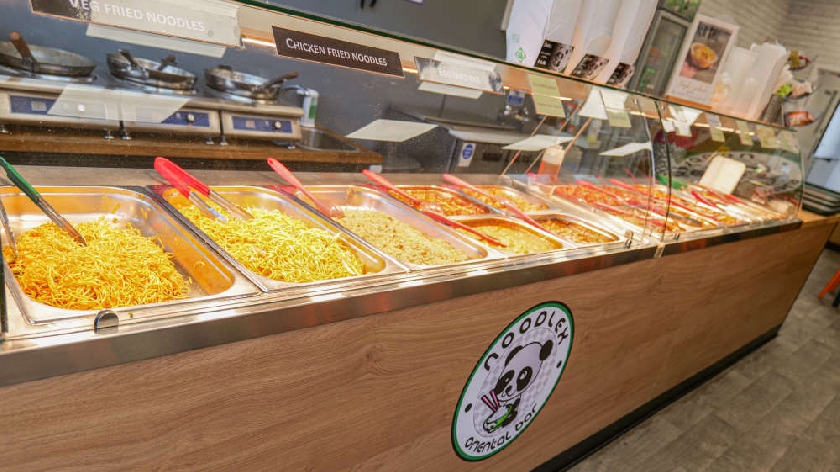 Do you work in Central Milton Keynes? Are you tired of the same usual lunch and looking for somewhere new to try instead? Does the thought of sweet and sour chicken, samosas, spring rolls, or sweet chilli tofu get your taste-buds going?
Enjoy and experience a real taste of Thailand, Malaysia, Indonesia, and Singapore right on your doorstep in Milton Keynes at NoodleX.
This is the perfect place to pop-in to for lunch if you are having a busy day of shopping at the city centre, you can sit down and have a well needed break or you can keep it on-the-go, grab your meal and get cracking! there is also a yummy and perfectly portioned NoodleX kids meal.
Maybe you are tired of having the same usual lunches on your lunch break? are you looking for somewhere different and delicious and somewhere that also won't break the bank? This is the perfect opportunity and it's only over the road from the centre, next to Lloyds Bank, have yourself a nice short walk and stretch the legs, ready and refreshed to start your next shift with a happy soul and satisfied belly.
Owners Anna and Chris opened NoodleX on Boxing Day 2021, it all started years ago when they were working in London restaurants serving authentic Asian cuisine.
They fell in love with the flavours and travelled to America a few times to observe different places, gaining more passion and inspiration for their own little shop.
On their own, they finally opened up their first NoodleX restaurant in Northampton, this has been successfully open and loved for 10 years, now they have what they call their 'second baby' NoodleX in Milton Keynes!
Pop-in and say hello from:
11AM - 7:30PM Monday - Saturday
11AM - 5PM Sunday
You can also get NoodleX delivered to your front door via Uber eats, Deliveroo and Just Eat, delivery is available to order from:
10:45AM - 7:15PM Monday - Saturday
10:45AM - 4:45PM