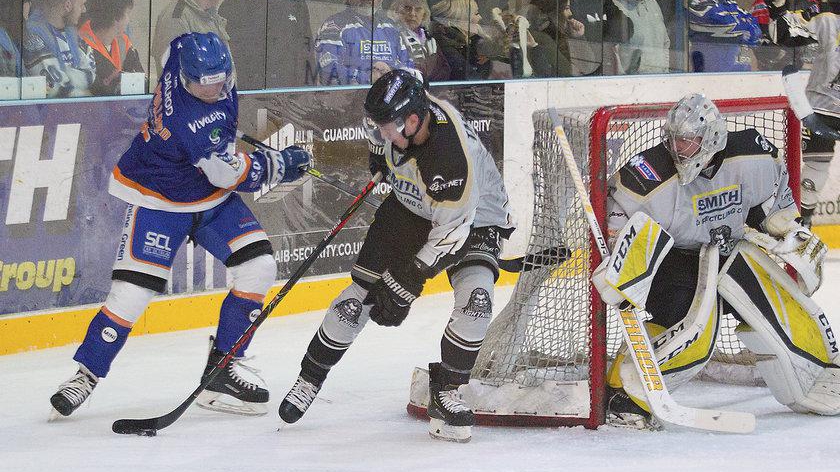 Image Credit: © Tony Sargent
The Smith Recycling Milton Keynes Lightning fell 4-2 to the Peterborough Phantoms last night, with their valiant fightback falling just short.
The Lightning entered the game with team captain Russ Cowley and alternate captain Grant McPherson returning to the ice for the first time since suffering injuries earlier in the season.
Goaltender Jordan Lawday was also back among the game-day roster but Dean Skinns was handed the start, a sensible choice by head coach Lewis Clifford, who will be wary of rushing back the promising young goalie.
Despite the scoreline, the game felt far closer between the two rivals throughout the sixty minutes.
The Phantoms had an early goal ruled out for a clear high stick, with the two sides entering the first break tied at 0-0.
Peterborough ultimately took the lead less than one minute into the second period, with Petr Stepanek getting the first of two goals on the night.
James Ferrara extended the visitor's lead around 12 minutes later. Finnish forward Ari Narhi came close to cutting the Phantom's lead, having a breakaway shot bounce off the post.
The rivalry provided some moments of aggression from both sides, with Thomas Norton being adjudged a two-minute penalty for slashing Narhi towards the end of the second period.
Norton took exception to the call and shoved Narhi into the boards after the whistle had blown, something that Tom Carlon disagreed with, ending with some physical exchanges leading to a two-minute roughing penalty. Norton received a further two minutes for roughing as a result of the incident.
The two former teammates exchanged words as they were led to the penalty boxes with just five seconds left in the period.
A slap shot from Stepanek just under seven minutes into the third period extended the visitor's lead to three, with no chance of a comeback looking likely.
But that changed with just over six minutes left in the game, when Narhi saw his wraparound effort slip past Jordan Marr, breathing new life back into the Lightning.
Just over two minutes remained in the game when Grant McPherson pulled the home side within one on his first game back since the opening day of the season.
The pace of the game picked up, with the Lightning threatening to tie things up before Cowley was handed an interference penalty as he prevented the Phantoms from scoring on a breakaway, with Skinns turning aside the shot.
The Phantoms jumped on the powerplay opportunity, however, with former Lightning man Glenn Billing putting the game out of reach with just over 30 seconds left.
With an extra day for rest, the Lightning will hope to keep a fully healthy line-up ahead of next weekend's home double-header against the Hull Pirates and Leeds Chiefs.