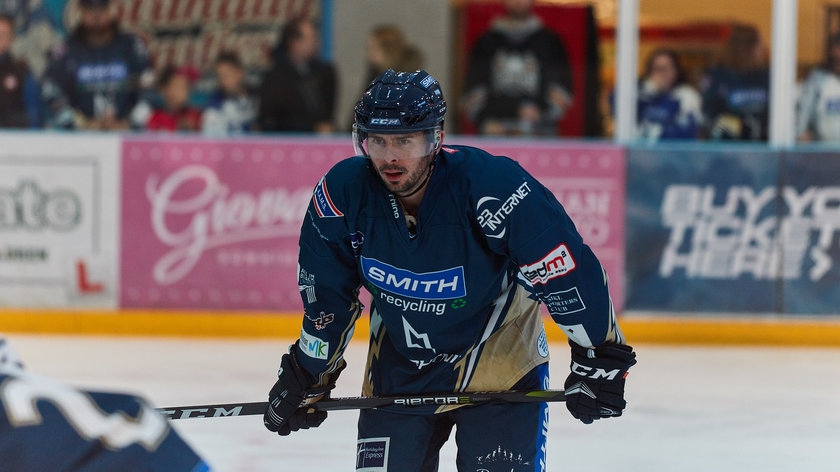 Image Credit: © Tony Sargent
The Milton Keynes Lightning have today announced that Tim Wallace has returned to the club in a dual role.
The 37-year-old former NHL player returns to the Lightning after a two-plus year spell as the head coach of Elite League side the Nottingham Panthers, and will represent the team both on and off the ice as a dual player/director of player development.
Wallace, who has 101 regular season NHL games to his name, first moved to the United Kingdom to join the Sheffield Steelers ahead of the 2017/18 season, before moving to Milton Keynes the following year.
During the club's last year in the Elite League, Wallace endeared himself to the fanbase as he held the role of player-coach, leading the side in points with 57 (21 goals, 36 assists) in 60 games played.
When ownership of the Lightning changed hands, the initial bid to remain in the Elite League would have seen Wallace continue his role as head coach, but he ultimately left to join the Panthers due to visa restrictions at the time.
Now, after more than two years behind the bench, Wallace is set to return to the ice with the last team he played for, as well as working to help develop future talent of the game.
Head coach Lewis Clifford said of Wallace's return: "I was lucky enough to work with Tim very briefly during his previous stint in MK and have kept in touch every now and then since."
"I genuinely cannot wait to see Tim back in an MKL jersey, a class guy, a class player and someone who will add to the great work we are already doing here and drive standards for everyone in the organisation."
"We have come to a point in the season where we are certainly in the hunt for trophies, doing well in an extremely tight league, and a cup semi final to come."
He added: "We have seen in recent weeks that anything can, and will happen and playing with 1 import leaves us exposed when we suffer injuries and illness."
"Tim is an outstanding performer, a guy who, whilst he hasn't played for a couple of years, will set the bar extremely high for all of his team mates here and be an absolute asset on the ice, but also drive the standards of the young guys and show them what it takes to get to the next level."
"Whilst Tim's on-ice role is just to be a player not a coach I would be a fool if I didn't use this as an opportunity to glean knowledge and pick his brains for information that can help me both now and for the rest of my coaching career."
"A quick run down of his career stats to date and who he's played with is like a who's who of household names and if that doesn't excite some of the younger guys on our team I don't know what will!"
He concluded: "Tim's role as Director of Hockey Development gives us a real chance to work together to set some longer term foundations for talent in the club"
Wallace himself spoke of his return, commenting: "I really enjoyed my time playing and coaching in Milton Keynes, and have always believed in the high potential there."
"When the opportunity came up to help the organisation, and give back to the community, I felt it would be a great fit for my family and I."
Of his new off-ice role, he added: "The most rewarding part of coaching is watching players improve, and teaching them new skills within the game, and showing them what it takes to be successful."
"I am thrilled to inspire the younger generation as well, helping these players reach their goals and to enjoy the journey along the way."