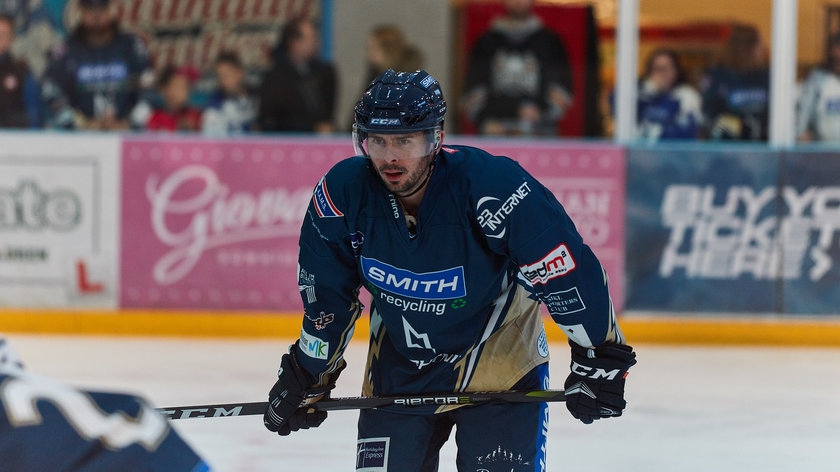 Image Credit: © Tony Sargent
The Smith Recycling Milton Keynes Lightning are one of very few hockey clubs to have not yet named any captains so far this season.
Naming a captain and/or alternate captains is a time-honoured tradition in the world of hockey, but head coach Doug McKay has yet to make an official announcement on the situation for the Lightning.
One player that appears to be a frontrunner for the role, however, is American winger Tim Wallace.
Wallace has played in some of the top league across the world, including 101 games in the NHL and 107 games in the SHL.
Recently, when team captains were called to take ceremonial puck drops, Wallace was the man stepping forward – after initially looking over to the bench for the coach's approval.
With the 34-year-old veteran taking on this duty, it prompted the question of whether or not he had indeed been officially named as the team captain.
When asked about this, however, Wallace commented: "No not yet. I'm just going to keep turning that to Doug."
While this means the team are still operating without any official 'leaders' on the ice, it appears that there is a group that is beginning to emerge.
Wallace believes the team has plenty of people that could be considered leaders and also believes that the core group of team leaders is beginning to come through.
He commented on this, saying: "Ask Doug, we've got a lot of leaders on this team and every day you can see the leadership group starting to form."
"We've got some good guys in here and we'll just keep doing what we're doing."
So while the team has not yet bestowed the coveted 'C' or 'A' on any player's jersey, they certainly appear to have a group emerging that could be in line for receiving the honour at a later date this season - with Wallace firmly in the mix.
With no home game this weekend, Wallace and the Lightning are away on a three-game road trip to Scotland, earning an overtime point in a 4-3 loss to the Dundee Stars last night (Friday 26th October).
The team return to Planet Ice MK Arena next Saturday when the Guildford Flames visit, with Robbie Baillargeon and Harry Ferguson set to make their home debuts.