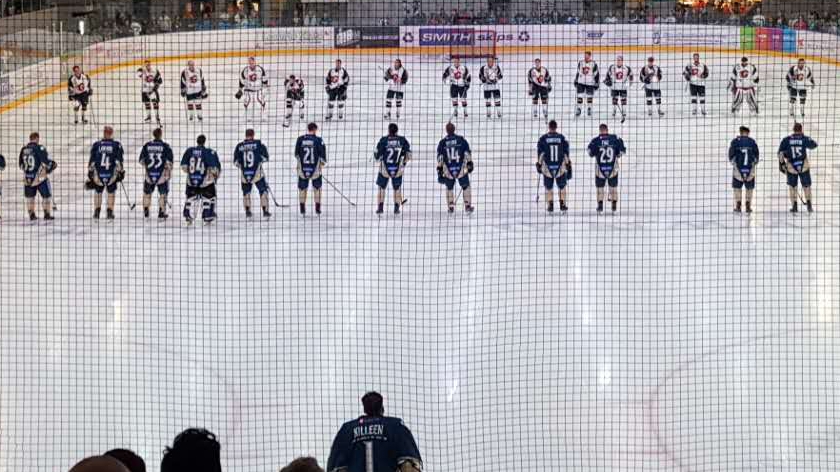 MK Lightning prior to their home pre-season challenge game against the Guildford Flames
A strong defensive effort saw the Milton Keynes Lightning earn a 5-2 victory over the Guildford Flames in their first home pre-season game.
The game started positively from the Lightning, with the Flames adjudged to have too many men on the ice, giving the home team an opportunity on the power play after just under four minutes.
However, it was the Flames that would net first though, with defenceman Carl Ackered scoring a powerplay goal of his own after Martin Mazanec was sent to the penalty box for a cross check just over one minute earlier.
It took the Lightning just over eight minutes to get on the scoresheet, with American forward Trevor Morbeck scoring from an assist from Joonas Huovinen and Gorgs Golovkovs – who earned man of the match honours for this game.
This particular line had great success in this pre-season challenge, with Golovkovs helping the Lightning take a 2-1 lead early in the second.
Morbeck and Golovkovs combined again to help feed Radek Meidl for the team's third goal of the game after almost 38 minutes.
Then, Golovkovs had another hand in linemate Huovinen's goal, less than two minutes later, with the speedy Latvian forward feeding an excellent pass across goal for Huovinen to slot home.
Clay Anderson added a fifth goal, assisted by Andreas Valdix and David Norris, putting the game out reach for the visiting Flames – though Jamie Crooks did earn the visitors a second consolation goal with less than five minutes left to play in the third.
While the Lightning scored five goals for the second game in a row, it was the team's defensive efforts that helped secure victory.
Goaltender Patrick Killeen was a rock between the pipes, making a number of saves in tight situations to keep the Flames at bay.
Ryan Lannon and James Griffin also blocked a couple of shots and Griffin made an excellent diving poke check to keep the Flames away from the net during the second period.
The wait is almost over for MK Lightning fans, with the Elite League season beginning next Saturday and the home showing should give them plenty of hope for the campaign ahead.