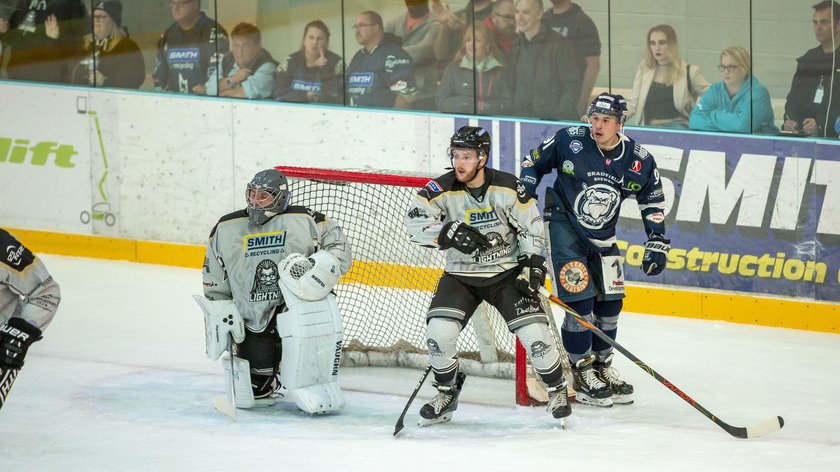 Image Credit: © Mel Dickens
A short-benched Smith Recycling Milton Keynes Lightning fell to a disappointing 5-0 loss against the visiting Sheffield Steeldogs last night.
The Lightning were without five players due to injuries and personal reasons but started the game in a positive way, something that they weren't able to carry through the full 60 minutes.
Due to the team's absences, club legend and current assistant coach Ross Bowers pulled on his skates once again to help out, just over half a year after suffering a shocking eye injury.
Bowers looked good on the ice, playing a defensively sound role while also having some excellent opportunities in front of goal that the entire crowd wished had gone another way.
The Lightning kept the Steeldogs tied at 0-0 at the end of the first period, with Tomas Kana having a shot rocket off the crossbar after just over three minutes of play, giving both the team and the home fans plenty of hope.
In the net for this game was Brandon Stones, who spent last season playing for the Steeldogs. He put in a strong performance, keeping the Steeldogs at arm's length heading into the second period.
It took over half an hour of play before the first goal was scored, but it took just three minutes for the visitors to extend their lead to three. Goals from Vladimir Luka, Jan Danececk and Cameron Brownley gave the visitors a 3-0 lead in the middle period.
Heads began to drop from then on and the long shifts and minutes began to wear on the team, who tried their best to pull things closer. The Lightning fanbase thought the team had pulled themselves within two goals when a shot appear to bounce back out of the net after hitting a post, but it was ruled a no-goal.
The Steeldogs then added their fourth just a minute later through Nathan Salem, a player that had earlier been at the centre of some aggression in his own zone, leading to an official pushing him over with a Lightning player laying face down on the ice.
Luka added a powerplay goal with just over a minute left in the game, sending the Lightning fans home disappointed but also somewhat understanding, given that five players, including the likes of Cale Tanaka and James Griffin, were unavailable.