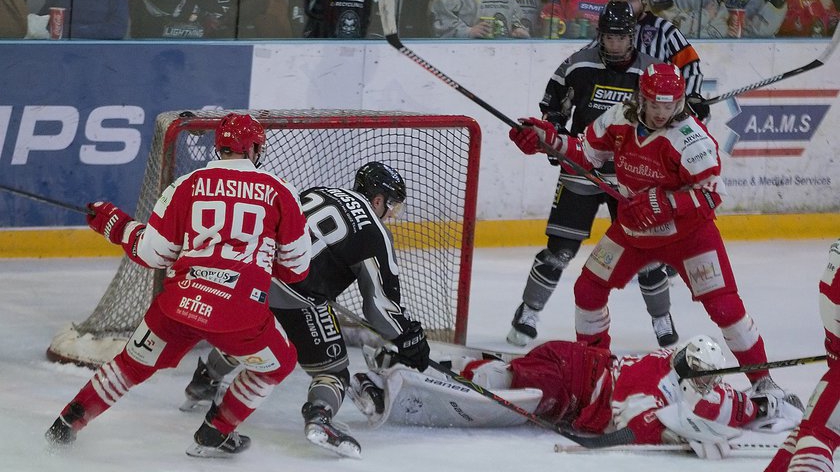 Image Credit: © Tony Sargent
The Smith Recycling Milton Keynes Lightning have today announced that defenceman Sam Russell will return to the team for the 2020/21 season.
Russell, an alternate captain for Team Great Britain at last season's World Junior Championships (D2A) and younger brother to Ben, had a great first season with the Milton Keynes club after spending a number of years in North America.
The 19-year-old right-handed shot featured in 49 games for the Lightning in the NIHL National in 2019/20, registering nine assists in the process.
He progressed well during the season, becoming a physical, tenacious presence on the Lightning's blueline, putting in a number of standout performances for the team, especially when injuries were causing them some headaches.
His performances saw him awarded the coveted 'A' on his jersey when called up to international duty, where he earned a silver medal with a goal and three total points in five games.
Being at such a young age should see Russell continue to grow from strength to strength, making him a regular feature for the Lightning organisation as the team looks to secure silverware in their second NIHL National season.
Speaking of his latest signing, head coach Lewis Clifford commented: "I'm really happy to have Sammy back in the team. Last season I was excited to see him in his first season as a senior after coaching him as a very young man before he went overseas and he really didn't disappoint."
"Sammy has a huge desire to be the best he can be, he is a sponge who soaks up information, and that coachability combined with his natural athleticism and work rate means he is an absolute asset to the team."
Speaking of his decision to return to the Lightning, Russell said: "To say I'm excited to get back in the MK arena in front of our fans is an understatement."
"The season just gone was cut short when our momentum was really building, ready for playoffs."
He added: "The energy was growing inside that locker room and I have no doubt as a club we'll be setting our goals high the second puck drops at game one."
He concluded: "Being part of that locker room once again will give me the chance to watch and learn from the older, more skilled players, and I can't wait to take full advantage of the opportunity Cliff and the coaching staff have given me playing for my hometown. Let's bring home some silverware!"