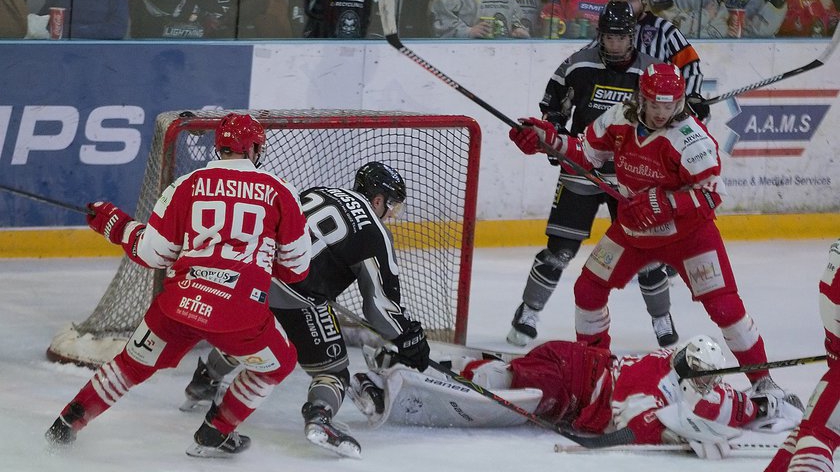 Image Credit: © Tony Sargent
The All In Black Milton Keynes Lightning have announced that defenceman Sam Russell will return for another season with the club.
The 20-year-old first joined the Lightning for the 2019/20 season and immediately established himself as a key component of head coach Lewis Clifford's side, going on to represented Team GB at the World Juniors (Division 2A) as an alternate captain.
Russell's experience has been varied throughout his young career, beginning in the Milton Keynes youth setup and a two-year spell with the Okanagan Hockey Academy before heading over to North America for the next four years - where he played in the Ontario Hockey Academy and for the New England Wolves before returning home.
After an impressive 42-game stint with the Lightning in the NIHL National, Russell participated in the most recent EIHL Series, where he was selected 30th overall by the Coventry Blaze, making 13 appearances during a severely COVID-impacted year.
Now, with an ordinary regular season anticipated for this autumn, Russell returns to the Lightning once more to continue his development and search for silverware with the club.
Speaking of Russell's return, Clifford commented: "I'm really looking forward to working with Sam for another full season."
"As a player who I coached when he was just a small kid I take a lot of pride and satisfaction from the player he is developing into, literally all through his own hard work, dedication and commitment."
He added: "The ceiling on Sam's potential is so high, he's an exceptional athlete, great skater and great at moving the puck, and with the right opportunities and guidance from both coaches and senior team mates he can continue to grow and develop and become a Brit at the top of the game."
Russell himself said: "It's been a long time coming but getting pen to paper has already made this summer ten times more exciting."
"After speaking with Cliff and the managing staff it was a no brainer. The bar has been set high and as a group we want to approach everything with the highest level of expertise; we want to win and nothing less."
He concluded: "I come back a little older this time and with triple the enthusiasm, we cannot wait to get back to playing as a group and pumping the adrenaline in that arena."