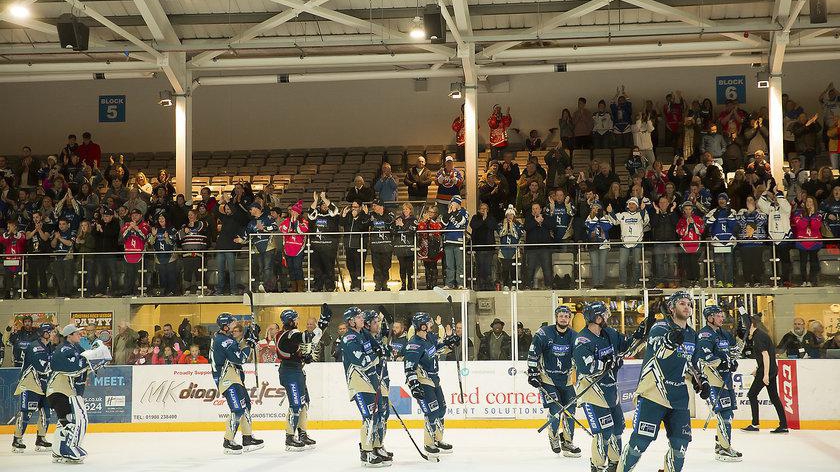 Image Credit: © Tony Sargent
Former Great Britain international Russ Cowley has become the first player to officially re-join Milton Keynes Lightning after the recent change in ownership.
With Milton Keynes Ice Hockey Club Ltd (MKIHC) taking charge of the club, the players previously signed needed to be renegotiated.
After Lewis Clifford was revealed to be remaining as the club's head coach for the 2019/20 NIHL season, it hasn't taken long for the former Elite League veteran to follow suit.
35-year-old Cowley spent the majority of his career playing for the Coventry Blaze in the EIHL, while also spending a single season with the Cardiff Devils, earning four championships during his time in the top tier.
After taking a year out during the 2016/17 season, Cowley returned to the ice with the Basingstoke Bison - captaining the team while registering 17 goals and 49 total points in just 38 games of the previous iteration of the NIHL.
After re-signing with the club, Cowley commented: "With the recent negative publicity surrounding MK I wasn't sure about committing to next season. That changed after speaking at length with Cliff and the new ownership group on the plans and direction of the club."
"I am extremely excited to be a part of this. As a player, you always want to be challenging for silverware and that is going to be the case for us next season."
"Milton Keynes is no stranger to me throughout my playing career, and I know it has always been a great hockey city, with great fans. We want to give the fans what they deserve, a team that will have an identity and good style of hockey."
"I am really looking forward to getting going and being a part of something special!"
Head coach Clifford also commented on Cowley's re-signing, stating: "As I've said before, I have been aware of Russ for some time, I've watched him play in the Elite League for a number of years and then saw how he applied his experience to NIHL hockey at Basingstoke last season."
"As a player, I know what he will bring to the team and from our discussions, it is pretty clear just how much he will offer us both on and off the ice."