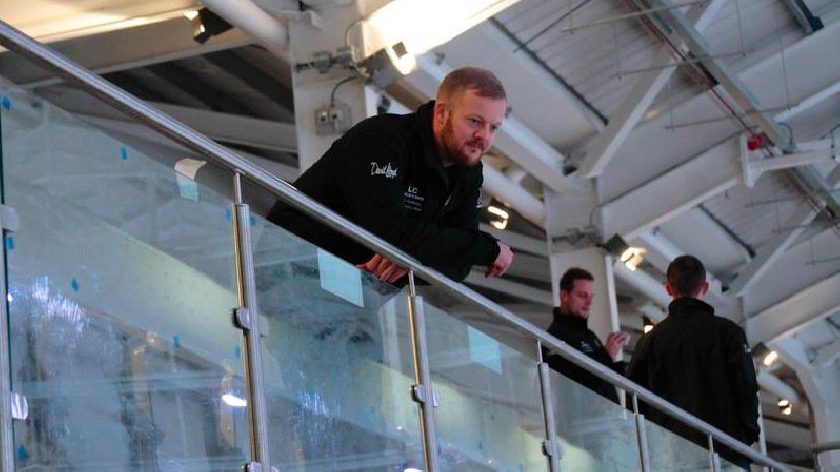 Head coach Lewis Clifford continues to build for the new season | Image Credit: Jez Tibbetts
Milton Keynes Lightning have announced that promising young forward Rio Grinell-Parke has re-signed with the club after the recent change in ownership.
The supporter-led ownership group have moved quickly to begin building a competitive team ahead of the 2019/20 NIHL season, snapping up three of head coach Lewis Clifford's original six signings made prior to the change.
Grinell-Parke is no stranger to fans of hockey in Milton Keynes, having suited up in 65 regular season games for the Milton Keynes Thunder over the past two years, while also making a couple of appearances for the Lightning in the Elite League last season.
With the Thunder, who will now play in the new NIHL South 1, Grinell-Parke scored 20 goals and had 36 total points - adding a further two assists in four playoff games with the club.
The 20-year-old performed admirably during his brief stints in the EIHL and fans will be pleased to see his development continue in the newly established second tier.
Speaking of his decision to re-sign, Grinell-Parke commented: "I'm really excited to be a part of this new set up at MK - I think that it is a good step in the right direction. I'm glad we can now move forward after everything that has happened."
"It will be good to focus on giving the fans a team that is willing to compete for them and hopefully bring back the spark to MK - something that both fans and players deserve."
"I think this opportunity will give me a good challenge and will bring the best out of me for the upcoming season. I have enjoyed playing for Cliff over the past two seasons and can't wait."
Coach Clifford is also pleased to still have the young forward on board, commenting: "Rio has worked really hard for this opportunity and I am really happy that he is joining us."
"His appearances for Lightning will mean that many recognise him and I'm sure fans will love his turn of speed and instinctive attacking qualities."
"Alongside all of this, Rio is still a young man, keen to learn and his work rate and willingness to be coached will help him play a big part in this latest MK Lightning adventure."