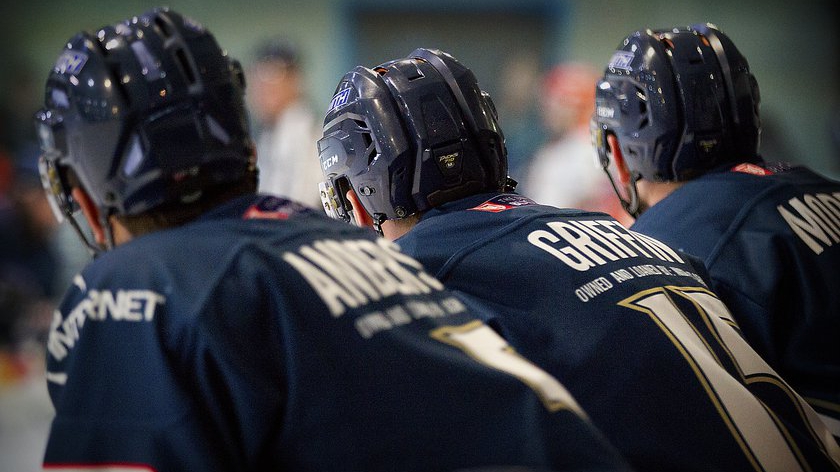 Image Credit: © Tony Sargent
The Smith Recycling Milton Keynes Lightning will be hoping to end their three-game weekend on a positive note, with the Nottingham Panthers their opponents tonight (Sunday 7th October).
The Lightning have had a difficult two-game road trip against the Belfast Giants, losing both games by big scores, and the team will be looking to bounce back and put in a stronger performance in front of the home crowd.
The Panthers' visit to Planet Ice MK Arena will be some fans' first opportunity to see new signing James Hounsome in action, with the British forward playing a part in the past two games for the team.
While it is unclear if he will be seen on the ice tonight, Nelson Armstrong will at the very least be seen around the arena as he boarded a plane to the UK last night – ending a two-month waiting process for his visa.
Head Coach Doug McKay, speaking to Lightning TV last night, did comment about getting Armstrong in the line-up, but it is still undetermined if he'll be ready in time for tonight's game.
The Lightning were without defenceman James Griffin and forward David Norris against the Giants and it is not known if either will be able to play in tonight's home game.
Griffin has been out for over two weeks now while Norris appeared to injure his leg in last Sunday's home tilt against the Dundee Stars, requiring assistance in returning to the dressing room during the second period of the game.
The Lightning (2-5-0) face a Nottingham team (7-2-0) in fine form, leading the league with 14 points in their first nine league games.
The team's defence will need to be on high alert this evening, with the Panthers also having scored a league-high 31 goals so far – three of those coming in last night's win against the Coventry Blaze.
The Panthers boast a strong attacking core, with Justin Kovacs leading the team with 13 points (five goals, eight assists) in nine league games.
He is followed closely by Alexander Guptil (5G-6A) and Mark Hurtubise (4G-7A), both of whom have 11 points in nine games.
The Lightning and Panthers face-off against each other at 5:15pm this evening at Planet Ice MK Arena.