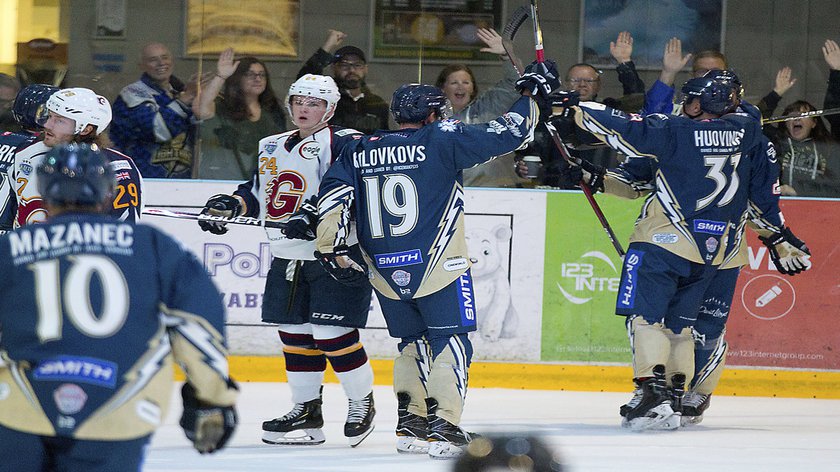 Image Credit: Tony Sargent
The Smith Recycling Milton Keynes Lightning will be hoping to end the weekend on a positive when the Dundee Stars come to Planet Ice MK Arena tomorrow (Sunday 29th September).
The Lightning travel to Altrincham to take on the Manchester Storm later today and will be looking to return home with two points in the league for the first time since the opening day of the season.
If the Lightning snatch two points from the Storm, the return trip to Milton Keynes should give the players the confidence boost they need to ensure they compete with the Stars on home ice.
The Stars' visit to Milton Keynes will see a former Lightning player take to the ice, with forward Jordan Cownie joining the Scottish team last year.
This Sunday's game will complete a four-game week for the Stars, who lost to the Sheffield Steelers 3-2 in a shootout on Wednesday, fell 2-1 in regular to the Belfast Giants last night (Friday 28th September) and face the Giants once again this evening before making the trip over to Milton Keynes tomorrow.
The Stars have a few players capable of putting up points, with Francois Bouchard leading the team in scoring in the Challenge Cup, while Matt Marquardt has scored the most goals with five across both the cup and league.
The Lightning are hoping to have the largest squad they've been able to ice this season with defenceman Martin Mazanec returning from his suspension.
Owen Griffiths played in last Sunday's away trip to Coventry and should feature in both games this weekend while there has been no further update on the status of James Griffin, who will hopefully return to the line-up this weekend.
Nelson Armstrong's visa situation is also still a question mark, but an appearance by him this weekend would be a surprise.
While the Lightning will be without Rihards Grigors for the trip to Manchester, they will have the Latvian defenceman back in the line-up on Sunday – potentially giving the team five full-time defencemen for the Stars' visit.
With the Stars ending a four-game week, with a triple-header played from Friday to Sunday, it is the ideal time for the Lightning to step up and claim two points at home.
The Lightning have shown they are capable of matching teams in this league and should be optimistic about competing as the season progresses.
Face-off between the Lightning and Stars begins at 5:15pm tomorrow, Sunday 29th September.