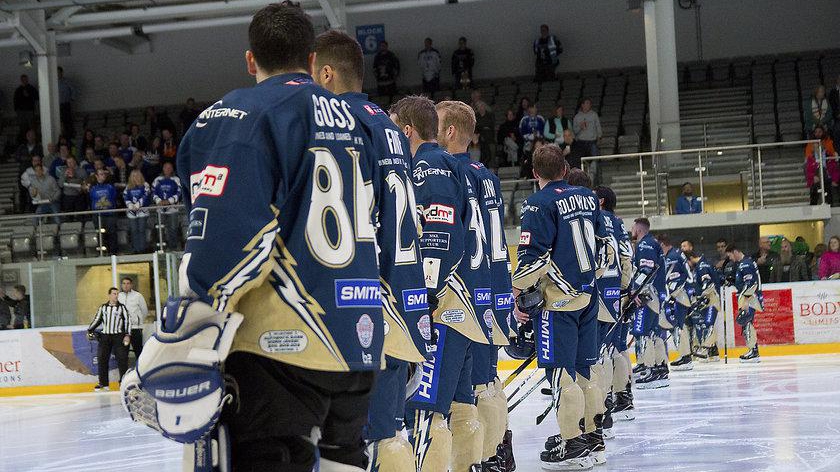 Image Credit: © Tony Sargent
​​​​​​​The Smith Recycling Milton Keynes Lightning welcome the Cardiff Devils back to Planet Ice MK Arena this Saturday and will be hoping to add to the visitors' recent misery.
The Devils (9-3-1) find themselves on a three-game losing streak, with the most recent being a 5-4 OT loss to the Fife Flyers.
Last weekend's losses to the Coventry Blaze (6-4) and Nottingham Panthers (3-2) has seen the reigning champions slip, with further disappointment coming after defenceman Ben Blood moved to join Tappara in the Finnish Liiga prior to the Flyers game.
The Lightning (3-9-2) are also on a losing streak themselves, having lost six league tilts in a row – most recently a close 2-1 OT loss to the Guildford Flames.
The Devils, while having some difficulties over the past week, will still be a difficult challenge for Doug McKay's men and a strong showing is a must if they have hopes to ending their own streak.
McKay's top line of Tim Wallace, Eric Neiley and Andreas Valdix have performed well in the league this season, with a combined 14 goals and 37 total points between them.
But the Lightning will need their second and third forward lines to step up and add more on offence, with Michael Fine having the most success in the face-off circle and Radek Meidl continuing to grow within the team.
The last time these two teams met was the 5-4 loss in the Challenge Cup in Milton Keynes, with the home side coming close to forcing overtime after a second period collapse.
The Lightning started the Flames home game aggressively last Saturday, fighting for the puck hard and having a strong forecheck to keep the Flames penned in their own zone and the neutral zone more often.
With the Devils having a wide range of top players in the EIHL, the Lightning will need to combat this by being physical and aggressive in the same way they began their last home game.
The Manchester road trip will hopefully reveal if any of the team's injured players will return, and having a full squad will certainly give McKay plenty more to operate with.
Having the likes of Ryan Lannon and Gorgs Golovkovs back in the line-up will give the home side more options, with the latter's speed being an important piece of the puzzle.
The likes of Gleason Fournier and Charles Linglet will cause problems for the Lightning, but if the team is able to fight back as hard as they have in recent home games, they should be able to keep things close.
The Lightning and the Devils face-off this Saturday at 7pm at Planet Ice MK Arena.