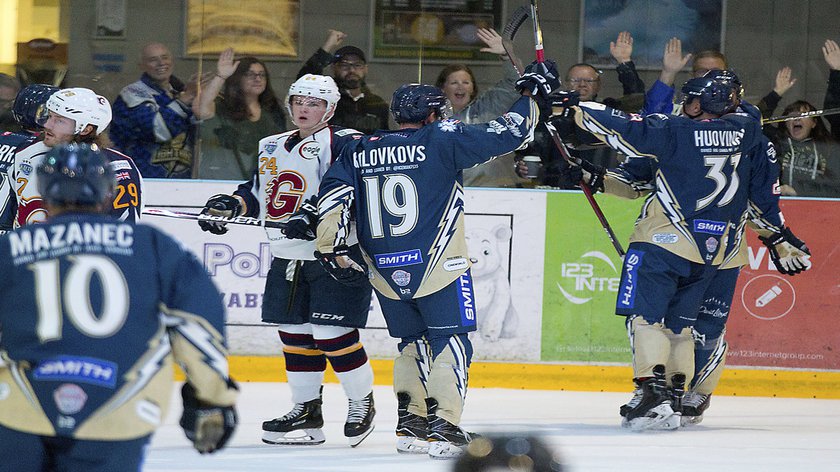 Image Credit: Tony Sargent
Milton Keynes Lightning welcome the Sheffield Steelers to Planet Ice MK Arena tomorrow, Sunday 9th September, in their opening home game of the season.
The Lightning travel to Sheffield later today in the official opening game of the 2018/19 Elite League season and will be hoping to bring home two points before their match-up in Milton Keynes.
This weekend's double-header will truly put head coach Doug McKay's men to the test, with the five-time EIHL champions sporting an almost completely new team.
The Steelers have 16 new players on their roster this season with goaltender Jackson Whistle and former Toronto Maple Leafs prospects Ryan and Matt Rupert some of the biggest names to join the club this offseason.
For the Lightning, they too will be sporting a new-look team with defenceman James Griffin the only player returning from last season's top-tier debut season.
However, of the Lightning's new signings, four played with the Steelers last season – with Tim Wallace, Eric Neiley, Cole Shudra (on-loan) and Andreas Valdix all sporting the orange jerseys previously.
This should help McKay's team greatly, with a large chunk of the team's offensive players being familiar with their opposition's style of play.
One thing that Lightning fans will also now be hoping to see is plenty of goals, with the team scoring an astonishing 23 in just four pre-season challenge games.
At a rate just short of six goals per game, the off-season concern of a potential lack of goalscorers looks to now be put to bed, but it will be the real test this weekend that can help prove it to fans.
Joonas Huovinen, Gorgs Golovkovs and Trevor Morbeck all saw plenty of playing time together during the pre-season challenge games and could be the team's biggest source of points heading into the season.
Huovinen, who has played at the highest level in his native Finland, registered five goals during the pre-season, while Golovkovs netted three times and Morbeck added four.
With quality players such as Wallace, Neiley, Radek Meidl and Michael Fine also on the team, things look positive for the Lightning's sophomore season in the Elite League.
If MK Lightning are able to keep up their strong penchant for scoring during the pre-season, the opening games should see plenty of sparks fly and hopefully see the team claim their first points of the new season.
It all starts this weekend with a double-header against Paul Thompson's Steelers, with the Lightning's opening home game getting started at 5:15pm tomorrow.