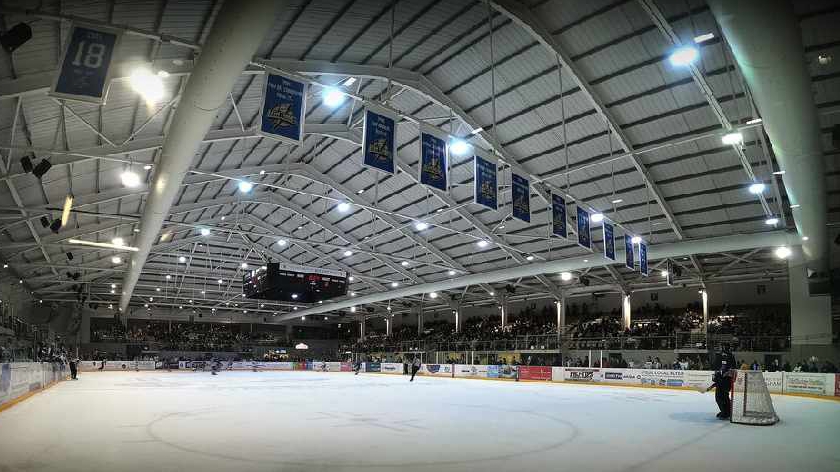 Image Credit: © Tony Sargent
An announcement currently wrapped in mystery is expected to come from the Milton Keynes Lightning later today.
Via the team's official social media channels, a countdown was mentioned at the end of the team's announcement of Scottish forward Harry Ferguson's re-signing.
A countdown has also appeared on the team's official website, with the announcement set to take place at 7pm GMT.
Fans have already begun to theorise what will happen at the end of the countdown, with the popular theory being that the team will reveal a brand new logo - with the Lightning moving on from the design used over the past two seasons in the EIHL.
The consortium now in charge of running the club previously revealed a logo design that they were hoping to use if their bid to retain Elite League hockey in Milton Keynes was successful.
The logo was very reminiscent of the lightning bolt design used in the old EPIHL prior to the team's step up to the top tier, a logo that is still extremely popular with fans.
If the team returns to a design similar to that, then the response is likely to be overwhelmingly positive and will see the team bring back something that is still considered to be a big part of their identity.
Other possible reveals could include new jersey designs and even a decision on the team's colour scheme moving forward.
With the team's new website and all player announcements including a black, grey, gold colour palette, there is a belief that the Lightning could be returning to the colour scheme used prior to the team's sponsorship by Smith Recycling, which saw blue introduced as the team's primary colour.
The club has been moving forward in a hugely positive fashion, with a number of impressive player signings accompanying season ticket prices that fans have responded well to.
If the Lightning announce any of the above then it will be the start of the team's future identity began to take shape, giving fans an idea of how the team may look in their debut NIHL season.