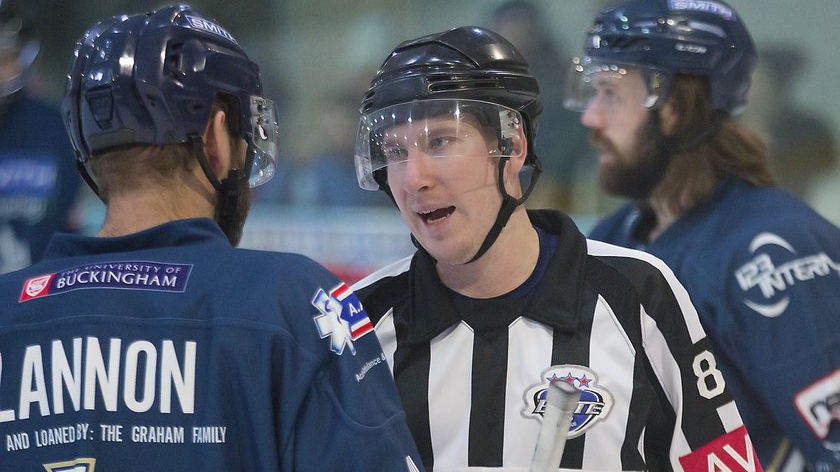 Ryan Lannon (left) talking to linesman Nathan Carmichael | Image Credit: © Tony Sargent
The Smith Recycling Milton Keynes Lightning's winning streak on home ice came to an end after a 3-0 loss to the Cardiff Devils on Thursday (20th December).
The Thursday night game kick-started a busy festive period for the club, with back-to-back road games against the Nottingham Panthers and Coventry Blaze this weekend before a home-and-away series against the Guildford Flames starting from Boxing Day.
Speaking after the 3-0 loss to the reigning Elite League champions, player-coach Ryan Lannon was disappointed with how things turned out but still felt the team had a chance heading into the final period.
Lannon commented: "It's not the result we wanted. It wasn't our best game, I thought we were sharper on Saturday [against Dundee] but you have to give them credit for what they do."
"They're fast and when you give them the puck they're going to make plays with it."
"Going into the third period, it was a one-nothing game. We were confident that we still had a shot and then a couple of breakdowns in the third kind of got away from us a little bit."
The 35-year-old veteran defenceman added: "We're not happy with the result of the game but I think in general we're starting to believe we're a pretty good hockey team."
"Earlier in the season we played this team and we barely had a chance, we didn't look like we belonged on the same ice as them."
"Now, they're a team that got the better of us tonight but we still like our chances against anybody in this league."
"We have a challenge going on the road to Nottingham Saturday, in their building it's not going to be easy and Coventry owes us after the last time we played them."
He concluded: "So, we've got a couple of games ahead of us here that are going to be difficult but I think the general mindset in the room is they are games we think we can win and, as a team, we need to win."
The Lightning's next home game comes on Boxing Day when former EPIHL rivals the Guildford Flames come to town.