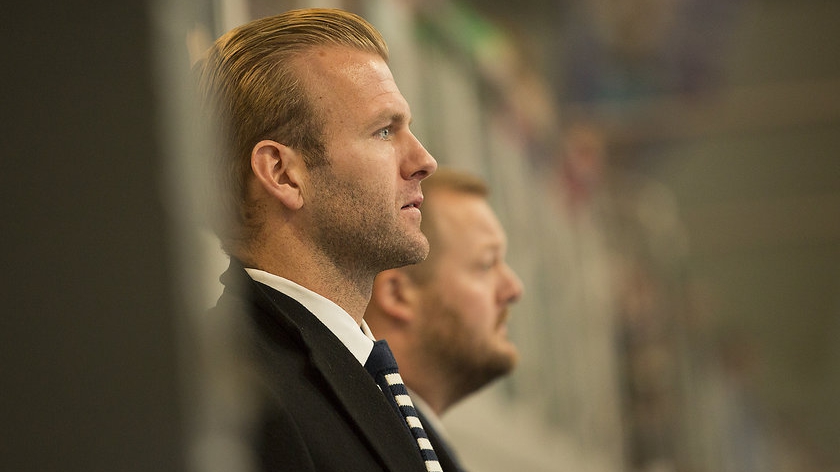 Image Credit: © Chris Dickens
​​​​​​​The Smith Recycling Milton Keynes Lightning's Ryan Lannon has said that he is hopeful of returning to the ice sooner rather than later.
The veteran defenceman has not played for a few weeks with an unspecified injury and had been seen behind the bench regularly alongside Doug McKay.
After McKay's departure last week, Lannon partnered with former assistant coach Lewis Clifford to help guide the team to a 6-1 victory over the Glasgow Clan.
In subsequent games, Lannon has taken on the sole responsibility of the team's bench coach, seeing the Lightning pick up a strong 4-1 home victory over the Coventry Blaze last Sunday.
Lannon appears to have enjoyed the learning experience of being charged to coaching the team during games, but equally seems enthusiastic about returning to the ice.
The 35-year-old American previously took a four-year hiatus from playing to gain coaching experience before opting to return to play again last summer.
His latest coaching stint, however, appears to be something that will come to an end far sooner.
Speaking after the 4-1 win against the Blaze, Lannon commented: "It's okay being back there, this group makes it easy."
"But I'm looking forward to joining Tim [Wallace] as a player-coach. I don't want to wear my suit too much longer."
"[But] it's been a good experience."
He added: "I think it's allowed me to find some confidence in my voice and to look at some things, from a technical perspective, that maybe you don't always appreciate as a player but when you have the coaching lights on you have to see things from a bigger picture."
"So, that's helped. It's been nice to get a couple wins in but I look forward to being back on defence sooner rather than later."
When prompted for an estimated return date, Lannon appeared to be quite optimistic.
He commented: "I'm hoping I'm at the tail end of this injury. It's gone on a little longer than I would've hoped but I got a good work-out in today [Sunday]."
"I expect the same for the next couple of days and then I want to be back on the ice full-time this week."
He concluded: "I'm optimistic next weekend I'll be playing but nothing's definite and I don't want to jinx it at this point."
Having a healthy Lannon back playing along the blue-line will go a long way to helping the team continue their recent positive performances and push further up the league standings.
The team's next game comes this Saturday (24th November) against the Nottingham Panthers, whom the Lightning defeated 5-1 the last time they faced-off at Planet Ice MK Arena.
If Lannon is ready to go by Saturday, Friday's Q&A session at the Tag Taylor Bar & Grill could hold even more significance to the team's coaching situation moving forward.