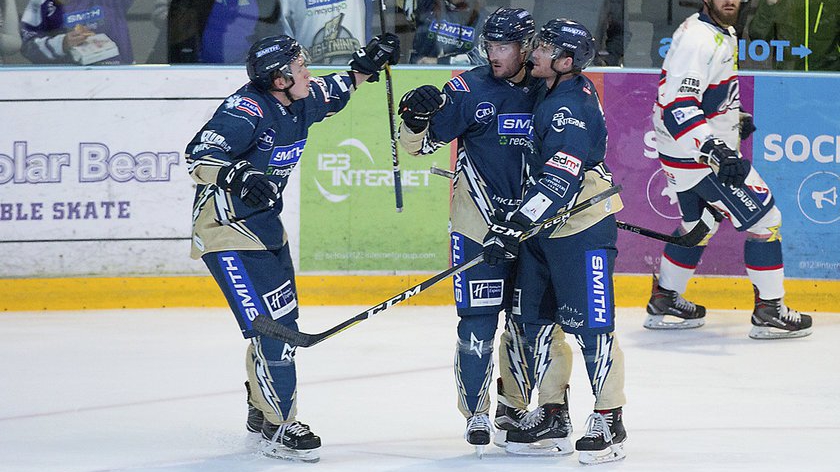 The Smith Recycling Milton Keynes Lightning snapped their recent losing streak with a thrilling 3-2 overtime win over the Dundee Stars.
The Lightning, who were without defencemen Nelson Armstrong (visa) and James Griffin (injury), started the game with high intensity, getting some early chances in on Stars goaltender Pontus Sjogren.
The Stars began to bring the game level when the Lightning took the lead through an Eric Neiley goal.
The American received a smooth pass from Andreas Valdix in front of goal and slotted past Sjogren, giving Neiley his fourth goal in the league.
The two teams kept battling and the Stars had a powerplay opportunity when Martin Mazanec was sent to the box for elbowing.
The Lightning killed the penalty effectively and nearly had a short-handed goal, though the video review later discovered that the puck had not crossed the goal line.
Things took a concerning turn for the Lightning a third of the way through the second period when they were forced into a 5-on-3 situation, with Tim Wallace and Mazanec sent to the box for interference and a delay of game respectively.
Lightning's penalty killing unit fought bravely and goaltender Patrick Killeen stood on his head to ensure that Wallace and Mazanec returned to the ice with the team still holding the lead.
Nine seconds after Mazanec returned to the ice, he turned provider for Owen Griffiths, with the Welshman giving the team a 2-0 lead with his first-ever goal for the team.
Both teams had powerplay chances throughout the second period, but the Lightning went back to the dressing room with a comfortable lead.
However, the third period saw the visiting Stars turn up the heat and cause many problems for the home side in front of the net.
Seven minutes into the third saw the Stars' pressure rewarded when Canadian defenceman Drydn Dow pulled the team within one.
It took the Stars just six minutes to bring the game to 2-2, with alternate captain Brian Hart scoring, setting up the teams to eventually head into overtime – with neither able to break the deadlock, despite the Lightning being gifted with two powerplay opportunities late in the period.
Overtime saw the Lightning regain control of the game, however, with the team earning a man-advantage after just two minutes thanks to a Charles Corcoran tripping penalty.
The Lightning ensured that this powerplay gift was not wasted and Valdix slotted home the winning goal, being greeted with rapturous cheers and applause from the home fans.
The Lightning now improve to 2-3-0 in the Elite League, breaking their losing streak and earning just rewards for a truly hard-fought effort on home ice.
Canadian centre Michael Fine spoke after the win, commenting: "It was a big one for us. Any way you can come out with the points is always good."
"We made it interesting there at the end, let them get back into it but, you know, the cliché is good teams find a way to win and we were able to get it done in overtime."
He added: "I think we've got to continue to build off it. Last night [a 4-1 loss to Manchester Storm] was a rough game, but we felt we played pretty good."
"We came back today and the spirits were up and the guys were motivated and ready to hit the ice and we showed that from the start."
"The key is just to be as consistent as possible and we'll try to do that moving forward."