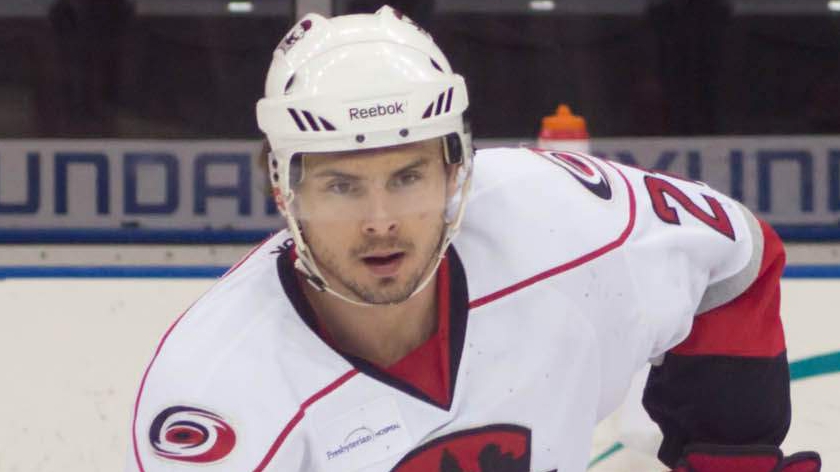 Tim Wallace during his time with the Charlotte Checkers in the AHL | By Benjamin Reed (Tim WallaceUploaded by Carport) [CC BY-SA 2.0 (https://creativecommons.org/licenses/by-sa/2.0)], via Wikimedia Commons
Milton Keynes Lightning forward Tim Wallace is looking forward to getting started after joining the team from the Sheffield Steelers this summer.
The former NHL player is set to be a key piece to coach Doug McKay's puzzle and sat down with MKFM to discuss the season ahead.
When asked about what attracted him to the Lightning, Wallace said: "I had a lot of good talks with Doug, to be honest. I think we kind of formed a good relationship over the summer and I wanted to start somewhere fresh."
"Hopefully we can have a good season this year and hopefully in the future."
"We're slowly putting all the steps in the right direction. I think we're all just looking forward to getting things going."
Wallace will also be reunited with a number of former teammates in Milton Keynes, with Eric Neiley playing with him briefly for Sheffield last season and goaltender Patrick Killeen also has played a part of the same Wilkes-Barre/Scranton Penguins team as Wallace in the 2010/11 AHL season.
Ryan Lannon, who also played with Wallace for the AHL Penguins more than ten years ago, is also set to line up alongside him.
Speaking of Lannon joining the Lightning, Wallace said: "It's crazy, I actually lived with Ryan for a couple of years. When Doug told me he was signing I couldn't believe it."
"He was a good friend of mine and we're really looking forward to playing together. He's a character and I think he'll be good for the guys."
Wallace, who has played across many leagues around North America and Europe, is likely to be one of the leaders of the team this season.
He believes that he can establish a good working culture with his fellow teammates and help the team entertain the fans.
He commented: "I hope to establish a good work ethic, we've only skated one day but I think everybody has their head down ready to work hard and I think that's what you need with the guys you have."
"As long as we get everybody on the same page, we could do some good things and keep the crowd entertained."
He concluded: "That's the biggest thing, we want people to come and watch us play and hopefully we're an exciting group to come watch."