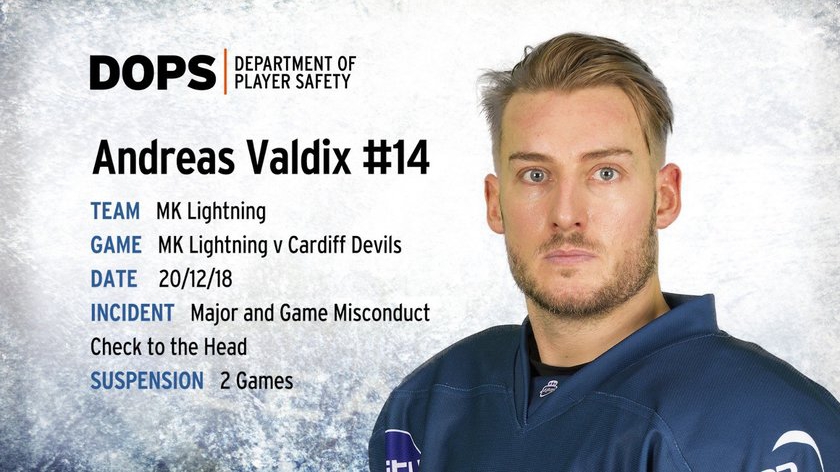 ​​​​​​​The Smith Recycling Milton Keynes Lightning will be without Swedish forward Andreas Valdix for their road games this weekend after he was handed a two-game suspension.
This means that Valdix will miss the games against the Nottingham Panthers (on Saturday) and Coventry Blaze (on Sunday).
The 34-year-old will return to the line-up for the Lightning's Boxing Day home clash against long-time rivals the Guildford Flames.
The suspension comes after Valdix was ejected from last night's 3-0 loss to the Cardiff Devils after what the officials determined was a check to the head.
The five-plus-game penalty saw the Lightning end the 3-0 loss with just four men on the ice, with less than five minutes left in the game.
The EIHL Department for Player Safety made the following announcement regarding the offence.
They stated: "With MK Lightning in control of the puck in the attacking zone, MK Lightning #14 Andreas Valdix made an illegal body check to an opposing player who was not in possession of the puck."
"As the video shows, Cardiff Devils #47 Jake Morrissette is skating towards his own net in a defensive role and is considered to be skating with regard for the puck."
"From the unsuspecting side (top hand glove side), Andreas Valdix approaches, with what is also considered to be regard for the puck."
They added: "The reason for supplementary discipline is due to the fact that Valdix altered his body immediately before contact and made direct contact to Jake Morrissette's head."
"The check to the head by Valdix is conclusive, with direct contact to the head and an altered skating position from a balanced stance on both legs to a weight shift on to his left leg."
"The left leg weight shift allows Valdix to have a solid body position, alter to his right and extend his right shoulder up and into the head of Morrissette. The head contact is deemed avoidable."
The concluded: "Effective immediately, MK Lightning #14 Andreas Valdix is suspended for Two (2) games."
The full incident and accompanying explanation by the EIHL DOPS can be viewed here.