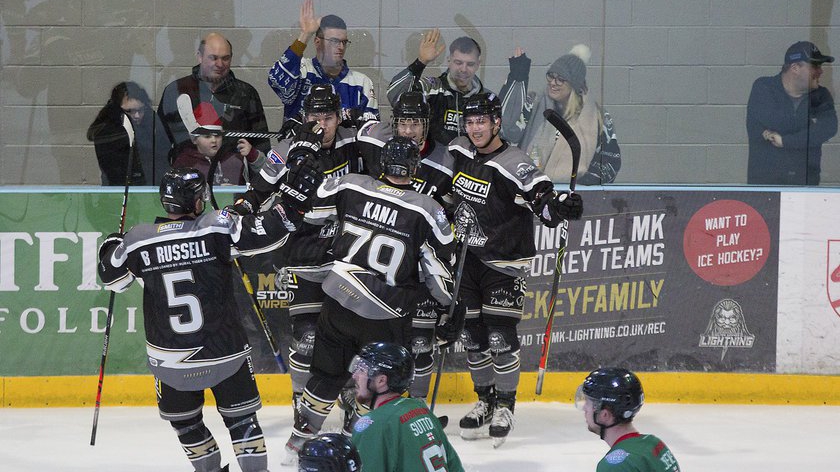 Image Credit: © Tony Sargent
The Smith Recycling Milton Keynes Lightning have truly turned a corner this season, claiming yet another four-point weekend.
With the club dropping down a level for the 2019/20 season, expectations were high and the hope of claiming some silverware was certainly the talk among a number of fans.
The start of life in the new NIHL National did not go as originally hoped, with high-scoring losses coupled with a slew of injuries see the Lightning drop firmly down to the bottom of the league, a position they would regularly swap with the league's newest club, the Leeds Chiefs.
At one stage the Lightning were without all three team captains, Russ Cowley, James Griffin and Grant McPherson, as well as both goaltenders Jordan Lawday and Brandon Stones.
This saw head coach Lewis Clifford call in some favours from a number of players of Lightning past, with Tom Carlon and Lewis Christie originally joining as short-term injury cover to help their old team out.
Things were looking rough for the team, with some promising youngsters in Brodie Jesson and Caly Robertson both being released.
Fast forward a few weeks and the team almost looks completely unrecognisable, having won an astonishing seven out of their last eight games, with three of the past four weekends resulting in four points each.
Liam Stewart and Robin Kovar arrived in Milton Keynes, with Ari Narhi returning to his native Finland, with the two latest additions having a significantly positive impact on the team.
Working on a line together, the pair have combined well with Stewart already earning 19 goals and 22 total points in just 13 games while Kovar has 11 goals of his own and another 14 assists.
The team as a whole is finally healthy, with all the big names getting plenty of ice time while the heroics of Dean Skinns and the recently returning Jordan Lawday have kept things close against some of the more difficult teams in the league.
Victories over the likes of the Basingstoke Bison, Sheffield Steeldogs and Telford Tigers has seen confidence skyrocket and has the Lightning now sitting 7th place and within touching distance of the top half of the league.
Clifford's tweaks to his line-up, along with the returns of so many key players, has truly helped the Lightning to gel and show the rest of the league what they are capable of.
With results starting to go their way, the goal will now be to cement a playoff spot by the end of the season and push towards the pre-season goal of claiming some silverware.
There is still a lot of the season left to go, but the way the team is playing and the kind of results they are earning, the Lightning are becoming a dark horse that the rest of the league will need to take notice of.