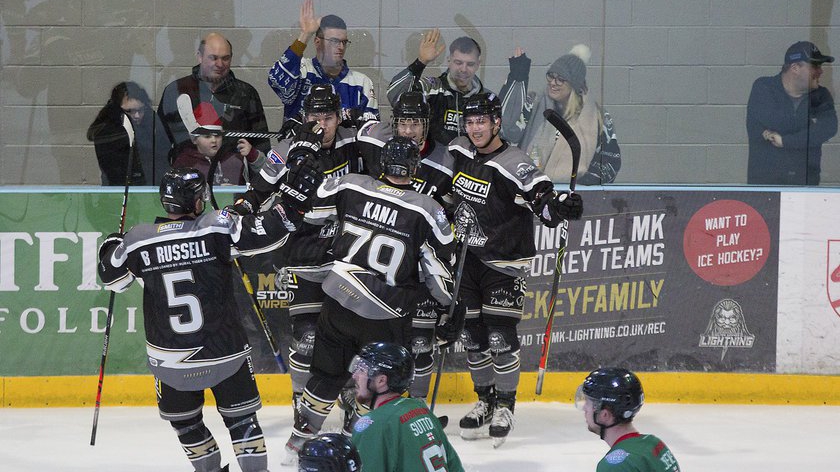 Image Credit: © Tony Sargent
The All In Black Milton Keynes Lightning will participate in a trial series of information-gathering games in November.
The series, which has been organised by the NIHL National, working alongside the league's ownership group as well as the EIHA, will involve six games between Saturday 14th November until Sunday 29th November.
Three teams will take part in the series, which will aim to help the NIHL National prepare for a potential season launch in early 2021, including the Lightning, Swindon Wildcats and Sheffield Steeldogs.
The series will be a behind closed doors affair, with fans having the opportunity to stream each game individually, with tickets priced at £12 with an option £3 payable for any additional viewer if fans wish to help further support their club.
The series will follow the EIHA's return to play and Elite Sport structure, allowing games to take place in all current risk levels, with any changes monitored and updates provided.
Mark Johnson, Chair of the NIHL National owners group, commented on the series: "We have all been missing hockey, and have been overwhelmed by the level of support and interest fans of all teams across our league have shown."
"Add to this that the players have been longing to get back on the ice, we wanted to do everything we could do see if we could stage some fixtures."
"Although this is a small pilot series, we will use it as a test bed to see if it is viable to scale into a cup competition and then a league campaign."
He concluded: "We're hugely grateful to the EIHA, rink operators, the team owners, players and staff for working so hard to get to this point. Game on!".
Taking to social media, Lightning head coach Lewis Clifford also commented positively: "Feels like we have waited a lifetime for this, but it's finally happening!"
Further information on the series can be found on the NIHL National's website, here.