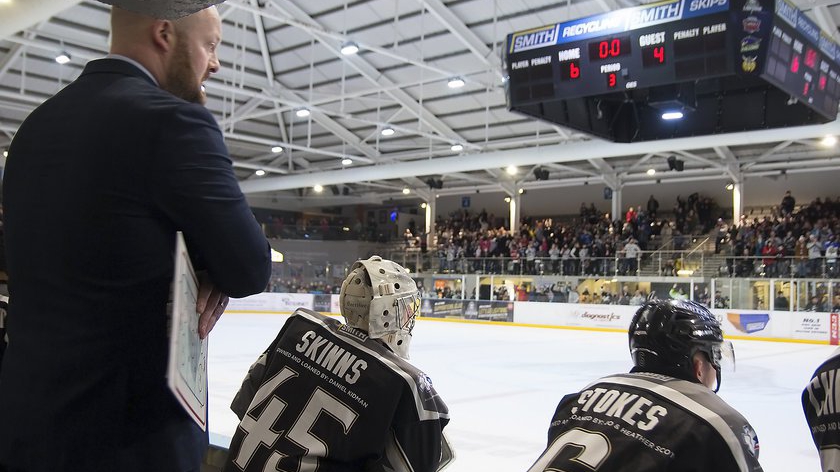 Image Credit: © Tony Sargent
The Smith Recycling Milton Keynes Lightning have just one last signing to announce, but who could it be?
To date, the Lightning have announced 18 players for the 2020/21 campaign, ten forwards, six defencemen and two goalies, but still have one final player to reveal at a date yet to be announced.
There are a number of ways that head coach Lewis Clifford could approach this final signing, both in terms of position as well as previous status - either a player that was on the team last season, or someone new that played elsewhere previously.
Fans of the team have already identified four players from last season's roster that have yet to be announced either way: Tom Carlon, Cale Tanaka, Jordan Stokes and Ben Russell.
Rumours throughout the off-season have suggested that Tanaka is unlikely to return due to the long commutes down from Scotland, where his family are based, with the Canadian forward more likely to remain north of the border.
This would appear to be supported by the Lightning's signings so far, with both Bobby Chamberlain and Edgars Bebris more than capable of filling the void left by Tanaka on the top line, though it will be disappointing to see one of the best skaters, and the team's second-highest points producer, leave after just one year.
Fans really hope to see Carlon return to the ice this season, but it is more likely that Russell is the man that comes back, with his long-standing relationship with Clifford as well as the fact the Lightning only have six defencemen locked up and depth will be important throughout the upcoming campaign.
With his younger brother Sam also signed, leaving out the older Russell would be a head-scratching move. Add in the fact that Carlon had actually retired from playing early in the previous season, it's likely he will return to that as he simply came in to help out friends when the team were desperate for injury cover.
If Clifford wanted to throw a real curveball, he could target a player that didn't lace up for the Lightning last season, but one that fans would be extremely pleased to see back in Milton Keynes after he featured for them during their last campaign in the EIHL.
David Norris played last season for the Hull Pirates and was classed as an import, but due to his British heritage he was able to play in the league without requiring a visa.
Having completed two full seasons in the UK, he would be classed as a British player in the 2020/21 season, making him a valuable asset to every team in the league, providing quality production (35GP: 16G-50A, 66pts) while allowing the team to keep Robin Kovar and Tomas Kana, which they have done.
Clifford is likely to go the safe route, bringing Russell back and that should please fans as he is a reliable defenceman and the team's corps will be able to rotate somewhat throughout the season and ensure they keep everyone healthier, but if the second-year coach decides to make a splash, then Norris would be a huge addition to an offence that is already stronger than it was last season.